Snoop Dogg's Wife Shante Enjoys the Summer Heat in a Colorful Dress in New Poolside Photos
Snoop Dogg's wife Shante Broadus looked stunning as she struck several poses in a colorful swimsuit coverup while showing off the views from her stunning swimming pool.
When the weather is perfect, Shante Broadus likes to take full advantage of the summer season. She often spends time poolside while showing off her range of stylish swimsuit cover-ups.
The wife of rapper, Snoop Dogg, sometimes enjoys a summer vacation with singer, Monica. The two women have enjoyed many trips around the world together. Shante even refers to the R&B singer as her best friend.
Although Monica and Shante haven't made any trips recently, Shante is making the best of her summer by relaxing at her gorgeous home.
While giving a rare look at her custom swimming pool and breathtaking backyard views, she has been posting pictures in colorful dresses.
In a recent poolside photoshoot, Shante showed a feather inspired swimsuit coverup. She accessorized her summer look with dark glasses and large silver hoop earrings. In her caption, Shante said:
"Hot Days Calls For Hot Pictures."
Shante opted to pose make-up free for her summer pictures. One fan commented on the snaps and gushed, "naturally beautiful, inside and out."
Another fan added, "yesss boss lady!! Beautiful as always." Shante's youngest son, Cordell Broadus, also commented on the photo and expressed his love for her as the pair shared a heartwarming exchange.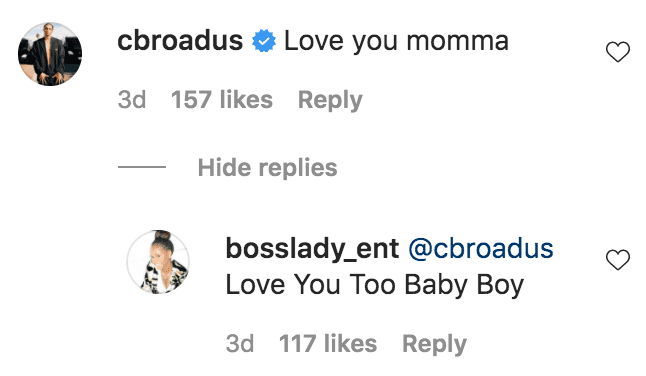 Only days earlier, Shante was showing her support for her famous husband when Snoop Dogg battled DMX during the virtual Verzuz music battle.
Shante shared a throwback photo of herself and Snoop Dogg at their high school prom alongside a photo of them at a red carpet event. The mother of three made it clear in her post that she was backing her husband for the win.
Shante and Snoop Dogg were high school sweethearts. It is reported, the couple both wore white at their wedding which was held at The Ritz Carlton Hotel in Marina Del Rey, California on June 14, 1997.
In 2020, rumors emerged that Snopp Dogg had allegedly engaged in an affair with a woman named Celina Powell. The couple has not addressed the issue publically. However, Shante has posted ominous messages on social media poking fun at the rumors.