Tony Bennett Is Now 94 and His Wife Is 40 Years Younger — Glimpse into the Singer's Personal Life
Iconic 50s crooner and jazz singer Tony Bennett is now 94, and he is still singing, recording, and touring.
75 years after he first started performing professionally, singer Tony Bennett is still performing. At 94, the unstoppable Bennett is also a respected artist who has exhibited throughout the US.
At 94, Bennett is as dynamic as ever and is happily married for the third time to wife Susan Crow Benedetto, who happens to be 40 years his junior -- and the couple dated for 20 years before tying the knot.
Susan, who is a former social studies teacher, shares not only Bennett's love of music but his passion for education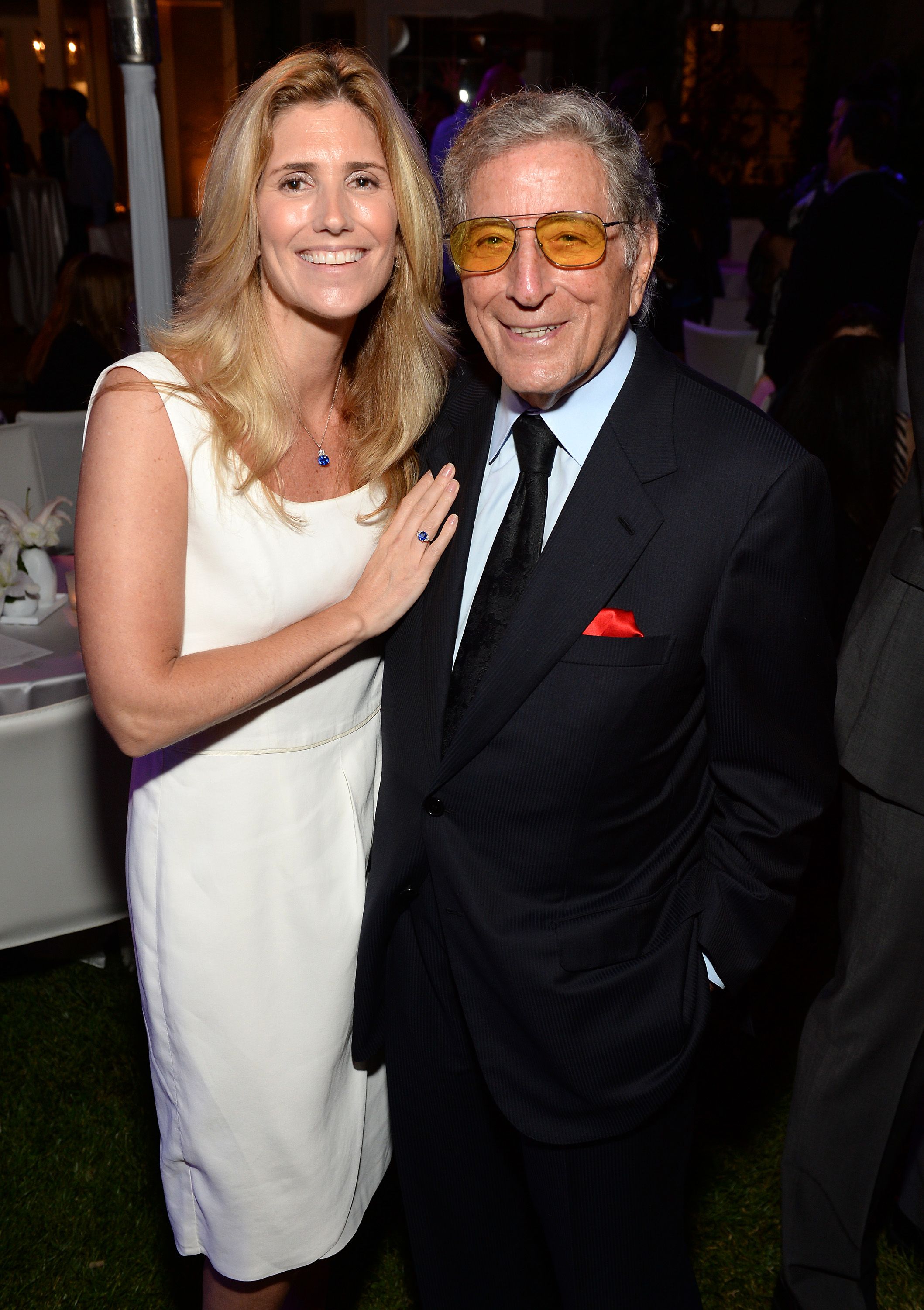 THE ULTIMATE MUSIC MAN
Anthony Dominick Benedetto started singing is the cradle, or so he believes. The future Tony Bennett fought in World War II, and was part of the occupying force in Germany, where he was assigned to the 314th Army Special Services Band.
On his return to the States, Bennett, who vacillated between following his love for music, or his passion for painting, ended up studying bel canto on the G.I. Bill, and launched a singing career that has so far spanned over 7 decades.
LOVE AND MARRIAGE
Bennett, known for his suave image and dashing good looks, had no lack of female admirers and married his first wife Patricia Beech early in his career. The couple were together for 19 years and welcomed two sons -- Dae, now 65, and Danny Bennett, 66. 
In 1971, Bennett divorced Beech and promptly married actress Sandra Grant. The two welcomed daughters Joanna, 50, and Antonia Bennett, 46, but the marriage failed. By the mid-80s the couple was separated, even though they only divorced in 2007.
LOSING HIS HEART IN SAN FRANCISCO
Bennett was to meet his soulmate in the shape of Susan Crow, then 19, when she attended one of his concerts in San Francisco. Susan was a fan of the singer's, and sent a note backstage asking to meet him. Bennett revealed:
"The request was sent to me, and it tickled me that someone of her age was so devoted to my music. I not only agreed to say hello to her backstage, but asked her to be my date for the evening."
Bennett was subsequently to discover that he had actually met Susan's parents, and taken a photo with them when they were expecting his future wife. He recalled:
"As fate would have it, Marion was pregnant at the time with …Susan! It's a photo we all laugh about [now], knowing the incredible turn of events that followed."
DATING FOR 20 YEARS
The meeting sealed their fate, and for the next 20 years, Bennett and Susan were a couple. Then, in 2007, when his divorce from Grant was finally granted, Bennett and Susan were married, and Susan Crow became Susan Benedetto.
A SHARED PASSION
Susan, who is a former social studies teacher, shares not only Bennett's love of music but his passion for education. Together they co-founded The Frank Sinatra School of the Arts in Queens, and a non-profit organization Exploring The Arts, which offers public school students the opportunity to follow the arts. 
Their dedication to giving back to the community earned Susan and Bennet a joint couple George Washington University's Medal for work in fostering arts education. Bennett said:
"We started schools all over America, we now have 17 where we support the performing arts. She's [Susan] a magnificent person and I love everything about her."
STAYING YOUNG
Bennett credits Susan's presence in his life with keeping him young and dynamic, and he proved it in 2014 when he recorded a duet album "Cheek to Cheek" with mega-popstar Lady Gaga. The album was a success and won the 2015 Grammy for Best Traditional Pop Vocal Album. He has also sung with his daughter Antonia Bennett, who is a gifted performer in her own right.
Bennett is not considering retiring anytime soon, and at 94, he still feels he has a lot to contribute and learn, as an artist and as a person. He said:
"I still insist that I can get better as I go along. It's the same way with painting. I paint every day. And just by doing it every day, you get better."
Bennett is a highly respected artist under his birth name Anthony Benedetto and has several of his paintings in permanent display at such prestigious venues as the Butler Institute of American Art,  National Arts Club in New York, and at the Smithsonian American Art Museum in Washington.