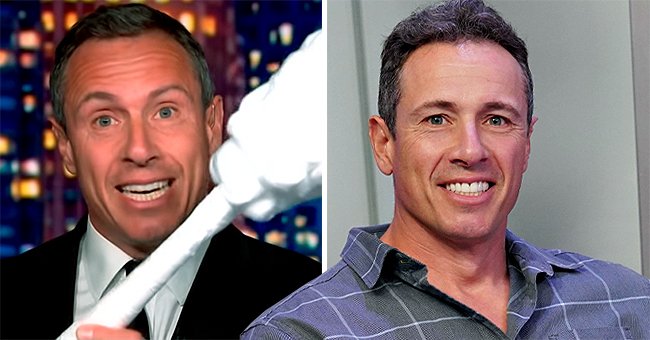 Youtube/CNN. | GettyImages
See Chris Cuomo's Hilarious Version of the 2020 Mood Meme Ahead of His 49th Birthday
The new 2020 Mood Theme Meme Challenge had Chris Cuomo join in the fun as he became one of the latest in a slew of celebrities who hilariously expressed their feelings over this year so far.
The Mood Theme Challenge caught on quickly among celebrities, with Reese Witherspoon being one of the first to share her effort with fans, and the results were hilarious.
HOW IT WORKS
The aim of the challenge is to use a selfie to represent the feeling associated with every month this year, beginning January until September. Posting the images in a collage format, the hilarious progression is easy to spot.
To portray her feelings, Witherspoon used images from the roles she played in "Legally Blonde" and "Wild," and her expressive face made for a funny contribution.
CHRIS CUOMO JOINS IN
While January kicked off with a smiling start, Witherspoon's expression soon turned to one of exasperation. Very similar to Chris Cuomo's efforts, who joined in on the fun Thursday.
Looking confident and ready for the year in January, Cuomo's smiling face soon turned grim before progressing to a state of despair.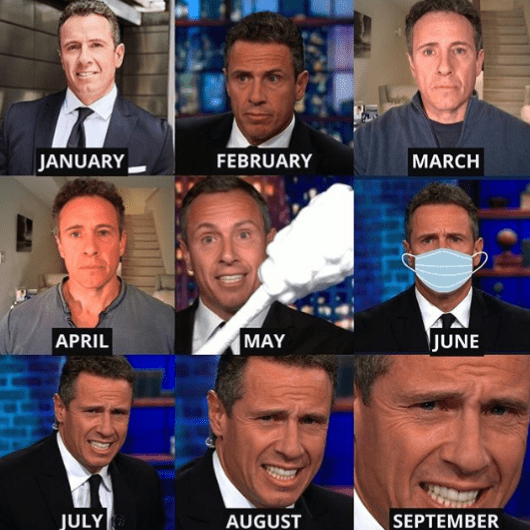 Chris Cuomo joins in on the 2020 Mood Theme Challenge. | Source: Instragram/chriscuomo.
OTHER CELEBRITIES COULDN'T RESIST
Similarly, actresses Kerry Washington and Mindy Kaling also poked fun at the year with pictures that had their fans in hysterics.
Oprah Winfrey also posted pictures that had her fans laughing as she started the year happy and excited in January, by May the media mogul had to drown everything out with a monstrous glass of wine. By September, it looked like she's just been spit out by a tornado.
JOINING IN?
For those wanting to join in the fun, they can try different ways, depending on their tech-savvy levels. If you are a whizz with Photoshop, a custom meme is at your fingertips. If you are not to plugged-in when it comes to these things, you can try the free online website called Canva.
The easy-to-use website will help those needing a helping hand make photo collages they can transform into funny memes to share with their friends and family on social media.
The hilarious challenge comes hot on the heels of another that did the rounds quickly among female celebrities like Jennifer Aniston, Jennifer Lopez, and Eva Longoria, as it went about celebrating women.
The challenge went about women supporting each other, and nominating a person who you felt inspired by, after being nominated by someone else. The way to do so was by sharing a black and white selfie along with the hashtag "challenge accepted," and then adding the person you nominate.
Please fill in your e-mail so we can share with you our top stories!