Steve and Marjorie Harvey's Granddaughter Joey Looks Adorable in These New Close-Up Snaps – Check Them Out
Steve Harvey's infant granddaughter looked angelic in her mom's social media update while showing off her cute features to the delight of admirers.
Amid many of his achievements, celebrity patriarch, Steve Harvey, is proud of his large brood that consists of his children and lovely grandkids.
In a recent Instagram post, Harvey's model daughter-in-law, Amanda warmed the timeline with adorable snapshots of her little tot!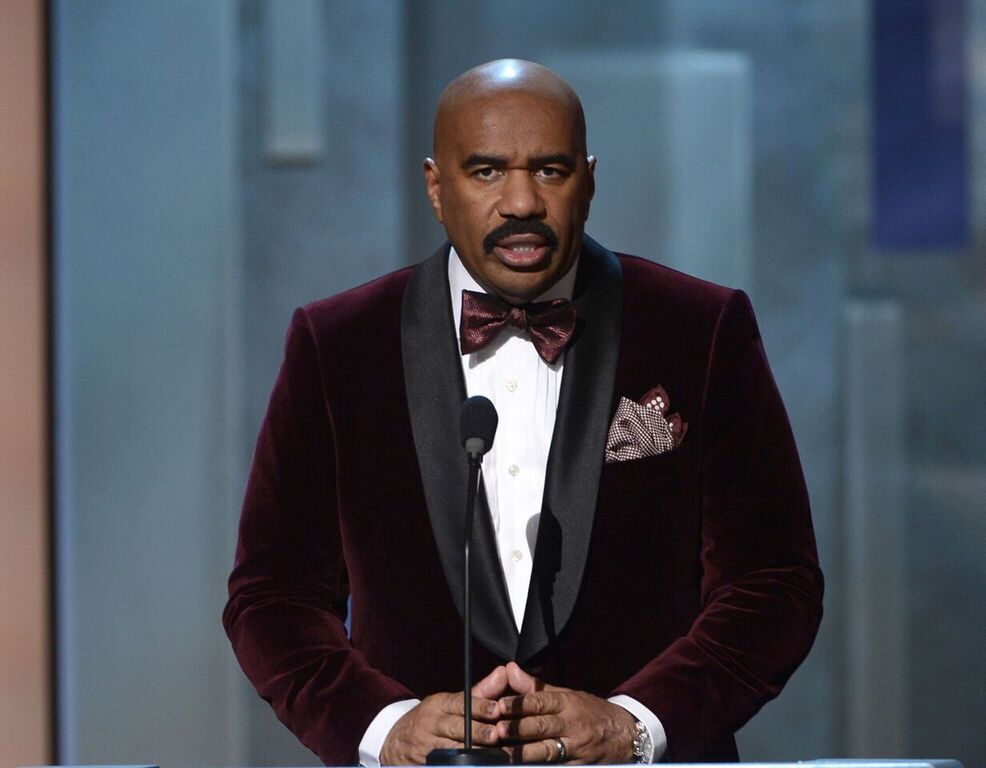 BABY JOEY IS A DELIGHT 
The up-close pictures displayed unfiltered images of little Joey Iris' rosy cheeks and bright eyes. Her straight black hair fanned her cute temple as she stared into the camera. The infant was wrapped in a pink swaddle cloth as her mom gushed:
"She is so perfect! #Joey"
Many admirers agreed with the model's sentiment as they trooped to the comments with their sweet thoughts. A fan buttressed Amanda's  point: "Literally PERFECT!" Another added: "You only make babies with the most beautiful eyes!" 
THE HARVEYS ARE GORGEOUS 
Steve's beautiful family once made headlines after blowing the audience away at a Dolce and Gabbana fashion affair. Opening the runway were Harvey's family members, Marjorie, Jason, Lori, Amanda, and her little kids, Noah and Rose.
After Steve and Marjorie got married, all her kids took his surname.
The family was dressed in leopard skin ensembles as they walked the runway as a royal family. On their Instagram pages, the Harvey clan detailed their modeling expertise. The snapshot on Amanda's page showed her and her family looking nothing short of regal.
A BLENDED FAMILY 
Steve was lovestruck the first time he met Marjorie Harvey and declared that she would be his wife at that sweet moment. He would later marry Marjorie in 2007 and together with her grow a blended family. 
Marjorie has three kids, Jason, Morgan, and Lori, from her previous marriage. Steve, who has also been married twice before meeting Marjorie, has four grown children. 
FACTS ABOUT THE HARVEYS
Karli and Brandi Harvey are twin daughters born to the "Family Feud" star from his marriage to his first wife, Marcia. While Karli is a fitness expert, she and her twin sister, Brandi, run an empowerment organization. 
Broderick, born in 1991, is the younger brother to the twins and mostly stays out of the spotlight. He owns a shoe business and is doing well for himself. 
Wynton Harvey is Steve's son from his second marriage. Wynton often stays in awe of his star dad, and he has appeared a few times on Steve's show. 
After Steve and Marjorie got married, all her kids took his surname. Lori is making a name for herself as a social media personality and a model. Her older siblings, Jason and Morgan are also doing well for themselves.