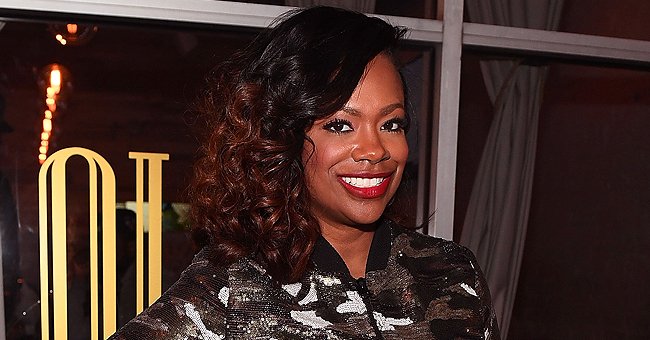 Getty Images
Kandi Burruss' Eldest Daughter Riley Flaunts Her Long Wavy Locks in New Pics – Does She Look like Her Mom?
Kandi Burruss' eldest daughter looked like a spitting image of her reality star mother as she posed in a colorful outfit while showing off her long hair and gorgeous makeup.
Riley Burruss has undoubtedly grown since she appeared with her mother, Kandi Burruss on "Real Housewives of Atlanta." After graduating from high school, she anxiously awaits to start her studies at New York University.
Riley has already started representing her school with an NYU sweater she wore during her graduation party. She also got custom nails made with the school's colors and abbreviations painted in gold on her nail tips.
While raised by her single mother, Riley made a special acknowledgment of the role Kandi played in helping achieve her dreams. In a heartfelt caption, she wrote:
"Special thanks to my amazing mom who is the reason I will be going to my dream school. Wishing all other members of the class of 2020 the best during such a hard time."
Riley and Kandi share a special bond; not only do the two have a love for bold and trendy fashion items, but the two also have a passion for music.
The Grammy-winning songwriter and singer has always been open about her less than impressive dancing ability. However, Riley shared a sweet moment dancing with her mother and brushed off their critics.
Recently, Riley rechallenged her critics when she wrote in a caption, "love me or hate me. Either way, I'm on your mind."
The 17-year-old looked gorgeous as she posed in a colorful polka dot top and jeans. In the second photo, she showed off her long hair and beautiful nail art.
Riley's followers loved the photos. Her future college roommate gushed, "omg, my roomie is so gorgeous." another person said, "stunning!"
Other commenters showered her with heart face emojis. Kandi also expressed her love for her daughter and commented with a heart emoji.

Kandi Burruss commented on photos of Riley Burruss dressed in a colorful polka dot top | Source: Instagram.com/rileyburruss
After struggling with her weight for most of her childhood, Riley has committed herself to live a healthier and fitness orientated lifestyle. In previous interviews, she shared her hope to inspire people with her weight loss journey.
Please fill in your e-mail so we can share with you our top stories!