Former NFL Star Deion Sanders Shares Pic with Son Shedeur Who Is Following in His Footsteps
Incredibly talented sports star Deion Sanders has a son who is his spitting image. The younger Sanders, Shedeur, is also an athlete. Recently, the pair featured in a post on Instagram.
Shedeur Sanders is the son of NFL star Deion Sanders who is currently doing exploits while following his dad's line of career. Both men spent some bonding time over the weekend and Deion took to the gram to share the epic moment.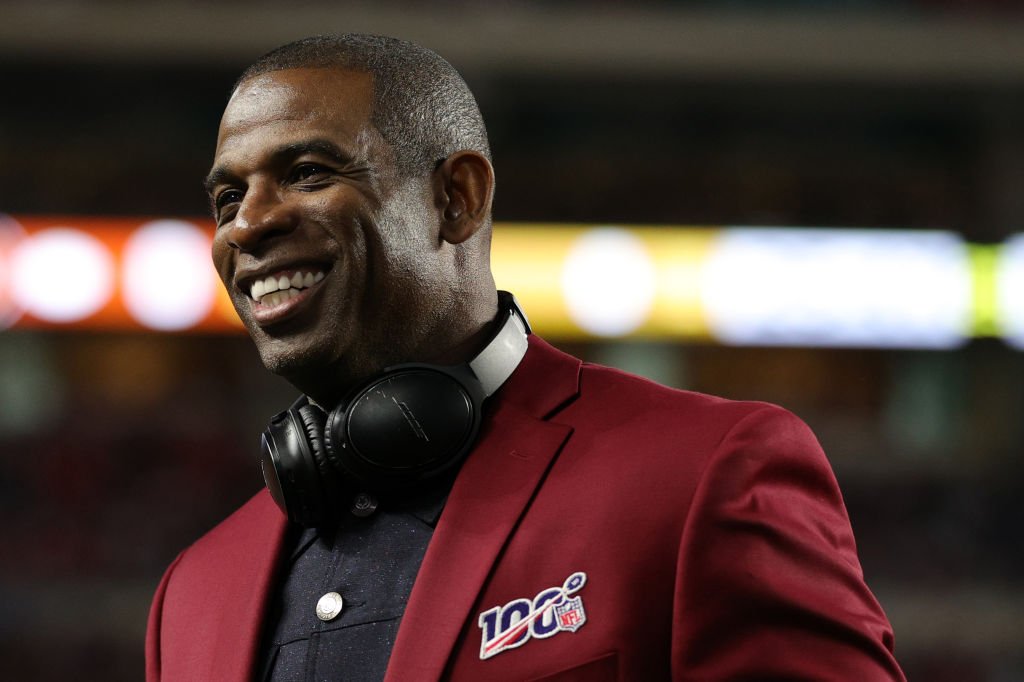 Father and son donned blue and black colored jerseys while sitting close to each other. The Sanders both stared into the shutters and opted for wide-eyed grins, which highlighted the peculiarities of their faces.
Deion, an NFL Hall of Famer, showed off more images of his boy standing next to a Trinity Tigers banner, showing off his number 2 jersey and customized neck chain. Shedeur's dad tagged him on the post and wrote:
"Last 1,2 #Truth."
Fans were in awe of the resemblance between the father and son. However, more fans commended the older Sanders for passing down his athletic genes to his offspring.
Shedeur is as skilled as his dad. He is 6 foot 2 and has put his physique to good use. Currently, he is ranked No. 8 pocket-passer quarterback, and No. 41 ranked prospective overall in his class.
Due to his prowess in the sport, the Trinity Christian School student gained offers from different universities.
He is a Trinity Christain School student, and he plays in the school's team. Recently, news of his recruit to Florida Atlantic made the headlines.
Florida Atlantic has 18 total commitments. Shedeur happens to be the only four-star. The coach, Willie Taggart, also signed his son, Willie Taggart Jr. after bringing in starter Chris Robinson and three-star quarterback Cordel Littlejohn. The newest recruit, Shedeur said during the interview:
"I wanted to write my own legacy, FAU gave me an opportunity to do that! I trust the staff. Willie Taggart was the first coach to offer me an opportunity to play at the next level."
Due to his prowess in the sport, the Trinity Christian School student received offers from different schools which include Georgia Tech, Baylor, Florida Atlantic, LSU, UCF, and UCLA.
The apple doesn't fall far from the tree in the case of Deion and his son. The older Sanders began his career at a young age. He took interest in competing as a football player and even won a Jim Thorpe award in 1988.
He soon ventured into baseball with the New York Yankees. The NFL Hall of Famer later moved to the Falcons where he signed a four-year contract worth $4.4 million.