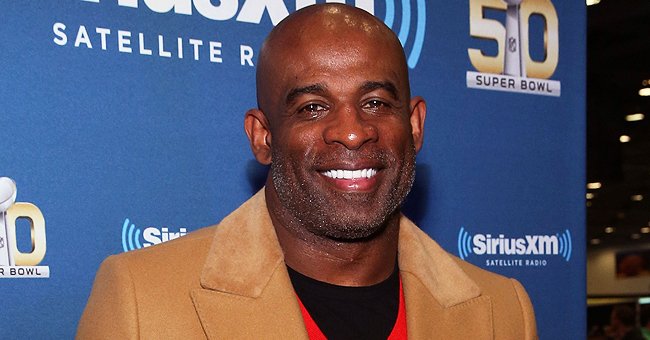 Getty Images
Deion Sanders Shows His 5 Look-Alike Children in a New Stunning Photogrid

Sports analyst and American former professional football and baseball player Deion Sanders took to his Instagram page to share photos of his five children who all look alike.
Deion Sanders is a proud father of five children and showed them off in an Instagram post he made recently, where he shared a stunning photogrid of himself and his kids.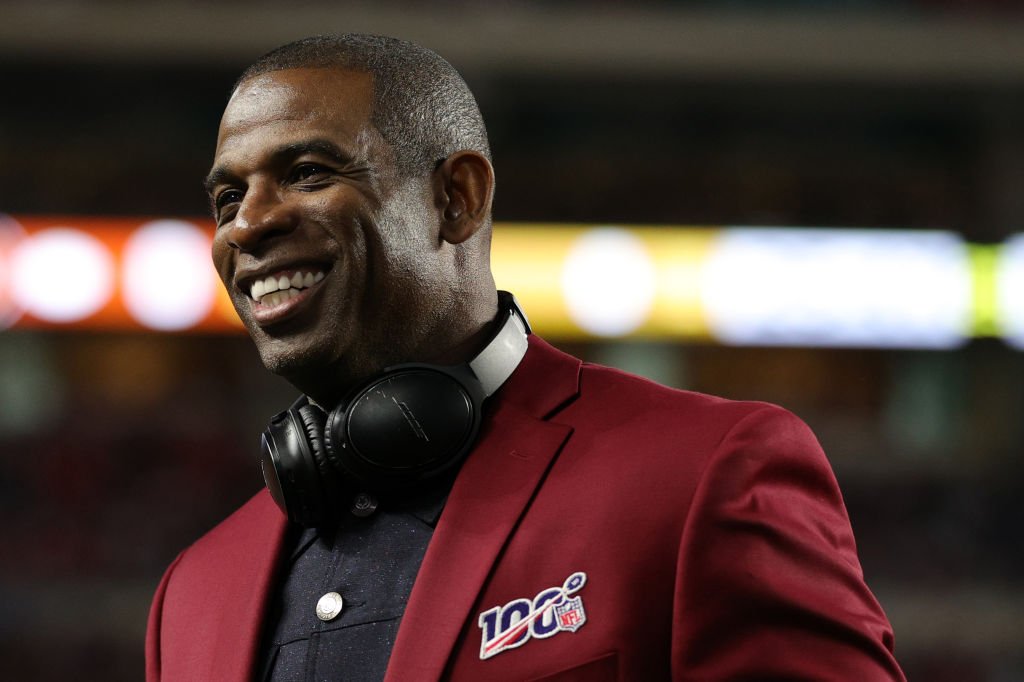 Deion Sanders on the field prior to Super Bowl LIV between the San Francisco 49ers and the Kansas City Chiefs at Hard Rock Stadium on February 02, 2020 | Photo: Getty Images
The proud father tagged all of his five children, daughters, Deiondra and Shelomi, and sons, Shilo, Deion Sanders Jr., and Shedeur in the caption,
before adding:
"I told them as kids u don't have to be the best on the team or in school, but u must give me your absolute best. #Truth @welloffforever They ALL LOOK LIKE DADDY don't they?"
Sanders shares his five kids with two different women. He was first married to Carolyn Chambers from 1989 to 1998, and later to Pilar Biggers-Sanders from 1999 to 2013, with whom he shares Shedeur, Shilo, and Shelomi.
The divorce proceedings between Sanders and Pilar was a messy affair, with the latter claiming that she was heartbroken and did not want to be divorced. However, Sander's oldest daughter, Deiondra, lashed out at Pilar on social media, questioning her commitment to the marriage and her kids.
Pilar Sanders was also arrested on domestic violence-related charges in April 2012.
Pilar was later sentenced to a seven-day jail term in Collin County Jail on a contempt-of-court charge, which made her lose the visitation rights of her three children to Sanders, who was granted primary custody of them.
Pilar Sanders was also arrested on domestic violence-related charges in April 2012. After her release, she said that she was not given a fair hearing over those charges and maintained that she was innocent. The effect of a messy divorce can be damaging to one's brand, but Deion Sanders ensured that was not the case.
In a "Wall Street Journal" interview, he told host Lee Hawkins how publicizing the details of him and Pilar's arguments on Twitter helped him to avoid trouble that could have ruined his brand.
The athlete also said that experience helped him avoid so many pitfalls over the years, adding that younger athletes such as Chad Johnson could only acquire knowledge and a good sense of judgment by learning from mentors.
Sanders made an appearance on "The View" to talk about the second season of his show that also featured his kids, whom he described as crazy.
Apart from being a loving dad to his kids, the proud father also cares about other kids and has seemingly achieved a lot of good for underprivileged children with sincerity of heart and purpose, which is commendable and exemplary.
Please fill in your e-mail so we can share with you our top stories!