Johnny Mathis Overcame Alcohol Addiction Thanks to Nancy Reagan — inside His Life Struggles
Award-winning singer Johnny Mathis struggled with alcohol and drug abuse for years until former FLOTUS Nancy Reagan "saved" his life.
Johnny Mathis was born in Texas in September 1935, but moved to San Francisco with his parents, Clem and Mildred, when he was just a child. Even though Clem was a talented singer, he couldn't fulfill his dream of becoming a professional musician.
[Nancy Reagan] saw him drinking and noticed that he might have a problem.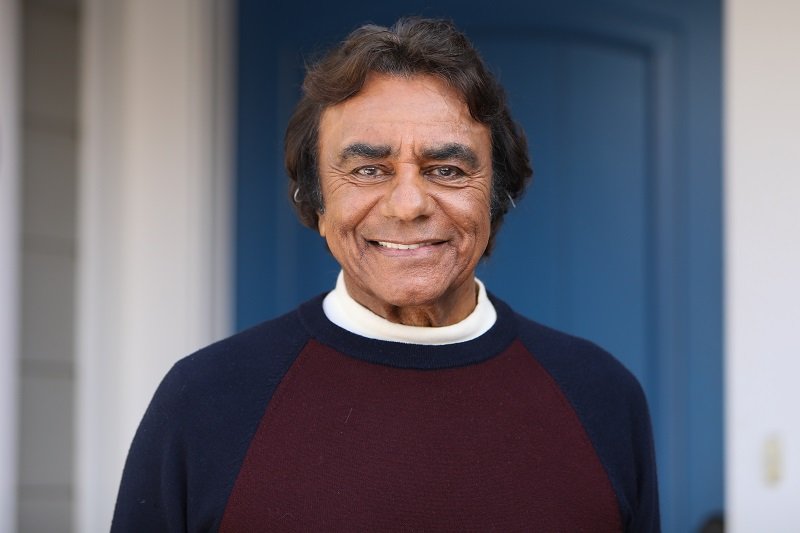 JOHNNY MATHIS' CHILDHOOD AND CAREER
According to Johnny, his father was a self-taught pianist who used to sing all the time. By the time Johnny was five years old, Clem had already taught him all the songs he knew.
Nowadays, the famous crooner realizes that his dad was trying to help him get into the career that he couldn't have. The main reason why Clem never made it into the music industry was that he married at 17 and started having children right away.
@HomeandFamilyTV had such a good time with Johnny last year, that they invited him back again! Watch Johnny sing & talk about the Holidays on Hallmark's Home & Family TOMORROW, Dec. 6th at 10am/9a Central. Check your local listings here: https://t.co/suFoxwFB7d pic.twitter.com/GhGfOHD1ZM

— Johnny Mathis (@MathisJohnny) December 6, 2019
Eventually, Johnny Mathis' singing skills became evident, so Clem found a teacher to polish his talent: a classically trained woman named Connie Cox.
According to the "Too Much, Too Little, Too Late" singer, one of the most important things that he learned from Connie was to protect his voice. In fact, he believes she is the reason why he has been able to sing for so many years.
Voice teacher Connie Cox helped young Johnny fine tune his singing skills, agreeing to let him trade household chores for voice lessons when the Mathis family didn't have much money. A historical act of kindness indeed - Thank you Teachers! #TeacherAppreciationWeek pic.twitter.com/RvbhL7aD3M

— Johnny Mathis (@MathisJohnny) May 8, 2020
JOHNNY MATHIS' FIRST RECORD DEAL
When Johnny was only 19 years old, he used to sing at The Black Hawn, a jazz club in San Francisco. George Avakian, who was a jazz producer for Columbia Records at the time, heard him sing and immediately noticed his talent.
Around the same time, Johnny was seriously considering trying out for the 1956 Olympic Team as a high jumper.
Happy #LoveYourPetDay 💗 pic.twitter.com/M5vrOxgyon

— Johnny Mathis (@MathisJohnny) February 20, 2020
However, as soon as he learned that Columbia Records was interested in him, he dropped his Olympic dream and became a professional singer. Clem encouraged him to make that decision, of course, and it definitely paid off.
Today, Johnny Mathis is one of the most respected singers in the industry with dozens of albums and many accolades, including two Grammy Awards.
I will remember always your stunning beauty, your perfectly perfect speaking & singing voice, and best of all your amazing intellect. I love you as the most special friend I could have, Dearest Diahann. pic.twitter.com/wbK2ks6oFH

— Johnny Mathis (@MathisJohnny) October 4, 2019
JOHNNY MATHIS' ADDICTION
Unfortunately, his life has not always been a walk in the park, and like many other artists, he succumbed to addiction. Talking to Express, the singer explained that he once got laryngitis after performing five shows a night at the Copacabana in New York.
He then saw Dr. Max Jacobson, famous in the US for administering "miracle tissue regenerator" injections.
Johnny had a wonderful time filming the Season Finale of "Criminal Minds" with @JoeMantegna ,Gail O'Grady, and entire cast & crew of @CrimMinds_CBS. See Johnny in his guest starring role this Wed. 2/6 at 10 p.m. on CBS, or see it online the next day here https://t.co/15m6sDVtTt pic.twitter.com/XBFEp2zqoP

— Johnny Mathis (@MathisJohnny) February 5, 2019
Dr. Jacobson gave Johnny some vitamin shots that contained amphetamines, and even though it brought his voice back, it left him struggling with drug addiction.
If that wasn't enough, Johnny used to be a heavy drinker. He pointed out that he drank only champagne and didn't really pay too much attention to it until Nancy Reagan, the former First Lady of the US and second wife of the late President Ronald Reagan, confronted him.
Lots of 2018-2019 concert announcements coming up this week, so FOLLOW Johnny's pages on Twitter & Facebook so you don't miss out! UPDATE- Johnny's 2 Christmas concerts in Biloxi, MS officially have a Mathis fan pre-sale starting 8/25. Use code: NOEL https://t.co/Uwo7XzekxO pic.twitter.com/ZoUJGBOQT9

— Johnny Mathis (@MathisJohnny) August 20, 2018
NANCY REAGAN SAVED JOHNNY MATHIS
At a reception, the late FLOTUS saw him drinking and noticed that he might have a problem. When she asked about it, Johnny admitted that he had, in fact, a problem controlling his drinking but didn't know how to stop it.
Nancy then sent him to Havre de Grace, a rehab center in Maryland. There, Johnny learned from a "bunch of Jesuit priests" everything he needed to get better.
The singer pointed out that he had a good reason to stop drinking: it distracted him from performing, which has always been what he loves the most. About his time at the rehab center, Johnny explained:
"I had three weeks of finding out why I drank, how I could stop. And it was the greatest thing that ever happened to me in my life."
From that point on, Johnny has been sober, something that has significantly improved his life and career.
🎊Happy 50th Rojon Anniversary To Gil Reigers! A masterful guitarist & invaluable leader, Gil has been working with Johnny for an amazing 50 years as of June 2020! Click on the link below to hear Johnny & Gil perform the fan favorite "The Twelfth Of Never"https://t.co/BYe6HXNpFb pic.twitter.com/5NwpTE3Lz2

— Johnny Mathis (@MathisJohnny) June 14, 2020
JOHNNY MATHIS COMING OUT AS GAY
Another challenging time in Johnny's life took place in 1982 when he admitted he was gay. The singer confessed that he received death threats for coming out, mainly from people in the Southern states.
Although he was never in real danger, it was a stressful experience. Fortunately, he learned to isolate himself from negative comments.
At the moment, Johnny Mathis is 84 years old and is still very much active in the music industry. His most recent album, "Johnny Mathis Sings the Great New American Songbook," was released in September 2017.