Fans React to Kylie Jenner Allegedly Changing Her IG Caption That Read 'Brown Skinned Girl'
Cosmetic brand owner Kylie Jenner stirred some reactions from fans after her recent post on IG. Her Instagram followers didn't keep mute after reading the caption on the two-day-old post.
Forbes once revealed Instagram celebrity and businesswoman, Kylie Jenner as a Billionaire. Though there have been some controversies about this title, she still maintains a celebrity spot.
On Sunday, Jenner decided to bless fans with an epic post. She posed in tiny sleeves, body-hugging jumpsuit.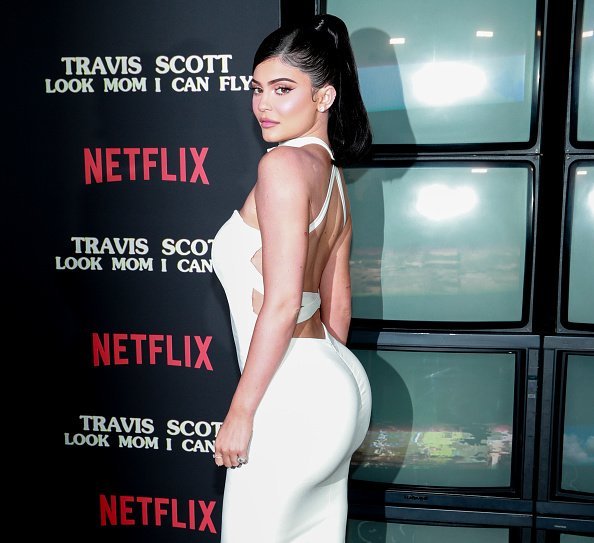 The beauty mogul patterned her hair away from her face and held an extension of the black lush of hair while posing in the image.
Her glammed up look rested pretty on her face and she rocked round earrings to complete the diva appearance. Her caption read: 
"brown-eyed girl."

Within a few minutes of the upload, online trolls came for her, as they speculated that she changed her caption. The Shade Room later headlined the news with a collage of two images. One showed the previous caption, "brown-skinned girl" and the other image was the edited version.
Motherhood seems to be giving her a great vibe and she has tirelessly confessed her love for her child.

Fans maintained that she changed it and must apologize for claiming to be a girl of color. A fan wrote, "She changed that so quick."
Some called for an explanation. Words from Jenner's representatives alleged that she never used the caption "brown-skinned girl." Despite the proof online, the beauty mogul denied ever editing her caption.
As a celebrity, it is understood that the media as well as fans would have their eagle eyes on everything. Plus, the Kardashian-Jenner family is not new to being criticized.
Just a few days ago, the internet went wild with their thoughts on Jenner appearing in Cardi B's "WAP" music video. People felt that a Black woman like Jordyn Woods should have featured in the video instead of Jenner.
Whether the world agrees with her actions or excuses, Kylie does not seem bothered and she's happy with her life. She shares a young daughter with her former lover, Travis Scott.
Like every first time mom, she often dotes on her mini-me on Instagram. Motherhood seems to be giving her a great vibe and she has tirelessly confessed her love for her child while admitting that she will have more kids but not right now.