Getty Images
Shaquille O'Neal's Daughter Amirah Flaunts Her Glossy Lips in a Series of Snaps in a Sexy Black Top
Shaquille O'Neal's daughter, Amirah O'Neal recently showed off her beauty in some snaps where she flaunted her sexy glossy lips. She looked really gorgeous in a pretty black top.
Taking to her Instagram story, Amirah O'Neal shared snaps of herself sporting very glossy lips while rocking a black top which showed off her cleavage.
She accessorized her pretty silver necklace with a tiny pendant. She was also seen sporting a long wavy hairstyle that appeared unbrushed.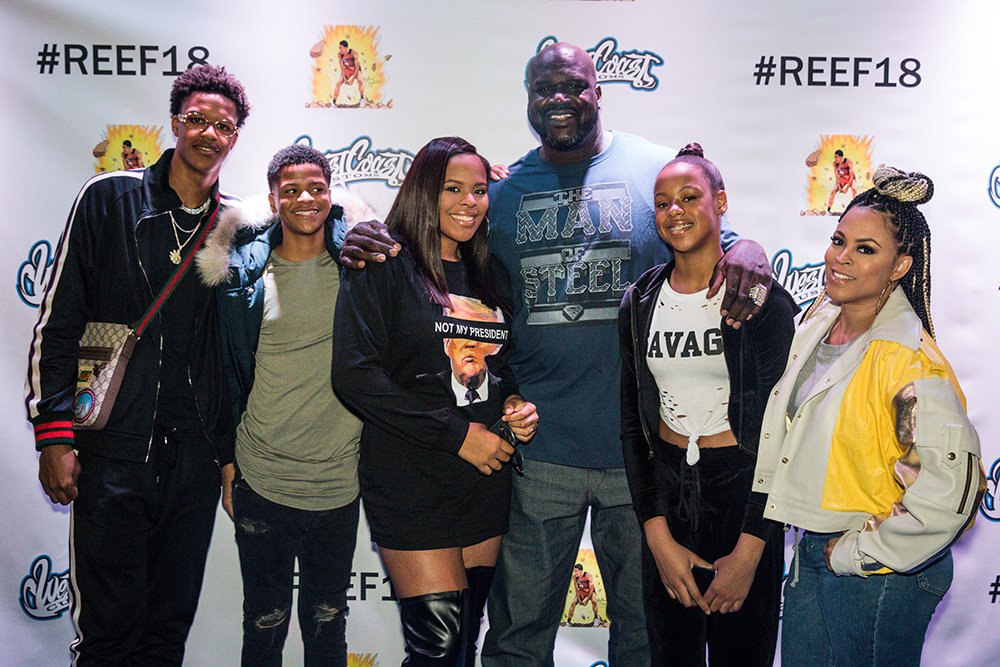 Shareef O'Neal, Shaqir O'Neal, Amirah O'Neal, Shaquille O'Neal, Me'hara O'Neal, and Shaunie O'Neal at Shareef's birthday at West Coast Customs on January 13, 2018 I Photo: Getty Images.
In one of the snaps, Amirah stylishly held one hand against her head while she pouted her lips in a sexy way. Her wrist sported a cute tiny tattoo.
Another snap saw her still keeping one hand against her head but this time her lips were caught in a slight smile. The pictures which were shot in a dimly lit room featured blue light and a ceiling fan in the background.
Amirah is one of Shaquille O'Neal's children with his ex-wife, Shaunie O'Neal. Just like her father and brother, she has picked up an interest in basketball and is doing quite well for herself already.
Shaquille is also father to a daughter named Taahirah O'Neal.
In April, Amirah shared an Instagram post where she announced that she was joining LSU while adding that the decision had been a hard one for her.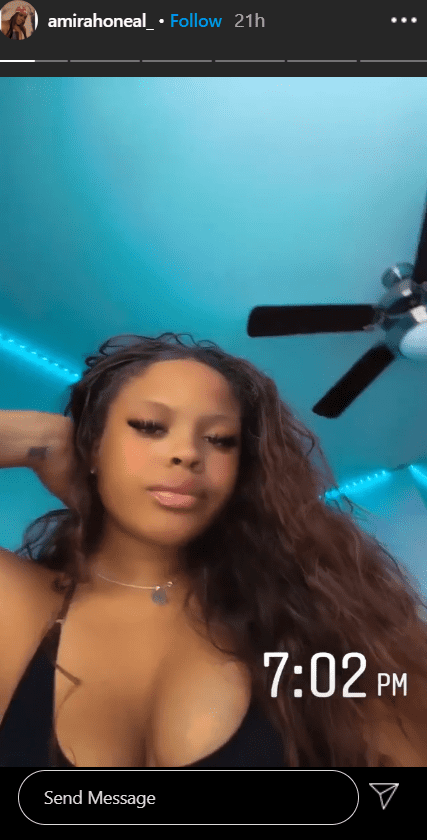 Amirah O'Neal shows off her glossy lips on social media | Photo: Instagram/amirahoneal_
However, she noted that she was willing to face whatever challenges came with the next phase of her life. She added:
"I am excited to say that I have decided to commit to being a student-athlete at LSU, along my brother @shareefoneal."
Before Amirah's announcement, her brother, Shaquille's oldest son, Shareef O'Neal had also joined the basketball program. In addition to Shareef and Amirah, Shaquille and Shaunie share two other kids, Shaqir Rashaun and a daughter named Me' arah Sanaa.
Shaquille is also father to a daughter named Taahirah O'Neal whom he welcomed with his former girlfriend, Arnetta Yardbourgh in July 1996.
Shaquille and Shaunie tied the knot in December 2002 but it wasn't long before the couple started experiencing some problems.
In 2007, Shaq filed for divorce from Shaunie but the couple later reconciled and revealed they got back together. However, their reconciliation was shortlived and in 2010, Shaunie filed for divorce.
Following their divorce, Shaunie and Shaq experienced some problems but over time, the former couple worked through their issues and developed a healthy co-parenting relationship.
Despite being separated, Shaq and Shaunie have raised beautiful and talented kids. There is no doubt that they are proud parents.
Please fill in your e-mail so we can share with you our top stories!