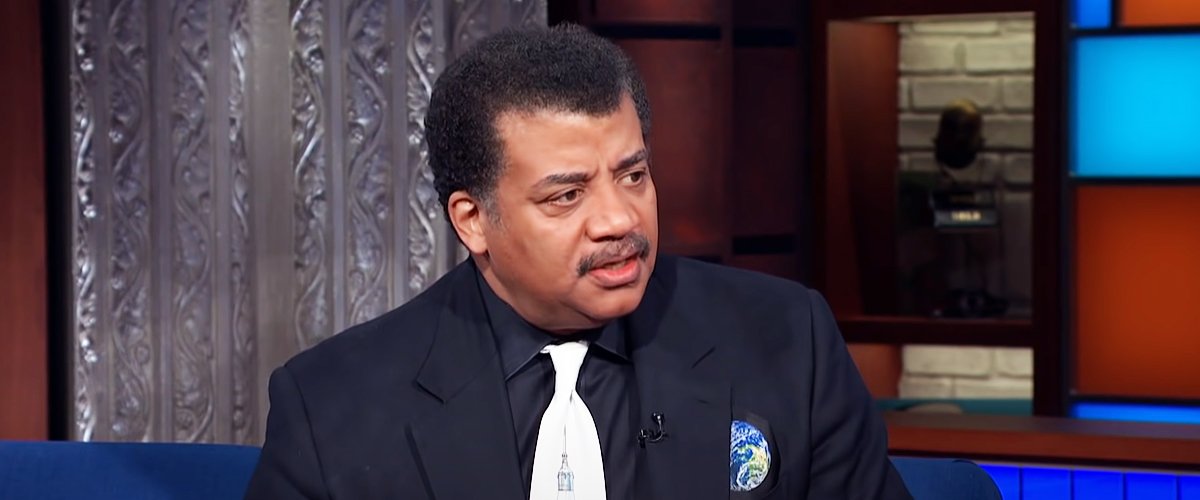 youtube.com/The Late Show with Stephen Colbert
Neil deGrasse Tyson's Mother Is 90+ and His Late Dad Fought Poverty — Meet His Parents

Sunchita and Cyril deGrasse Tyson, the parents of astrophysicist and author Neil deGrasse Tyson, raised their three children in a middle-class section of the Bronx.
Born in October 1958, Neil is the middle of three children. His sister, Lynn, is an executive in investor relations while his brother, Stephen, is an artist and used to be an art professor.
[Sunchita and Cyril] raised their family in Castle Hill in the East Bronx.
Neil deGrasse Tyson on November 8, 2018 in New York City | Photo: Getty Images
CYRIL DEGRASSE TYSON'S LIFE AND CAREER
Neil deGrasse Tyson's father, Cyril, was an athlete, educator, sociologist, and civil rights activist known for leading anti-poverty programs in New York City and Newark in the 1960s. The astrophysicist's mother, Sunchita, is a gerontologist.
Speaking of Cyril, he was a part of the government-financed anti-poverty organization called Harlem Youth Opportunities Unlimited, also known as Haryou.
With the group, Cyril designed different programs that were aimed at developing public schools in the area, as well as improving the residents' job skills and opportunities.
Apart from that, Neil's dad used to defend welfare recipients, alleging that they had been stigmatized without justification. Sadly, Cyril deGrasse Tyson passed away in December 2016 at his home in North Salem. He was 89 years old.
Less than a month after his death, Neil wrote a "Letter to Dad," in which he thanked him for all the things he learned through several situations in which Cyril was involved.
In the letter, Neil shared some of those situations and the things he learned from them, including how to overcome negative forces, excel beyond his own expectations, and other "guiding principles."
NEIL DEGRASSE TYSON'S MOTHER, SUNCHITA
Coming back to Neil's mother, he invited Suchita to his show "StarTalk" and interviewed her in celebration of Mother's Day 2020. In it, they talked about several aspects of her and her family's lives, including her and Cyril's relationship.
Sunchita revealed that she and Cyril lived in the same Tenement in Harlem when they were children. However, when he was around 11 or 12 years old, he moved away with his family. For almost ten years, they didn't see each other.
Fortunately, a mutual friend reintroduced them almost ten years later. Shortly after that, Sunchita and Cyril started dating, "and the rest is history."
When they began having children, Sunchita, "by agreement," decided to skip college and become a homemaker to make sure that they were all well-taken care of.
Then, when her older son Stephen went off to college, she decided that it was time for her to resume her education, so she got her undergraduate degree at Fordham University, where she was also working at the time.
Later, Sunchita went to Columbia University and got a master's degree in gerontology. From that point on, she started working with the elderly population.
Nowadays, she is "90+," as she told her Neil, but it seems like her mind hasn't aged at all as she can remember even old addresses and many other details of her life.
NEIL DEGRASSE TYSON'S UPBRINGING
Sunchita and Neil deGrasse Tyson also talked about his upbringing, revealing that she and her husband raised their family in Castle Hill in the East Bronx. As Neil explained, Castle Hill was a mid-income housing project at the time.
His mother then said that they spent only two years in the projects because they needed additional space, so they ended up moving to Riverdale, a middle-class section of the Bronx.
Later in the interview, Neil revealed that what he appreciates the most about his mother is the fact that every conversation and conflict between them had foundations and rational discussion. He said:
"It wasn't just, 'do this because I say.' Because, where does that lead you? I wonder if that promoted my early sense of curiosity."
Nowadays, Neil deGrasse Tyson is married to Alice Young. They tied the knot in 1988 and share two children, Miranda and Travis.
Please fill in your e-mail so we can share with you our top stories!