Getty Images
Madonna's Relationship with Kabbalah — inside Her Religious Views over the Years
Madonna, who has been a significant pop culture influence, has also been influenced by religion throughout her life and career. Her Catholic background and subsequent Kabbalah studies have inevitably shaped her artistic path.
62-year-old singer and actress Madonna is arguably one of the greatest singers and performers of all time. Besides her distinctive style, outrageous performances, and millions of records sold, she is also a profoundly spiritual woman who has always sought God.
Madonna was raised in a staunchly Catholic family, but after many years of a traumatic religious childhood, she tried to find new ways to understand God more deeply. So, she found and started to study Kabbalah to fulfill her spiritual needs.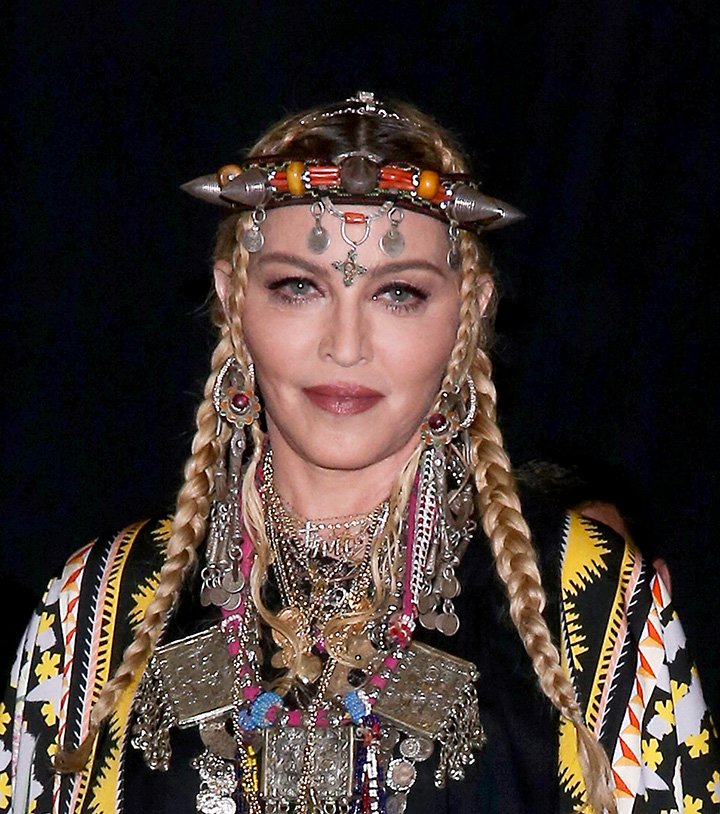 Madonna poses in the press room at the 2018 MTV Video Music Awards Press Room at Radio City Music Hall on August 20, 2018 in New York City. I Image: Getty Images.
However, since the pop star debuted her self-titled album in 1983, she has retained some aspects of her Catholic upbringing, wearing crosses and similar accessories as a style aesthetic and as a symbol of an oppressive system to defy. The Queen of Pop's usage of these elements in her performances has generated a lot of controversy throughout her career.
CHRISTIAN UPBRINGING
Born Madonna Louise Veronica Ciccone in 1958 to an Italian father and a French Canadian mother, she had an upbringing that seemed to be more about harsh Christian rules and duties than a better understanding of God. Her mother died when she was five, and at 17, she left home to pursue dance in New York City.
When Madonna's career took off with her performance debut of "Like a Virgin" at the first-ever MTV VMAs in 1984, she was already making it clear that she was against a religion she considered oppressive. Her performances became controversial and offensive for some people, even now, after more than 30 years.
Although she rejected her religious teachings, Madonna has always been a spiritual seeker who considers religious thinking is "robotic" thinking that tells you what to do without thinking about it. So, she found Kabbalah as a way to get a better understanding of God and life's issues.
In an interview, she once explained: "As I was raised Catholic and I had questions (...) My father could never answer those questions, and my religion never answered those questions, and when I started to study Kabbalah for the first time, I felt like those questions were being answered."
KABBALAH STUDENT
Over the years, Madonna has become a committed student of Kabbalah, believing it is not a religion but a method to understand life deeply and more spiritually, which is more appropriate to her own beliefs. However, as well as her controversial concerts and performances, the pop star also faced criticism with this decision.
In 2005, she had to defend herself when the media began describing Kabbalah as a new cult. At the time, she said that people were critical of the method because they were not familiar with the concept.
However, new arguments arose when the Kabbalah Center in Los Angeles, where Madonna was a practitioner, was publicly accused of distorting the original Kabbalah and Judaism principles to merchandise the discipline.
CHILDREN'S BOOK
Madonna is also an author of five children's books. The first one, titled "The English Roses," was published in 2003 at the top of The New York Times Best Seller list. All of her books are inspired by Jewish imagery, with names of different meanings from Hebrew tales and leaders.
Madonna explained that while the stories are based on her Kabbalah studies, she transformed them into modern tales to explain the powerful knowledge about God and spiritual issues to younger generations. All the proceeds from these books have gone to charity.
MADONNA TODAY
Although her life has been filled with criticism for her direct condemnation of Christianity, using religious themes as an aesthetic has been one of the major characteristics of her creative and artistic career. But besides being an amazing performer, she is also the proud mother of six children, two biological and four adopted kids.
Her first child is 22-year-old daughter Lourdes Maria Ciccone Leon, who she shares with former boyfriend, Carlos Leon. Madonna married film director Guy Ritchie, in 2000 and they welcomed their son, Rocco, in August of the same year. The couple divorced in 2008.
The pop icon is also the mother of four Malawian kids. They are David Banda, who was adopted in 2006, Mercy James in 2009, and twins Esther and Stella Mwale, who were both adopted in 2017.
Please fill in your e-mail so we can share with you our top stories!