Here's How Vanessa Bryant Celebrated Her Daughter Capri Turning 14 Months (Photos)
Late Los Angeles Lakers star Kobe Bryant's daughter Capri is 14 months old now. Her mother, Vanessa shared some cute snapshots of the baby girl on Instagram to commemorate the special milestone.
It has been 14 months since late basketball star Kobe Bryant and his wife, Vanessa welcomed their fourth daughter, Capri into the world. 
To celebrate the special milestone of her "Koko Bean," Vanessa took to Instagram to share some brand new pictures of the baby girl. 
GROWING UP SO FAST
Little Capri looked cute in a floral dress and a matching ribbon on her beautiful curly hair. She toddled her way towards the camera, looking ever so innocent. 
Fans took to the comment section to gush about the little lady. Some of them also pointed out that Capri looks like her sister Gigi while others thought she looks like her dad.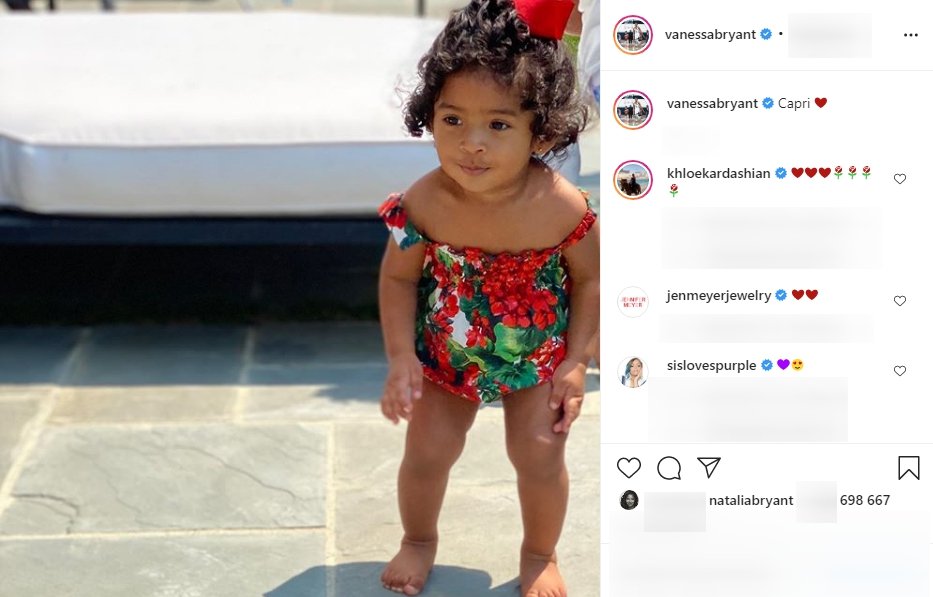 Capri has also inherited her father's facial features and mannerisms.
Ever since Kobe and her daughter Gigi were gone, Vanessa has been making sure that her daughters get all the love in the world as they learn to live without their father.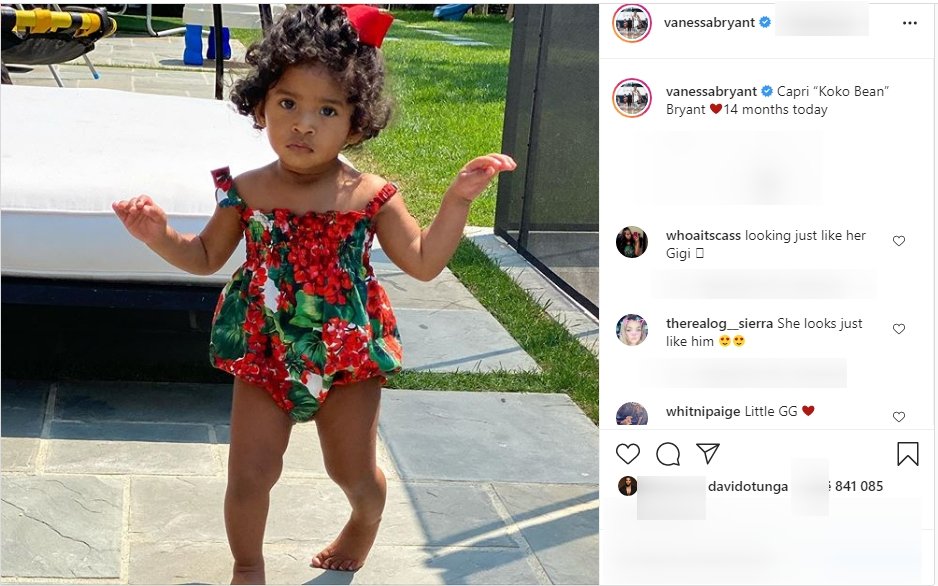 CELEBRATING ALL THE MILESTONES
It is sad to think that Kobe is not around to witness all these milestones of his precious children. Towards the end of May, Capri took her very first steps.
Vanessa captured the sweet moment in a video that she shared on Instagram. The proud mother happily held her daughter in her arms as she stumbled across the room. 
The mother-of-four celebrated Capri's first birthday 3 months after Kobe's death. She also revealed in an Instagram post that her youngest one was named after her dad.
Her name is not the only thing that the 1-year-old shares with her legendary father. According to her mom, she has the exact same cross-over walk as his. 
CAPRI IS HER DAD'S TWIN
Capri also inherited her father's facial features and mannerisms. Fans, too, agree that the little one has her father's whole face. Who knows, someday she might be a basketball star like her father and sister.
Capri's birthday came a little over a month after Vanessa commemorated what would have been her late daughter Gianna's 14th birthday. She asked her fans to wear red, Gigi's favorite color, in her memory.