Sportscaster Thom Brennaman Issues Apology to the LGBTQ+ Community after Homophobic Slur on Air
Sportscaster Thom Brennaman has apologized to the LGBTQ+ community following the homophobic slur he made during a game.
Thom Brennaman, a former Fox Sports reporter, has apologized for the homophobic slur he made on-air while reporting the Reds game on Wednesday.
Brennaman started his apology by acknowledging that he uttered hateful words, referring to the words as something no one should ever say or even think.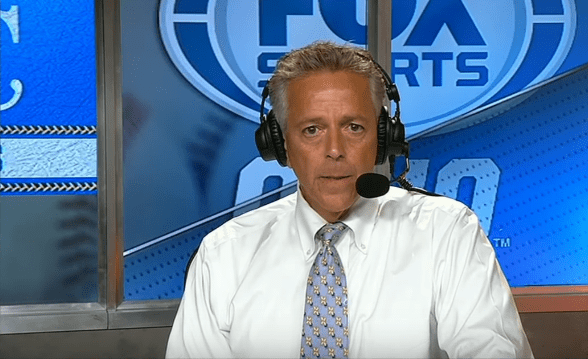 Brennaman admitted that the words he used were offensive and should not have been uttered at all, and although he could try to explain or tell the listeners his belief, he was wrong and accepted full responsibility. He also intimated:
"[I] am particularly ashamed that I, someone who makes his living by the use of words, could be so careless and insensitive."
He further revealed that he had gone to learn the history of the word and was now aware that such word should not be found in his vocabulary.
While he cannot erase what has been said, Brennaman admitted that he was sorry and ready to accept the consequences of his action while working on being a better person.
A representative of Fox Sports also tendered an apology to the LGBTQ+ Community.
Brennaman took the apology a step further by apologizing to the Cincinnati Reds and all fans of the Reds.
He also extended the apology to the entire Major League Baseball world and acknowledged that the word he uttered should not be used on the field, in the booth, or anywhere else. To the LGBTQ+ community he said:
"I am truly and deeply sorry. You should never be denigrated with crude and hateful language. I failed you, and I cannot say enough how sorry I am."
Before his apology, Brennaman was suspended from working the Reds and as Fox's NFL Broadcast as soon as it was reported that he made the derogatory comments.
The Cincinnati Reds have announced the suspension of broadcaster Thom Brennaman after he uttered an anti-gay slur on the air https://t.co/JGvR2rA1p4

— CNN (@CNN) August 20, 2020
Asides from Brennaman's apology, a representative of Fox Sports also tendered an apology to the LGBTQ+ Community, intimating that the network does not discriminate and that the appropriate actions were going to be taken to ensure nothing of such ever happened again.
Trouble began when Brennaman was heard referring to a city as "one of the [expletive] capitals of the world." He had just made an announcement and was unaware that his microphone was still on when he made the statement.
Thom Brennaman apologizes, leaves @reds broadcast after open-mic disaster tonight. pic.twitter.com/ZAFYKtJRRo

— Keith Olbermann (@KeithOlbermann) August 20, 2020
Brennaman, who has spent almost 33 years in the broadcasting business and is also the son of Hall of Fame broadcaster Marty Brennaman, hopes that this situation helps him educate himself and become a better person.