Snoop Dogg's Wife Shante Broadus Proudly Celebrates Her Granddaughter Elleven's Birthday
Iconic rapper Snoop Dogg and his wife Shante Monique Broadus are grandparents to three grandkids. Recently, one of their grandbabies, Elleven, was uniquely celebrated by grandma.
Corde, Cordell, and Cori are the names of the Snoop Dogg and Shante Broadus' children. While Corde has two kids, a son named Zion, and a daughter called Elleven, his younger brother, Cordell, has one daughter. while Cori, the only girl and the baby of the house, is not yet in the business of making babies.
The iconic rapper has a beautiful family and he has learned to separate his career from his business. The way he loves and cherishes his family has influenced his kids to do the same.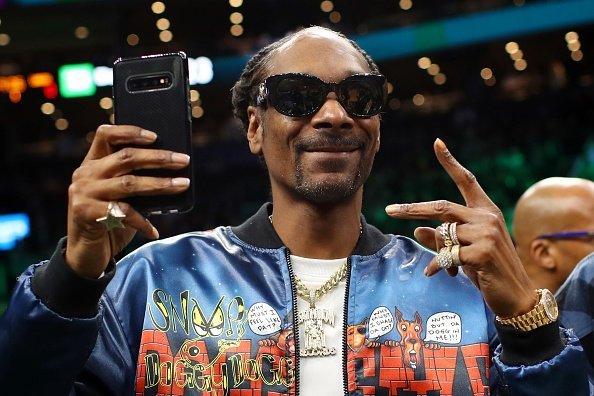 Recently, it was Snoop's wife, Shante, who displayed the unwavering love that is ever-present in the Broadus clan. She documented an outing with her grandchild.
It was not certain when she took the images with Elleven who recently turned 2, but the shared post showed the duo having a swell time as they enjoyed being alone.,
Shante wished the celebrant a happy birthday and although the caption revealed that the birthday wish came late, fans could not help but notice the beautiful outfits rocked by the duo.
Elleven donned a mini orange dress with huge sleeves, and she had a matching colored bow on her hair. Grandma opted for an animal print dress and a mono strap designer bag. The pair had a hangout at a play center with balloons, a bouncing castle, among other things. Shante's comment on the post read:
"My One One Turned 2 Years Old...Happy Belated Birthday. I Love You #MamaTae."
In 2015, when Snoop was newly initiated into the game of grand-fatherhood by his first son, Corde, he went all out to celebrate the news.
The father of three did not mince words as he expressed his pride and excitement over the arrival of his first grandson, Zion. He first shared a clip of the new father and son and later backed it with sweet images of other family members.
One image showed Shante doting on her grandson. Another was a collage of the entire family with baby Zion. Its caption read:
"Zion U have a lot of love WAitn on u grandson."
Even after welcoming their third grandchild, the couple has shown that there is more than enough love for them. This love principle is responsible for their bond as a couple and as a family.
The rapper and his wife are often called a power couple owing to their decision to commit entirely to their relationship. However, this is not without its fair share of ups and downs.
More than a decade ago, their marriage was headed for the rocks and Snoop admitted to being carried away by the glitz and glamour of the entertainment industry.
He soon realized that Shante is his ride or die and he fell in love with her again, this time, with the decision of never letting such a supportive woman go. Shortly after that, they renewed their vows and have stayed married for twenty years.