Bella Hadid Gets Candid about Her Longtime Battle with Lyme Disease and Its Symptoms
In her recent post on social media, supermodel Bella Hadid opened up about her eight-year battle with Lyme disease. She also described the symptoms she has experienced. 
On August 25, Bella Hadid took to Instagram Stories to reshare a graphic by "Palestine on a Plate" author Joudie Kalla about Lyme Disease. Below a list of symptoms, the 23-year-old model wrote:
"The truth. The invisible disease… Love you @PalestineOnAPlate."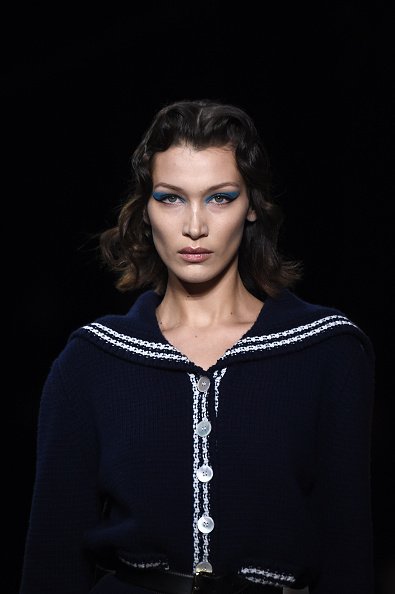 According to Bella, she feels at least 10 of the symptoms every day. This has been a struggle for the model since she was about 14 years old. She felt worse when she turned 18.
The symptoms she normally experiences include muscle cramps and numbness. This was not the first time Bella discussed her battle with Lyme Disease.
In a 2015 interview, Hadid opened up about the time when she first became sick.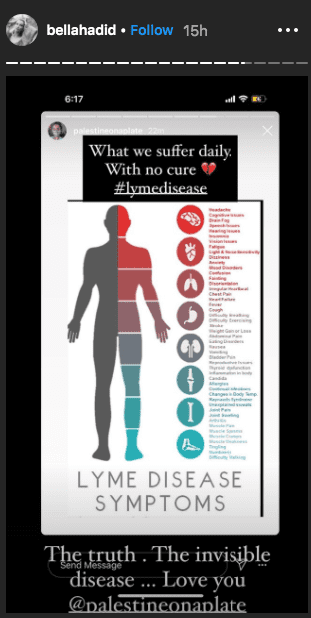 In 2017, she recalled in an interview that there was a time when she was unable to get up for six days because of her disease. Bella explained:
"My brain would get all foggy, and I couldn't see. That was the hardest time of my life."
The model was first diagnosed with Lyme Disease in 2012. In a 2015 interview, Bella opened up about the time when she first became sick.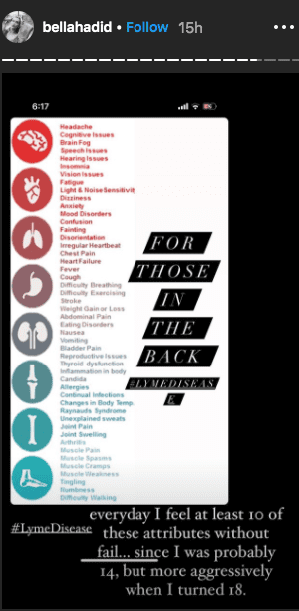 Bella confessed that the disease affected her memory. There were moments when she suddenly would not remember how to drive to Santa Monica from Malibu, where she lived.
She felt too sick she could not ride. It came to a point when she could not take care of her horse anymore so she later decided to sell it.
Amid the disease, Bella managed to succeed in her modeling career. She is often compared to her older sister Gigi Hadid, who like her, is also a successful model.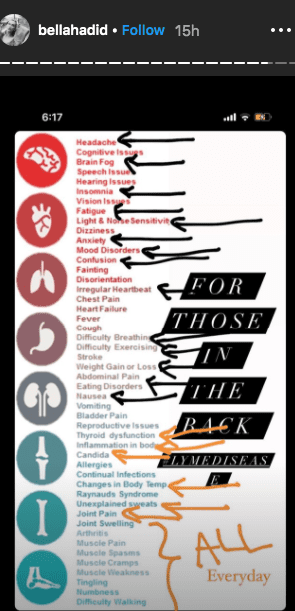 Gigi, who is currently expecting her first child with boyfriend Zayn Malik, began her modeling career first. Bella, on the other hand, took some time to choose what she wanted to do.
She has always deemed herself the black sheep of the family. When she was sixteen years old, Bella finally decided to start modelling.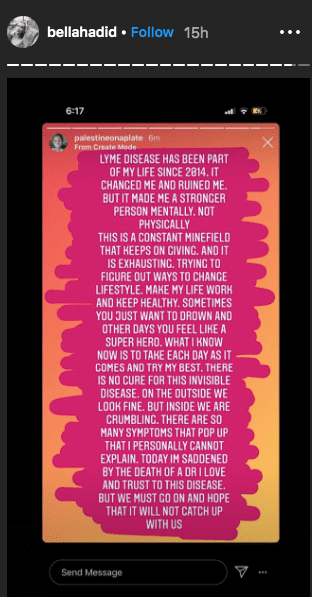 Sometimes, her uniqueness works in her favor, as she and her sister are rarely ever considered for the same projects. She has had the option to chart the course of her own career.
Bella's modeling career took off when she appeared at Fashion Week in 2014. This Fashion Week debut signaled the beginning of her prolific modeling for prominent designers and brands.