Miranda Lambert Shows off Flawless Beauty as She Poses in a Chic Top & Blue Jeans
Country music singer Miranda Lambert recently took to Instagram to share a photo of herself flaunting her gorgeous looks.
In an adorable snap, which she uploaded on August 28, Miranda Lambert, 36, appeared to be in good spirits while she posed for the camera.
The award-winning singer looked absolutely striking in a chic top and blue jeans. In the caption, Lambert wrote: "Beauty is only skin deep, but attitude is to the bone."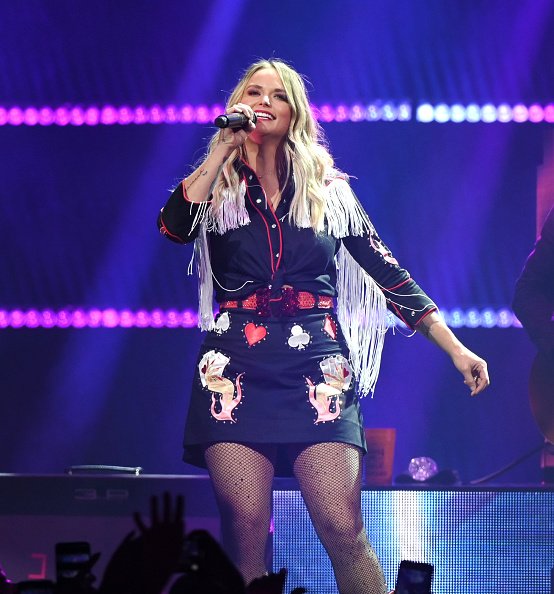 The "Heart Like Mine" songstress, who has over four million followers on Instagram, immediately received numerous positive comments from her avid fans. One person wrote: 
"My favorite artist of all time and beautiful."
"Miranda you are a very gorgeous lady," added another fan, who claimed to be one of her greatest fans. More admiring fans chimed in.
Aside from being a great vocalist, Lambert is also a great songwriter. According to Country Living, her favorite place to write music is on her porch.
She explained that something is calming about looking out at wide-open spaces and trees as far as she can see. Lambert added that the country is perfect for letting one's mind drift to a creative place.
Lambert was previously married to Blake Shelton, from 2011 to 2015.
Lambert was very shy as a child. In fact, she would not speak up at school until the fifth grade. Her mother once revealed in an interview that she often received calls from teachers worried about the development of her child.
That all changed when Lambert signed up for the debate club during her freshman year of high school. Because of that club, Lambert has gained self-confidence. 
Lambert is one of the talented performers who will take the stage for the 55th Academy of Country Music Awards. The other performers are Tim McGraw and Maren Morris.
For the first time in its history, the 2020 ACM Awards will take place in Nashville, Tennessee. Set to be hosted by Keith Urban, the show will air on September 16 on CBS.
Meanwhile, in February 2019, Lambert announced on social media that she married New York City Police Department Officer Brendan McLoughlin in January 2019. The big day took place in Davidson County, Tennessee.
Lambert was previously married to Blake Shelton, from 2011 to 2015. In August 2019, she and McLoughlin celebrated her parents Rick and Bev's 40th wedding anniversary in Texas.