Kimora Lee Simmons Poses on a Bed & Looks Cool in a Pink Silk Dress with Sparkly Jewelry
Kimora Lee Simmons recently stunned in a silk dress and sparkly jewelry, which she donned while striking a sultry pose on a large bed.
Fashion designer Kimora Lee Simmons posted a new photo on her Instagram page and she looked nothing short of beautiful. In the picture, she was clad in a pink silk dress while she posed on a large bed covered with a brown silk bed sheet.
The picture also saw Simmons accessorizing with sparkly jewelry that included a large silver necklace and matching earrings and bracelets.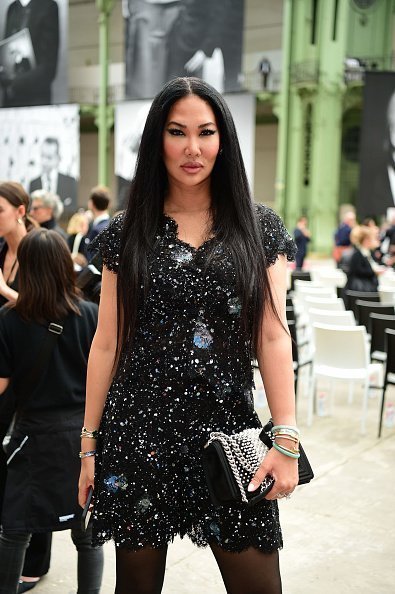 Simmons complemented her look with a long black hairstyle and subtle makeup. With one hand holding a hand fan and the other stylishly placed against her head, she struck a sultry pose. In her caption, Simmons announced the launch of Baby Phat Beauty, writing:
"Guys, please say hello to my latest addition, Baby Phat Beauty and our Shimmer Dreams 3 piece set! ✨? ..."
She also urged fans to shop for her new collection on Baby Phat Beauty's official Instagram page. Simmons' post garnered several reactions from fans and followers who took to the comments section to gush about the gorgeous photo.
When Simmons is not running her business, she is involved in charity work and helping the less privileged.
Simmons first launched "Baby Phat" in 1999 through her then-husband, Russell Simmons' Phat Farm Company. At the time, the line recorded tremendous success and was endorsed by high profile celebrities such as Alicia Keys and Britney Spears.
By 2010, Phat Fashions was folded into the Kellwood Company, causing Simmons to step down from her role as Creative Director of the company.
However, last year, Simmons came back with a bang when she relaunched Baby Phat Fashion with her two daughters, Ming Lee and Aoki Lee modeling the new collection.
Despite her busy schedule as a designer, Simmons prioritizes her time with family and has found a way to balance her work-life situation. In 2009, she revealed that she often set aside a specific time of the day to cater to herself and basically do some self-care.
When Simmons is not running her business, she is involved in charity work and helping the less privileged. Following the outbreak of the COVID-19 pandemic, Simmons collaborated with Freedom Shield to help provide relief materials for low-income families.
Together, they were able to provide nearly 400,000 meals to the needy as well as protective face masks to frontline health workers.
Despite the fame and fortune, Simmons recognizes the need to give back to her community and be a light to the needy in dark times!