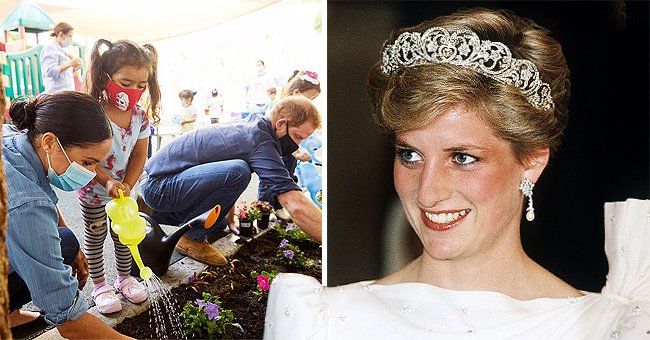 Instagram/assistanceleagueoflosangeles Getty Images
Here's How Prince Harry & Meghan Markle Honored Princess Diana on the Anniversary of Her Death
August 31st was the 23rd death anniversary of Princess Diana. In honor of her memory, Prince Harry and Meghan Markle planted forget-me-not seeds during a visit to a preschool learning center in Los Angeles.
Prince Harry and Meghan Markle spent the 23rd anniversary of Princess Diana's death honoring her legacy in the best way possible.
In an Instagram post shared by the Assistance League of Los Angeles, it was revealed that Harry and Markle paid a surprise visit to their Preschool Learning Center.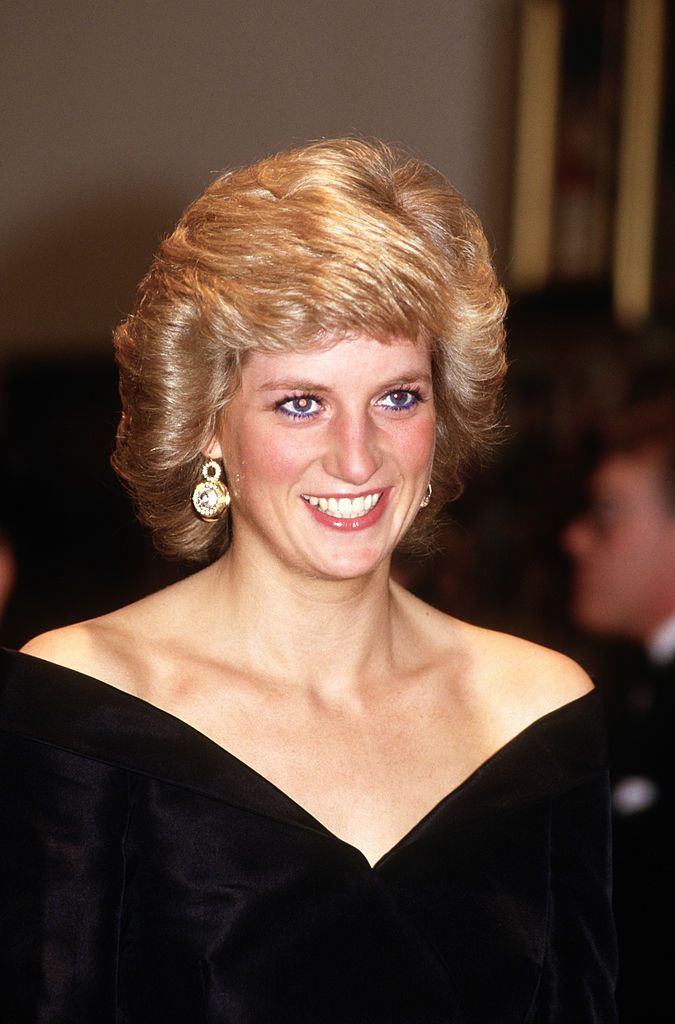 Princess Diana at a fashion show at the Cologne Museum of Art in Cologne, Germany in November 1987. | Photo: Getty Images
At the center, they spent their morning helping the kids replant and tend to their garden. Harry and Markle, alongside all the kids, wore protective face masks. For the outdoor event, Meghan rocked a buttoned-down denim top with jeans. She finished up the look with a pair of navy flats.
On the other hand, Harry donned a black shirt and jeans alongside a pair of brown shoes. In all the pictures, the couple appeared happy to be able to help the little kids.
As a way of honoring Harry's mother, the late Princess Diana, the couple planted Forget-Me-Not seeds, which is considered to be one of her favorites. Princess Diana passed away on August 31st, 1997, following a car crash in Paris. She was aged 36.
Charles Spencer shared a photo of his family flag flown at half-mast in honor of Diana.
A few days before her death anniversary this year, Harry and his brother, Prince William, released a joint statement about the plans in motion to honor their mother.
In their statement, the brothers revealed that a statue of the late princess would be unveiled at the Sunken Garden in Kensington Palace, where she lived before her death.
The statue, which is made by British sculptor and artist Ian Rank-Broadley is expected to be unveiled on July 1st, 2021, which would have been her 60th birthday.
In addition to the new statue, the White Garden at Kensington Palace was planted in 2017 to honor Diana on the 20th anniversary of her death.
Along with the tributes in Kensington Palace, there are several memorials in honor of Diana, in London. These include the Diana Memorial Fountain in Hyde Park and the Diana Memorial Walk at St. James's Palace.
Asides from her sons, another person that misses the late Princess Diana is her brother, Charles Spencer, who never forgets to honor his sister. Taking to his Twitter page on Monday, Charles Spencer shared a photo of his family flag flown at half-mast in honor of Diana.
He described the half flying mast as his first family duty on the 31st of August every year. He also added that Diana would never be forgotten. Without a doubt, Princess Diana left a lasting legacy, and her memory lives on in the hearts of her family and many across the world.
Please fill in your e-mail so we can share with you our top stories!