Salma Hayek Shows off Her Gorgeous Figure in Swimwear Ahead of Her 54th Birthday
On the eve of Salma Hayek's birthday, the actress posted a selfie wherein she wore a black swimsuit that showed that age is just a number. Totally gorgeous and toned as she welcomes her 54th year on this earth.
Salma Hayek expressed her excitement over her upcoming birthday with a stunning picture - which she reminded fans is not a part of Throwback Thursday. Since she looks so ageless, one could mistake it for one taken many years ago.
The latest in a string of beautiful pictures, Hayek has been enjoying every moment of being in Greece with her longtime husband and billionaire François-Henri.
THE EARLY TRIBUTE
With Francois-Henri four years Hayek's senior, she turns 54 on Wednesday. She decided to usher it in with a little bit of glamour ontop a horizon-less mountain, the actress stunned in a one-piece halter swimsuit. 
Guarding against the hot sun, Hayek paired her swimsuit with a matching black wrap and a big straw hat, and it only highlighted her toned physique. Excited about her upcoming birthday, the actress captioned the two images:
"Guess who's turning 54 tomorrow? By the way, this is not a Throwback Thursday! Thank you Marjo for turning into a photographer during the vacation!"
PROUD OF FEATURES
The second picture showed a close-up of Kayek's face, and with a few of her facial features highlighted, she looked naturally youthful and beautiful. 
From sipping coffee in a skimpy bikini to wearing beautiful form-fitting gowns on the red carpet, Hayek is proud of her body, and she loves taking care of it by staying healthy and active.
SHE TAKES EXERCISE TO ANOTHER LEVEL
Hayek never developed the discipline for early morning workouts to kickstart the day, but she did come up with a way to work out even when it doesn't look like she's doing anything at all. 
Through a form of yoga, Hayek learned how to activate all the body's tiny muscles so you can get a workout even when you brush your teeth. During an interview with PEOPLE she reportedly elaborated:
"I work with a woman in London who taught me how to hold my body in a way where the muscles are activated all day long."
In addition to the muscle-activating yoga, the actress also engages in regular workouts. Even though they are relatively short at thirty minutes each, Hayek enjoys the combination of strength training and dance type workouts. 
 LOVING THE TRIP WITH HER HUSBAND
The "Like A Boss" star frequently posts updates on her experiences in Greece with husband Francois-Henri, the CEO and chairman of Kering, and the president of Groupe Artémis. Earlier this month, Hayek showed that they could still kiss even if they had to do it through masks due to the pandemic.
The two lovebirds married back in 2009 during a lavish ceremony in Paris. According to reports, their nuptials cost a whopping $3.5 million and other celebs such as Bono and Penelope Cruz watch on as they said their I dos.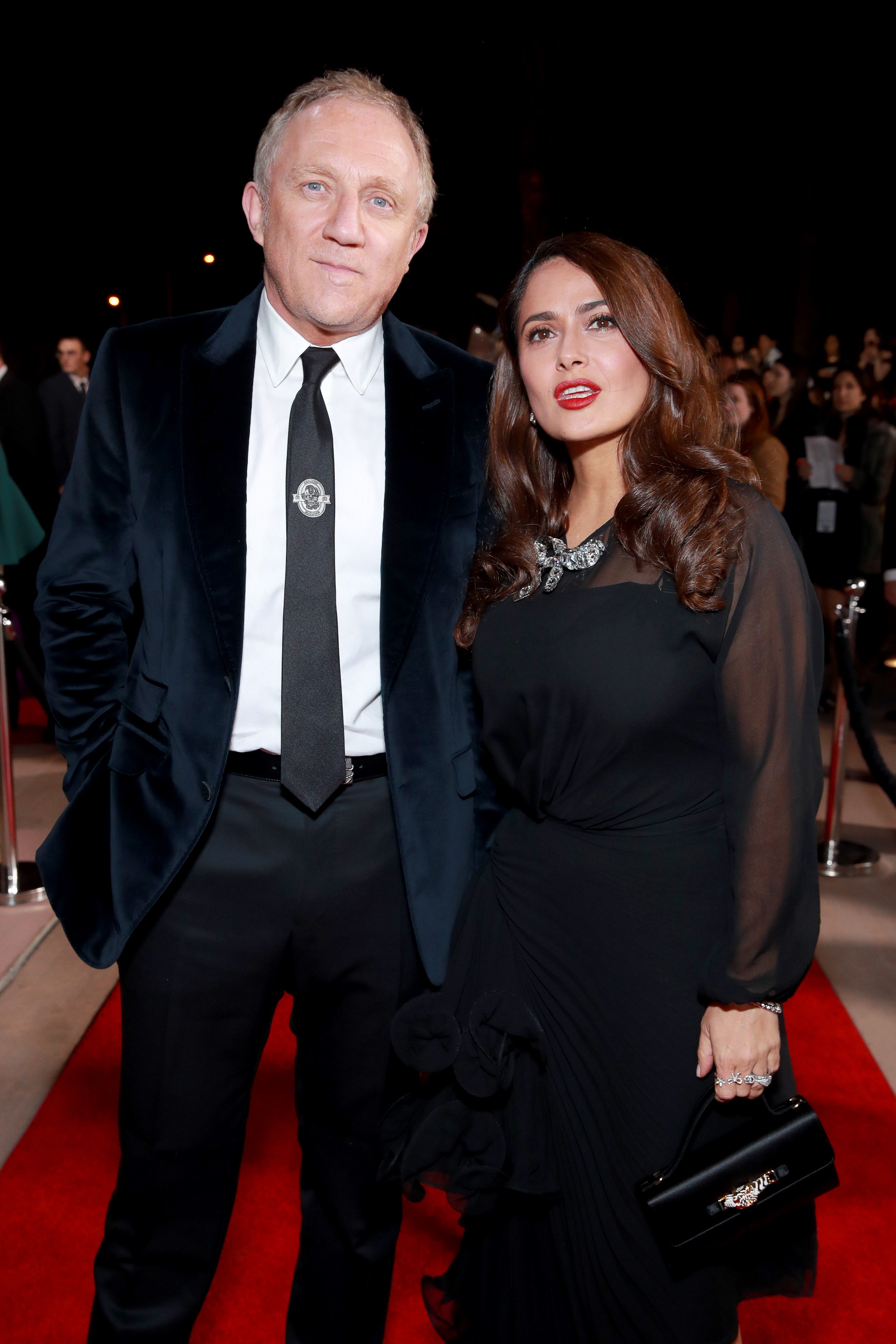 MOM IN A BLENDED FAMILY
While Salma Hayek became a stepmom to three children Pinault had from previous relationships, they also welcomed a child and daughter of their own together named Valentina.
Pinault first married Dorothée Lepère, with whom he has a son Francois and a daughter Mathilde. While he dated the supermodel Linda Evangelista, they welcomed a son together, Augustin James.