Jackée Harry and Twins Tia and Tamera Mowry of 'Sister, Sister' Celebrate the Show's Netflix Debut
"Sister Sister" alums took to their various social media pages to celebrate their old-time show's debut on Netflix. The cast was in awe of the love "Sister Sister" received.
90's fans enjoyed watching the funny wiles of twin sisters, Tia and Tamera on "Sister, Sister" for five years before its final season in 1999.
Now, Netflix is allowing the show's fans to revel in the old memories as it was recently debuted on the production company's web app.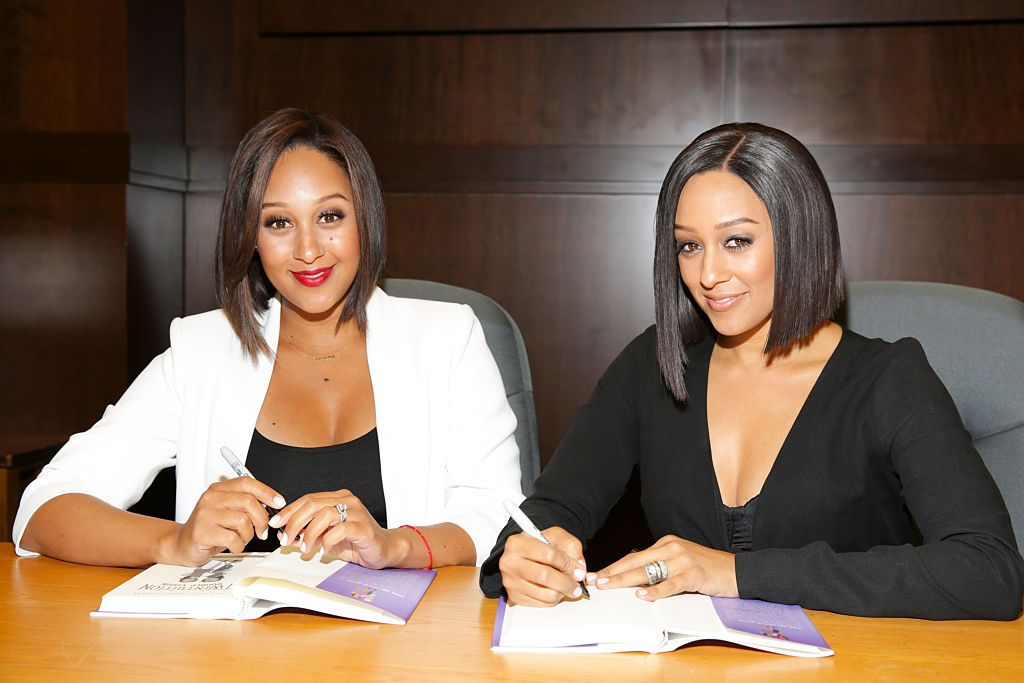 Former child stars, Tia and Tamera Mowry took to their Instagram pages to celebrate the new milestone of their teenage show. On her page, Tia shared a snapshot of herself and her twin sister from their days on "Sister Sister," rocking vintage outfits and presenting bright smiles. Tia excitedly captioned her post:
"Wow! Wow! Wow! Never ever did I ever think that I would have three shows #trending on @netflix. This is insane!!!…"
Tamera shared a similar post with a photo of them locked in a warm embrace while rocking lacy outfits. Tamera's caption took on a nostalgic turn. She referred to "Sister Sister," as one of her favorite jobs in history while mentioning her and Tia's humble beginnings.
In one of the show's episodes..., the "Slow Jam" song by Usher and Monica has been removed and replaced with 2009's "Running," by Bell Ringer.
The show's matriarch, Jackée Harry, also presented a photo of her and her fellow "Sister Sister," alums to the delight of her Instagram fans. The second image in her post showed that the sitcom was in the top three on Netflix.
Marquee Houston who played "Roger" on the show shared an image of their Netflix milestone on his Instagram story showing the sitcom as number 3 on the Netflix USA top 10 list.
Fans who are already delving into the vintage goodness and dear old memories of "Sister Sister" would notice some notable changes made to the Netflix-aired version.
In one of the show's episodes titled "Shoeless," which is an adaptation of the Cinderella story, the "Slow Jam" song by Usher and Monica has been removed and replaced with 2009's "Running," by Bell Ringer.
It is worthy of note that the change was effected way before Netflix acquired the right to present it on their web app.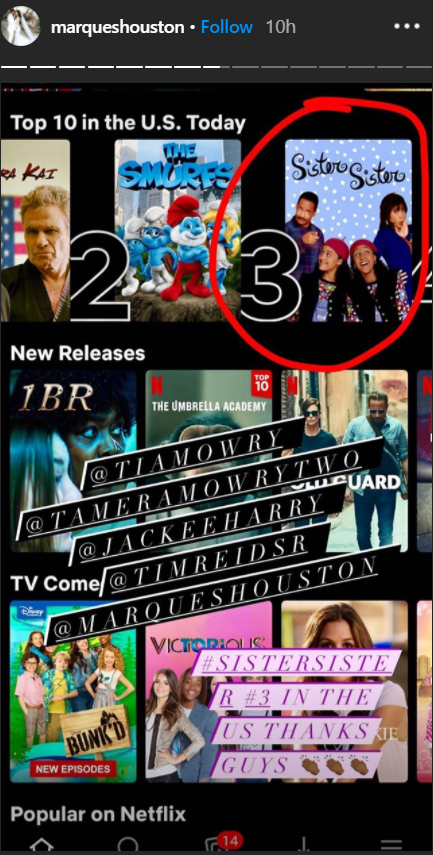 "Sister Sister" revolved around twin sisters, Tia Landry and Tamera Campbell who were separated at birth. They would meet again as teenagers and discover that they were twins. They also brought about cohabitation between their adoptive parents.
After "Sister, Sister's" season finale, the twins continued with their academics but later appeared in movies like "Twitches," and its sequel. They have also been on other TV projects since then.
These days, Tia and Tamera Mowry are married and have two kids each. Tia is married to fellow Hollywood star, Cory Hardrict while Tamera tied the knot with former TV correspondent, Adam Housley.
Other members of the cast like Marques Houston also tied the knot last month with his girlfriend Miya Dickey. Tim Reid who starred as Tamera's widowed father Ray has been married twice since the end of the series. Deon Richmond, Tahj Mowry, RonReaco Lee, and Jackée Harry are also doing well for themselves.