Katie Lee and Billy Joel Have a 32-Year Age Gap — Look Back at Their Marriage and Divorce
In 2004, iconic singer/ composer/ songwriter Billy Joel married 23-year-old Katie Lee, a chef 32 years his junior and even though the marriage fell apart after 5 years, the friendship endures.
In 2003, a young hopeful wanna-be chef from Long Island met a charming older man at the rooftop bar at The Peninsula Hotel in New York City. The man turned out to be Mr. "Piano Man" himself, Billy Joel, and a year later the couple tied the knot.
Katie Lee and Joel's romance was a seven-day wonder, due to their age difference, but his family embraced the new bride -- his ex-wife Christie Brinkley was at the wedding, his daughter  Alexa was a bridesmaid, and among the guests were Donald Trump and Alec Baldwin. Just 5 years later their marriage fell apart, but it seems that their friendship survived.
Lee revealed that she had had to have surgery and in vitro fertilization in order to become a mom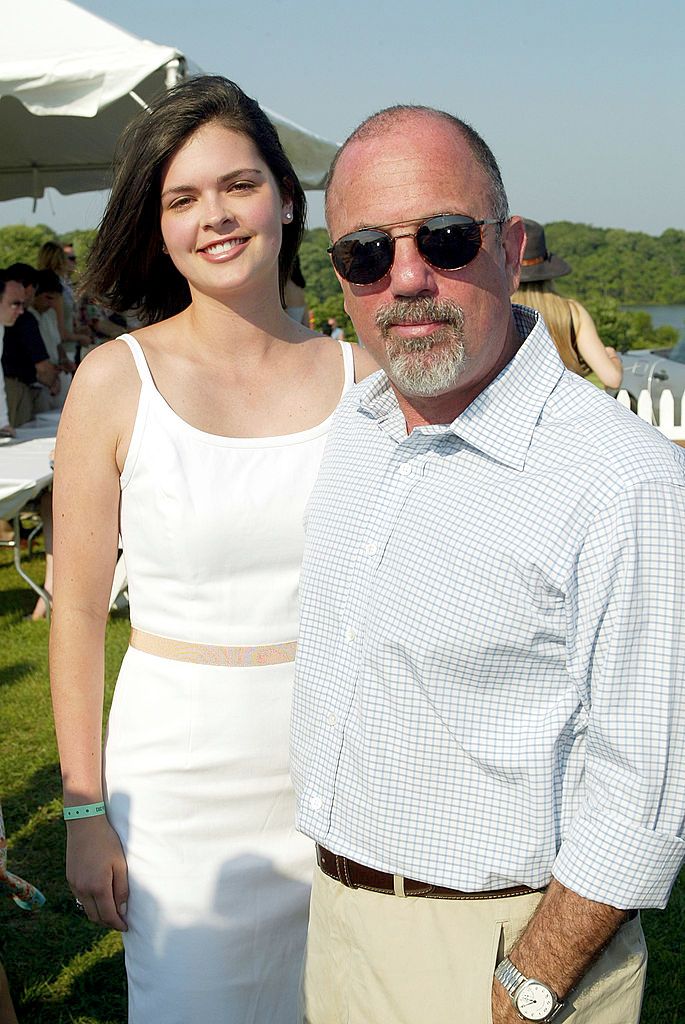 MAY DECEMBER LOVE
Lee admitted that when she met Joel she knew little about him, and even less about his music. She went out a bought herself a Greatest Hits album. Lee was a student at Ohio's Miami University studying journalism and food-science. She wanted to be a cookbook author and a food critic, and early marriage wasn't in her plans.
But she fell in love, Joel proposed, and for the next 5 years, it looked as if the May/ December union was idyllic. Sadly, the couple drifted apart. Lee was invested in her career, while Joel wanted a quieter life, so they divorced amicably in 2009. Lee stated:
"I want the best for him, and I think he wants the best for me."
AMICABLE DIVORCE
While so many couples end up bitterly hating each other, and fighting viciously over money and settlements, even though there were rumors at the time that Lee was too friendly for Joel's liking with Israeli haute couture designer Yigal Azrouel even though Lee always denied any impropriety. In the divorce settlement, Lee received the couple's New York townhouse which she ended up selling for a hefty $11 million.
NEW LIFE NEW LOVE
In 2015, Joel announced that he was expecting his second child with girlfriend Alexis Roderick, and in July 2015, they married in a lavish ceremony in Long Island, conducted by New York state governor Andrew Cuomo. In August 2015, Joel and Roderick welcomed their first child together, daughter Della Rose. Then in October 2017, they welcomed their second daughter, Remy Anne. Joel is now the proud dad of three gorgeous girls: Alexa, 34, Della, 5, and Remy, 2.
KATIE LEE IN LOVE
Meanwhile, Food Network star Lee has been establishing herself as an author, publishing 12 books over the last 10 years, and has a new publication due out in early 2021 -- "It's Not Complicated: Simple Recipes for Every Day." Lee has also remarried, to the producer of "Top Chef" and "The Real Housewives of New York City," Ryan Biegel. The couple became engaged in 2018, when Biegel popped the question in the most romantic place imaginable, Paris.
The wedding took place in a fairytale setting, at the Lo Scoglio da Tommaso hotel on the Amalfi Coast in September 2018. The intimate ceremony was attended by 40 close friends and family. Insiders revealed that in his wedding vows Biegel didn't just dedicate his life to Lee, and profess his love, he also vowed to give her a daily foot massage...
KATIE LEE BECOMES A MOM
If 2018 was momentous, 2020 has proved to be even more so for Lee and her husband. The couple welcomed their first child together on September 2. 2020, a beautiful little girl named Iris Marion.
Lee had hinted at the pregnancy back in February, by announcing on an Instagram post that she was "eating for two." Lee, who had been trying to conceive since their 2018 wedding, struggled with fertility issues. Lee revealed that she had had to have surgery and in vitro fertilization in order to become a mom, and has reached out to other women with similar challenges urging them to never give up.