Joseline Hernandez Slammed for Her Pose While Sitting with Her Daughter Bonnie in a New Photo
Joseline Hernandez has come under fire from her followers after she posted a picture of herself and her daughter Bonnie Bella.
Fans and followers of Joseline Hernandez are not taking it easy with her as they slam her for opening her legs like a man after she shared a picture of herself and her daughter Bonnie.
Hernandez shared a cute image of herself dressed in baggy black trousers and a white top. She finished off the outfit by wearing sneakers and a beanie.
On the other hand, Bonnie Bella looked cute in her Versace shirt dress and long white socks. She also wore sneakers like her mom and her hair was packed in two ponytails atop her head.
The image of mother and daughter caught on strong with Hernandez's followers as there were lots of likes and comments on the post. While some appreciated the image, some other fans had something to criticize. Someone said:
"Why keep the legs open like a man? She already gave birth. Not lady or motherly."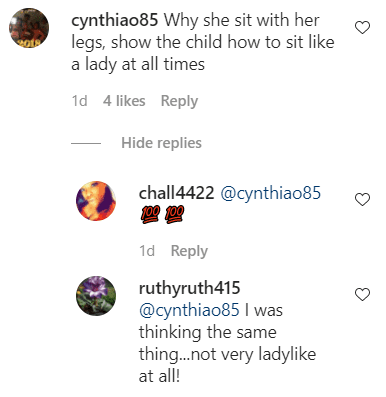 Another fan slammed her, saying that Hernandez was not leading a good example for Bonnie Bella to follow if she kept on sitting with her legs wide open like a man. For this fan, this way of sitting was not ladylike.
Some other fans tried throwing the jabs in a subtle manner with someone asking if it was "open season" that caused Hernandez to sit with her legs spread apart.
Hernandez was arrested for flying out of Miami with Bonnie Bella. 

While some fans tried to defend Hernandez's style of sitting, some other fans were keen on passing the message across, and one fan who was disgusted said:
"Can't even close your legs for a picture with your daughter, smh. Not sister! You mean dad!!!"
Despite the bants and jabs that were thrown her way, Hernandez did not respond to the hateful comments but had quite a number of fans who took to her defense and responded to the critics.
Hernandez and her former partner, Stevie J, welcomed their daughter Bonnie Bella almost four years ago. While they were excited at the birth of Bonnie Bella, things took a downward spiral and this resulted in long hours of battling custody for their daughter.
Sometime in 2019, Hernandez was arrested for flying with Bonnie Bella out of Miami and this caused her to lose the sole custody of her daughter. The period was one of the most heartbreaking moments for her as a mother.
With all the back and forth Stevie J and Hernandez had when it came to Bonnie Bella's custody, the pair are now agreeing to mature up and become good co-parents for their daughter as she deserves the best from both her father and mother.