Lily Allen and David Harbour's Love Story as They Tie the Knot in Las Vegas
Lily Allen, the English singer with four studio albums under her belt, married "Stranger Things" actor David Harbour in a ceremony held in Las Vegas, Nevada. An Elvis Presley impersonator officiated it.
As People reported, the couple got their license on September 6. On September 9, only a few days after, they exchanged vows at the Graceland Wedding Chapel, the same place where "Game of Thrones" star Sophie Turner and Jonas Brothers' singer Joe Jonas got married.
David is not the singer's first husband, though.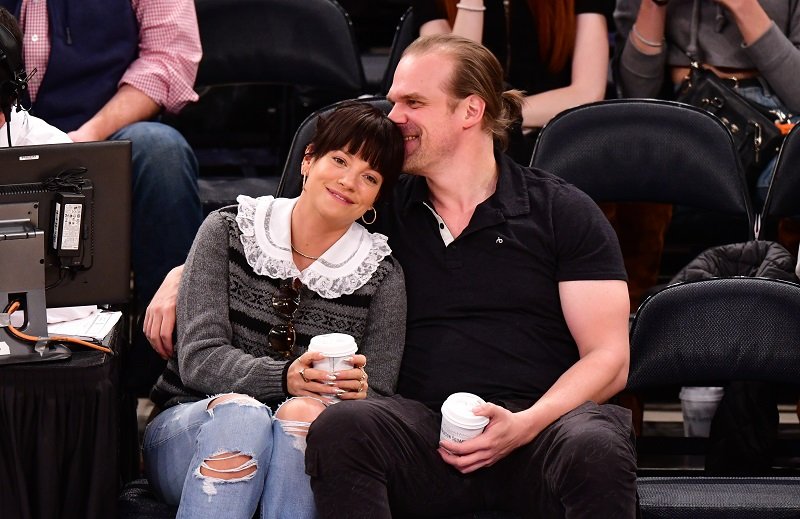 LILY ALLEN AND DAVID HARBOUR'S WEDDING
To commemorate the milestone, the singer uploaded three photos on Instagram. The first one showed her and David smiling at each other while in the middle of the ceremony.
For the second pic, the couple posed naturally out on the streets while still wearing their wedding outfits. The third and last pic shows Lily eating what appeared to be a burger with her dress still on.
Before tying the knot, the singer had been uploading on social media some photos that gave her followers glimpses into their engagement. In one of them, Lily showed her "ripped" body while also subtly showcasing her engagement ring.
Lily chose to avoid mentioning the stone in the caption of her post, but she seemingly referred to it in the comment section after a follower asked about it. Altering Brad Pitt's famous line from the 1999 film "Fight Club," Lily wrote:
"First rule of engagement club…"
LILY ALLEN AND DAVID HARBOUR'S LOVE STORY
David Harbour and Lily Allen sparked dating rumors for the first time in late 2019 when they attended the "The Lehman Trilogy" show in August. Then, in September, they went to a boxing match between Vasily Lomachenko and Luke Campbell.
In October, the couple showed some PDA while walking in New York City, which ultimately confirmed that they were an item.
Around the same time, David made his debut on "Saturday Night Live," and Lily was thrilled in more ways than one.
In an Instagram Story, the singer uploaded a couple of photos of David's "SNL" appearance, zooming in on his toned biceps. To make sure that people knew she was gushing over his arms, Lily added, "Mine" next to it.
Also in October, the couple made their red-carpet debut at the Champions for Change Gala in New York City, attended a basketball game at Madison Square Garden, and made their romance Instagram-official.
From that point on, Lily Allen and David Harbour have made appearances on each other's' social media accounts, and they have celebrated two major milestones together: their birthdays.
On Lily's birthday (May 2), for instance, she shared two videos of the surprise that David prepared, and it included a lot of rose petals, food, a "Happy Birthday" sign, and himself in a dressing robe.
They have been quarantining together, as well, and while they only got their marriage license earlier this month, Lily's Instagram posts suggest that they have been engaged since at least April 2020.
LILY ALLEN AND DAVID HARBOUR'S PREVIOUS RELATIONSHIPS
David is not the singer's first husband, though. Lily Allen and Sam Cooper, a builder and decorator, started dating in 2009. Shortly after that, she got pregnant with a boy named George.
Unfortunately, the kid died six months into the pregnancy, which probably hit the former couple hard. In 2011, they welcomed their first child, Ethel. Two years later, Marnie was born.
Sadly, Lily and her ex-husband parted ways in 2016 and concluded their divorce proceedings in 2018. She described some of the reasons for making such a decision in one of the songs on her album "No Shame."
In "Apples," the singer pointed out that the lack of sex, her drinking, and the divorce of her parents were contributing factors in her and Sam's split.
David Harbour, on the other hand, has never been married before, but his most recent partner was singer and actress Alison Sudol. The ex-couple supposedly called it quits in July 2019 after dating for about a year.
Nowadays, Lily Allen and David Harbour are happily married, and their fans cannot wait to see more glimpses of their relationship online.