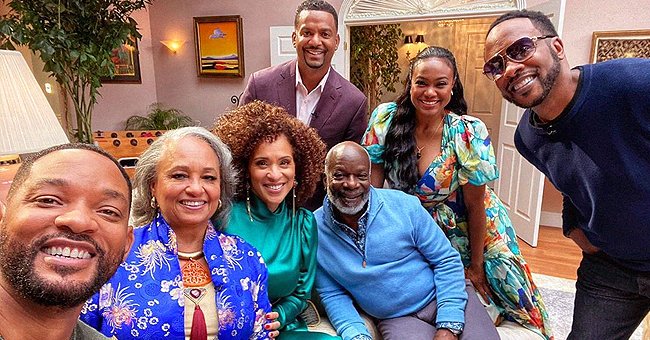 Instagram/willsmith
'The Fresh Prince of Bel-Air' Cast Reunites as They Celebrate the Show's 30th Anniversary
The famous television sitcom of the 90s, "The Fresh Prince of Bel-Air" marked its 30th anniversary on Thursday and members of the cast came together to make it a memorable celebration.
It has been thirty years since the first episode of the iconic television sitcom, "The Fresh Prince of Bel-Air" aired on television on September 10, 1990.
The cast of the television comedy series came together for a special reunion to celebrate the anniversary and Will Smith gave fans a glimpse.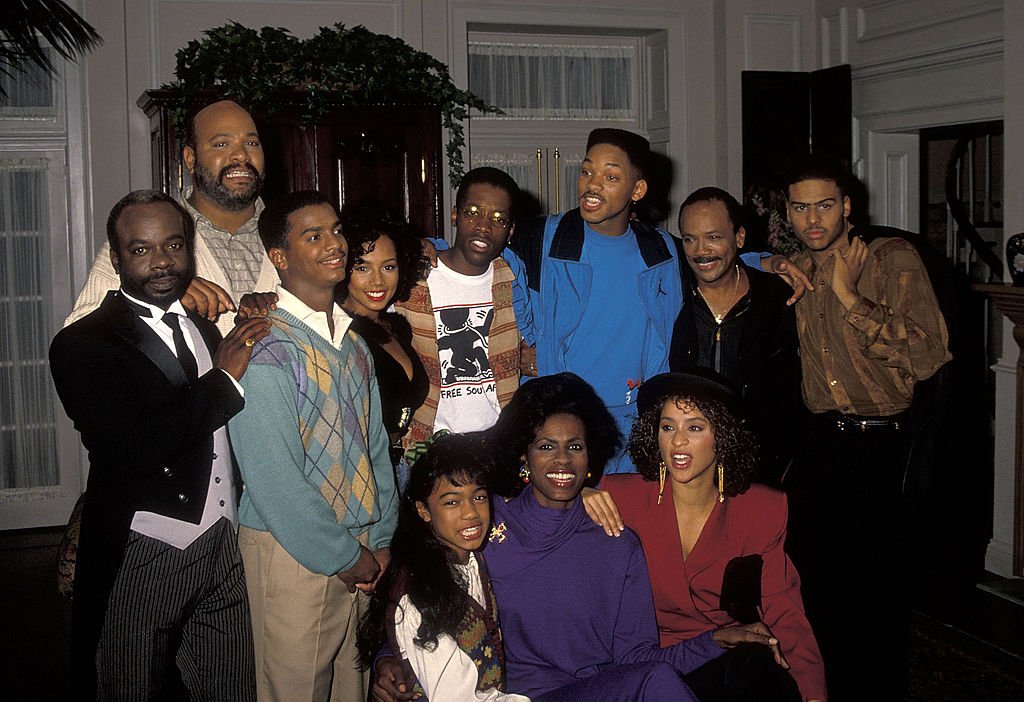 Will Smith and other cast members take a break from filming "The Fresh Prince of Bel-Air" on October 20, 1990. | Photo: Getty Images
The actor shared two pictures taken from the set of HBO Max's upcoming reunion special of the show. The first picture showed Smith smiling alongside former costars, Alfonso Ribeiro, Karyn Parsons, Tatyana Ali, Daphne Maxwell Reid, DJ Jazzy Jeff, and Joseph Marcell. In the caption to the post, Smith wrote:
"Today is exactly 30 YEARS since The @FreshPrince of Bel-Air debuted! So we're doin' something for y'all…"
Smith also paid tribute to the late actor, James Avery who portrayed Dr. Phil's character on the show and died in 2014 at 68. He wrote, "RIP James. #FreshPrince30th."
The second picture in Smith's post showed him sitting down with Janet Hubert who portrayed Aunt Viv for three seasons on the show. Maxwell Reid later replaced her.
The comedy series aired for six years on NBC with its last episode showing on May 20, 1996.
Ali reposted Smith's post on her Instagram page, noting that the day was "something else." She added that she could not wait for everyone to see the outcome of the reunion before wishing the show a happy anniversary.
HBO plans to premiere "The Fresh Prince of Bel-Air" reunion special around Thanksgiving. It promises to be a heartfelt and funny night with music, dancing, and loads of special surprise guests.
The comedy series aired for six years on NBC with its last episode on May 20, 1996. It won two Golden Globe Awards and was a fan favorite.
While Smith's Instagram post would have filled fans with nostalgia at seeing their favorites again, it must be noted that the show's remarkable cast have gone on to have successful careers since the show ended.
Smith is an A-list actor who has starred in many hit movies. Ribeiro has also enjoyed many career highlights including winning in the 19th season of "Dancing With the Stars."
Parsons has made several television and film appearances after the show and also authored two books. Ali went on to star in "The Young and the Restless" and "Love That Girl." She also released an EP, "Hello," in 2014.
Marcell bagged major roles and guest appearances in some television series and appeared in a few movies while Maxwell Reid bagged roles on "Jacqueline and Jilly," "Let's Stay Together," and "Eve." She also made movie appearances.
The other members of the show's cast, such as DJ Jazzy Jeff, Nia Long, and Ross Bagley, are also doing well in their respective careers.
Please fill in your e-mail so we can share with you our top stories!