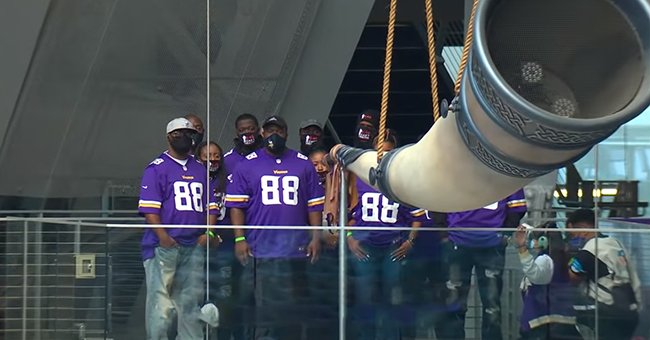 YouTube/Minnesota Vikings
Minnesota Vikings Start Their First Game With a Touching Silent Tribute To George Floyd
The Minnesota Vikings began their NFL season with a tribute to the late George Floyd ahead of their first game against the Green Bay Packers.
Due to the novel coronavirus pandemic and consequent social distancing, sporting seasons have not gone as in previous years but the football season is in full swing again.
However, as the Minnesota Vikings had their first game this weekend, they made sure to honor the man who's memorial they attended in June.
Memorial to George Floyd displayed before a match between the Minnesota Vikings and Green Bay Packers. | Source: YouTube/Minnesota Vikings.
So, when the Minnesota Vikings and the Green Bay Packers came together for their first game of the season, a touching tribute to George Floyd preceded kick-off with this family in attendance.
Shortly before kick-off at US Bank Stadium on Sunday, all the Minnesota Vikings players came together, shoulder to shoulder at the goal line while the announcer honored George Floyd with a few words.
Even though the stadium looked eerily empty, Floyd's family attended the game, and they could also be seen standing next to each other on the Jumbotron in addition to images of murals and memorials put up around the city since Floyd's death.
The tribute came after the pre-game performance of "Lift Every Voice and Sing," and the touching actions of the Minnesota Vikings players came a week after the team awarded their very first George Floyd Legacy Scholarship.
HIS 'TWIN' ALSO PAID TRIBUTE
Ahead of Sunday's game, the Vikings also pledged to continue using their platform to "bring awareness" to issues about racism and injustice. Another man that also feels the painful sting of injustice after losing his "twin" George Floyd is the retired NBA player Stephen Jackson.
Jackson and Floyd grew up together in Houston, Texas, and even referred to each other as "twin." After news of Floyd's death broke, Jackson struggled to believe it.
Floyd had just moved to Minnesota to work as a truck driver. He was busy, "changing his life." Mourning, Jackson said in a tear-filled video:
"I had just sent him up two or three boxes of clothes. My boy was doing what he was supposed to do, man."
Amid the tragedy that unfolded following George Floyd's death, this daughter Gianna can at least be assured that she will always have access to education without worrying about its costs after Kanye West opened his heart and wallet.
Thanks to Kanye West, George Floyd's daughter will be able to go to college one day. The rapper and wife of Kim Kardashian set up a fund for the 6-year-old in aid of education.
Please fill in your e-mail so we can share with you our top stories!