Pink Shares Candid Thoughts on Marriage with Carey Hart in a Sweet Tribute to Her Husband
American singer Pink shares her love for her husband, Carey Hart, with a romantic picture and message on her Instagram.
Pink is a woman known for her eccentric style and upbeat rock music, but she is also a romantic at heart, her recent post on Instagram proves this.
The song-writer shared her love for her husband, former professional freestyle motocross competitor, Carey Hart, in a picture she uploaded on Instagram.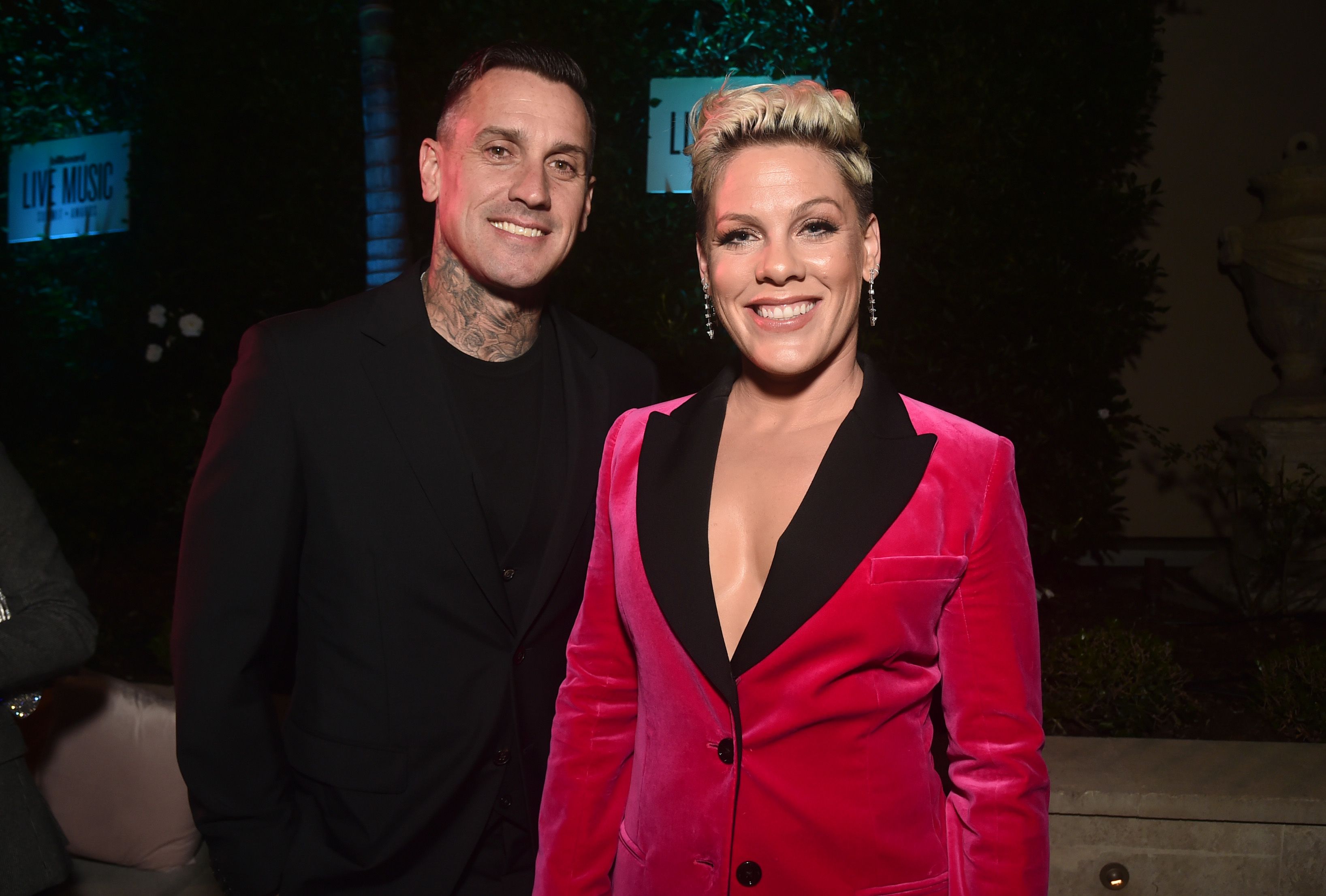 The photo showed the couple hugging passionately outdoors. Pink was seen with her arms around her husband's back with a wine glass in her hand, laughing as Hart kissed her neck.
Fans might recall that the couple broke up after two years of marriage and started marriage counseling soon after.
The post was captioned with a heartfelt message written by the "Just Give Me A Reason" singer. She expressed how her union with Hart hadn't been easy as marriages are both awful and wonderful.
She also mentioned how people criticized them for going to therapy and how therapy is for those who wish to be whole and want a family. She concluded the caption writing:
"I love you babe. I'm grateful we made it to this photo."
Her post was widely received by fans and other celebrities, who blew up the comment section with their love and support for the happy couple.
Pink, whose real name is Alecia Beth Moore and Hart got married in 2006. The couple has two children, a daughter, Willow Sage, 9, and a son, Jameson Moon, 3.
The "Happy Feet" actress confessed last year that she and her husband, Hart, had been receiving therapy for nearly the entire duration of their 14-years relationship.
Fans might recall that the couple broke up after two years of marriage and started marriage counseling soon after. The "So What" singer and the former motorcycle racer reconciled in 2008, and their relationship has been stronger than ever, as seen in Pink's post.
Sweet as they are, Hart is not the only joy in Pink's life. The pop star on "The Ellen DeGeneres Show" in 2019 talked about her children being her pride. The Grammy winner said on the show:
"I'm prouder of my kids than anything I've ever done."
That statement said a lot as the songstress's younger years were a mix of teenage rebellion and drug use, which she confessed to "The Guardian" in an interview in 2017. Her life before fame is also a part of the reasons for her previous rocky relationship with her husband.
Earlier this year, the 41-year-old revealed on an Instagram live session with therapist Vanessa Inn how intimacy did not come naturally to her. Pink also mentioned how her marriage with Hart would have ended without the therapist's help.