Carrie Underwood Shows off Stunning Figure in a New Photo with Her Husband
Carrie Underwood and her spouse Mike Fisher were couple goals in a new photo shared to social media as they showed off couple moments during their workout session.
Country songstress Carrie Underwood had no hair out of place as she went through her workout routine, alongside her spouse, Mike Fisher. The celebrity pair warmed hearts as they were photographed sharing a sweet moment while going through their routine.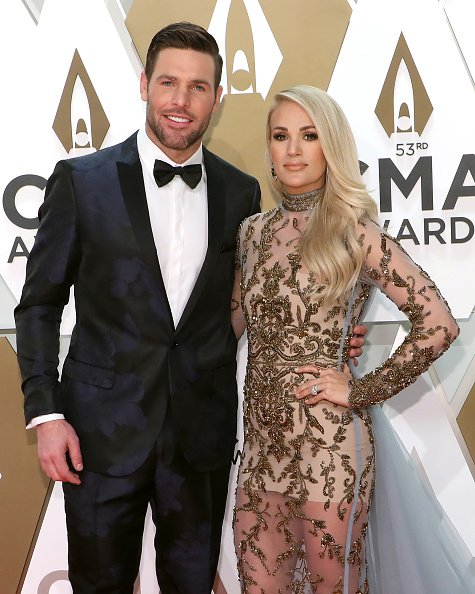 CARRIE IS A STUNNER 
Carrie Underwood looked radiant in a white vest, spandex pants, and a pair of black sneakers. She had her hair plaited into French twists as she sweetly smiled at Fisher. Underwood's stance showed an impressive amount of her biceps. The caption read:
"Working out is always more fun with a partner!..."
Fisher showed he was up to the task in a grey t-shirt, black shorts, and sneakers similar to Underwood's. The post, which was shared on the Fit 52 official page, geared fans to understand a workout partner's essence and how to fit a suitable workout routine in schedules.
THEIR LOVE STORY 
Underwood, an award-winning musician, and her ice hockey alum spouse have been together for a decade and still going on strong. Their love story only kicked off after Underwood agreed to a meet and greet, she was reluctant about.
For Underwood, being in a relationship with Fisher came easily.
She and Fisher met backstage after one of her performances, and the physical attraction was instant. Despite this, the star singer was a tad pessimistic because it ended up being a long-distance relationship. They were, however, determined, and this led to their Ritz-Carlton Resort wedding ceremony.
CARRIE'S SWEET FAMILY 
Five years after sealing their love life and saying their vows, Underwood,37, and Fisher,40, welcomed their first child, Isaiah. A month after the couple's eighth anniversary, the star mom informed fans that they were expecting another addition. Their second son, Jacob Bryan, was born in 2019. 
On their Instagram pages, Underwood and her sports star hubby usually share heart-melting photos of their bundles of joy during adventures and cute family moments. Once speaking about her husband, Underwood gushed, as she mentioned how much Fisher supports her and makes sure to be a great dad to their children.
For Underwood, being in a relationship with Fisher was easy. She shared that her older relationships were never wrong, but they did not feel right either. She added that with Fisher, their love felt like it was meant to be.