Check Out These Snaps Megan Thee Stallion Shared Posing with Her Cute Dogs at Home
Female rapper Megan Thee Stallion took to her Instagram page on Wednesday to celebrate her love for dogs by sharing photos of herself and her cute dogs at home.
Aside from making hit music, rapper Megan Thee Stallion is also a huge dog lover and owns cute dogs. She showed this much in her latest Instagram post on Wednesday.
The rapper shared four pictures of herself posing with her pups in her home. The first snapshot showed Megan in a yellow T-shirt carrying one of her puppies like a baby.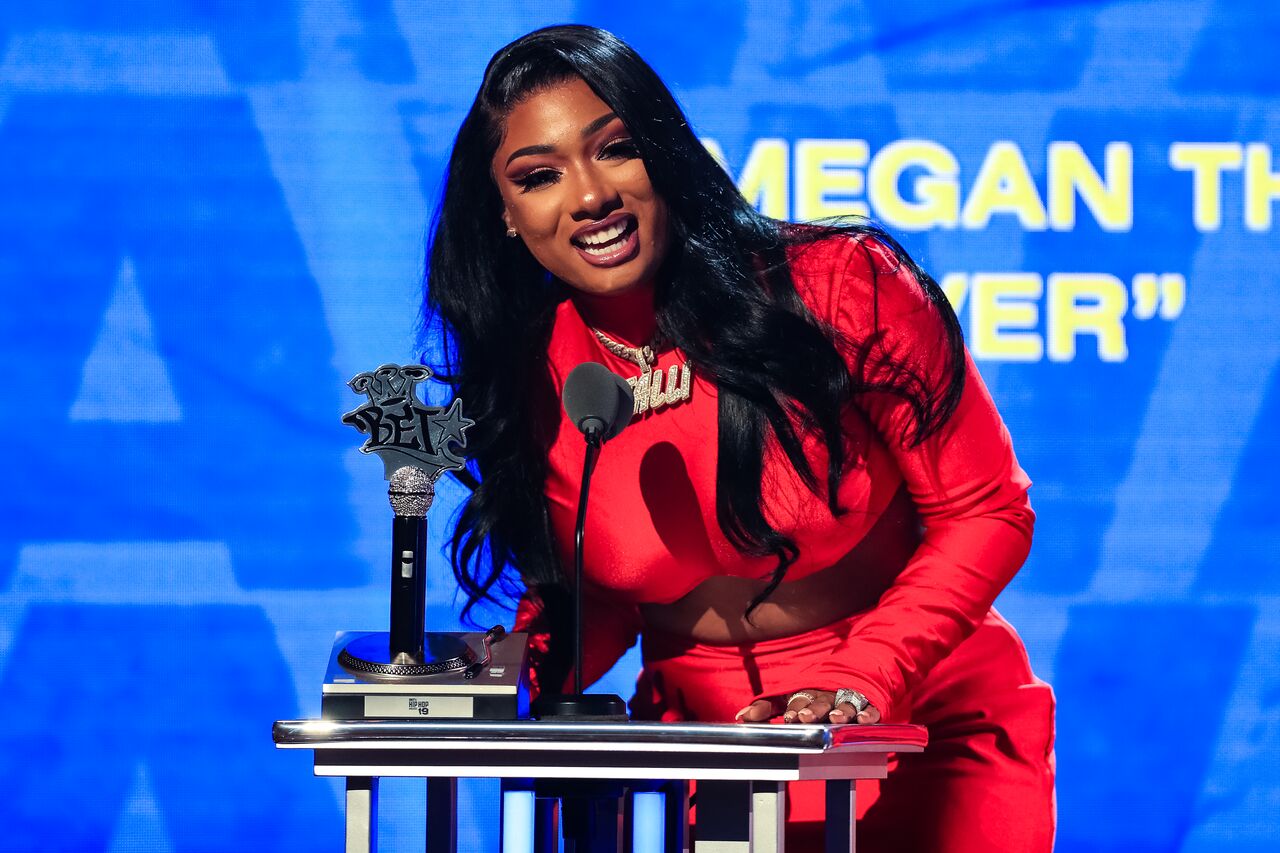 She looked at the camera with the side of her eyes, giving a short cute smile. Megan wore her black hair long, using a purple hairband to hold it in place.
In the second photo, Megan turned her back to the camera, showing her dog's cute face. In the caption to the post, the "WAP" crooner wrote:
"HotDog Mom ??."
The third photo accompanying the post showed Megan flanked by two of her dogs with the one in the two previous snaps cuddling and licking her affectionately.
The last photo in the post showed three of her pups drinking water from a pool. Some of Megan's fans who commented on the post hailed her for love of dogs and her incredible music.
Before venturing into music, she was a student at Texas Southern University and had to make a difficult decision to leave college.
Two of Megan's dogs, 4oe, a grey French Bulldog, and Dos, a Frenchie puppy, are famous on social media. 4oe holds a legitimate award for being the cutest celebrity pet.
The bulldog has an Instagram page with images and videos of his moments with Megan and her other dogs. Dos, who Megan recently acquired, often makes cameos in 4oe's posts as well. 
4oe also had his name in the news recently. In January, rapper Young Thug used the bulldog to insult models in his direct messages, telling them they looked just like the French pup.
The adorable dogs enjoy a lavish lifestyle with their famous owner, traveling over the world with Megan, and even making appearances in her videos.
Meghan is among a long list of rappers that love dogs and she shows it on social media. Other rappers who own dogs include Snoop Dogg, Pusha T, Cardi B, Gunna, and Lil Pump, to name a few. 
In the years since she began her music career, Megan has enjoyed success, with her trending song, "WAP" featuring Cardi B making for a good example. 
However, if music had not turned out successful for her, Megan had a plan B. Before venturing into music, she was a student at Texas Southern University.  But she had to make a difficult decision to leave college to focus on her music.
Should that have not worked out, Megan would have continued schooling and become a part of the medical sector. Though she will not be able to become a nurse anymore, she would like to go into healthcare administration with the hope of taking over the healthcare sector in the future. Fingers crossed on that.