Ryan Hawke Was a Nanny to Ethan Hawke's Kids — What to Know about the Actor's Wife
Iconic actor Ethan Hawke caused a media storm when he married Ryan Shawhughes-Hawke, the nanny to his kids with ex-wife Uma Thurman. The two have been married for more than a decade and are still going strong. 
Ethan Hawke was born on November 6, 1970, in Austin, Texas. He is one of the most talented actors of his generation and has enjoyed a successful acting career spanning more than three decades with notable writing and directing contributions.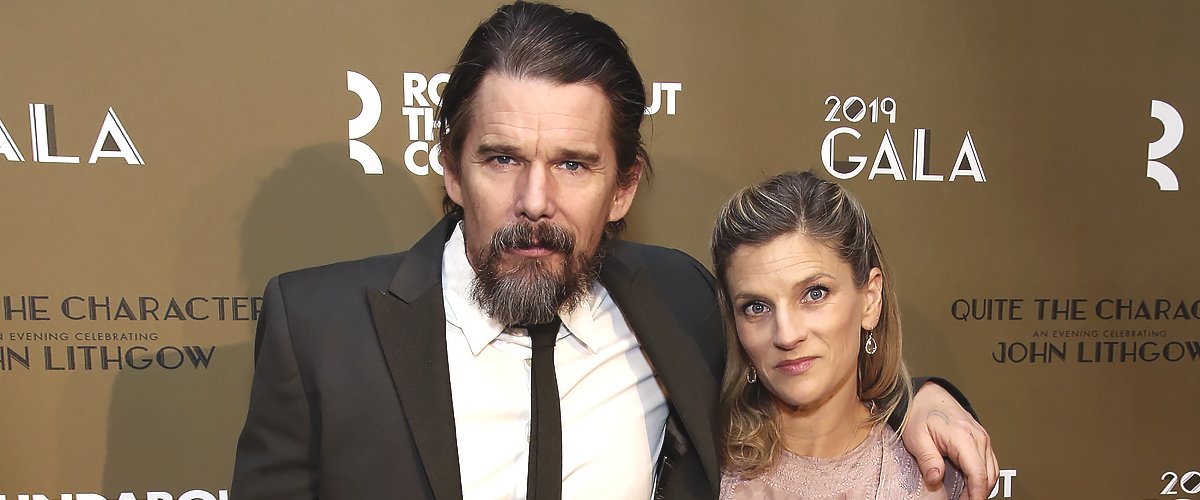 Throughout his career, Hawke has displayed exemplary qualities and has mostly steered clear of any controversies. Besides being a feminist and gay rights activist, he has been involved in several philanthropic efforts over the years.
However, the 49-year-old actor generated some controversy when he married his children's former nanny, Ryan Shawhughes, following the collapse of his 5-year marriage to iconic actress Uma Thurman. 
MEET ETHAN HAWKE'S WIFE RYAN HAWKE
Ethan Hawke and Ryan Hawke met when she was hired by his ex-wife Uma Thurman to care for their children. At the time, Hawke's marriage to Thurman was experiencing some problems and the estranged couple eventually split in 2005.
Following his divorce from Thurman, Hawke quietly tied the knot with Ryan in a secret New York ceremony during the summer of 2008. The couple initially denied rumors about their marital status even though they were spotted wearing wedding bands.
After much speculation, Hawke's agent Mara Buxbaum finally confirmed that the pair got married in June 2008. Their marriage was also timely as Ryan was spotted with a burgeoning baby bump while taking a walk with their dog in Greenwich Village, New York. 
On July 18, 2008, the couple welcomed their first child together, daughter Clementine Jane Hawke. In July 2011, Hawke became a father for the fourth time when Ryan gave birth to their second daughter Indiana Hawke.
Apart from his two children with Ryan, Hawke also has two children, Maya, 22, and Kevin, 18, from his previous marriage to Uma Thurman.
Meanwhile, Ryan has supported her husband through the years and even has a tattoo of his initials on her arm. Apart from being a nanny, she has also enjoyed a brief acting stint and had a cameo appearance in "The Hottest State" that was directed by Hawke. 
On the rare occasions that they make public appearances, the duo has looked every bit a happy couple. Notwithstanding, their marriage has been plagued by cheating allegations from the beginning.
TRAILED BY CHEATING ALLEGATIONS 
From the moment Hawke and Ryan went public with their marriage, they have been trailed by speculations that they began dating while Hawke was still married to Thurman. 
Hawke has vehemently denied the claims and maintains that he only began seeing Ryan after his divorce was concluded in 2005. Still, he found himself at the receiving end of heavy criticisms when he made some unguarded comments about sexual fidelity not being an essential aspect of a relationship.
Meanwhile, Hawke has continued to open up about his marriage to Thurman and their divorce. The "Training Day" star revealed he struggled with depression following the collapse of his marriage. 
The father of four claims he overcame the slump thanks to a reliable support system, including his two children with "Kill Bill" star, daughter Maya and son Levon Roam.
ETHAN HAWKE'S RELATIONSHIP WITH GROWN UP KIDS
The "First Reformed" star is a doting father and once claimed parenting had brought him the greatest joy in his life, and it was the only role he would genuinely regret if he failed.  
Despite his divorce from Thurman, he has maintained a healthy relationship with their kids, and alongside his wife, he has managed to build a tightly knit blended family. 
During the self-quarantining period, the actor and his four children took the opportunity to enjoy quality bonding time singing, dancing, and generally doing what happy families do.
Ethan Hawke's children with his ex-wife Thurman are all grown now, and they are trying to discover themselves. Hawke's oldest child, daughter Maya, is following in her famous parents' footsteps, and in 2019, she was cast in the third season of Netflix's "Stranger Things."
The proud parent could not hold back their joy, and they took to their respective Instagram pages to celebrate their daughter's breakout role while posting an alert on her incredible talent. 
Ethan Hawke and his ex-wife may not enjoy the best of relationships, but they agree on creating the best environment for their children to thrive. More importantly, in their former nanny, the kids have a loving and supportive stepmom.