Tori Spelling of 'BH90210' Shows off Her Stunning Figure in This New Photo on Instagram
Star of "Beverly Hills, 90210" Victoria Davey Spelling, popularly known as Tori Spelling, proved that she was a fashion diva even at home with her recent post on social media.
Tori Spelling, daughter of the late TV producer, Aaron Spelling, has never shied away from sharing her life with fans, and her recent post did not disappoint. The actress showed off her quarantine glow in a photo she uploaded on Instagram on September 17.
The photo showed the mother of five standing in front of thick wooden doors adorned with gold doorknobs, and an intricate flower pattern was engraved on the doors.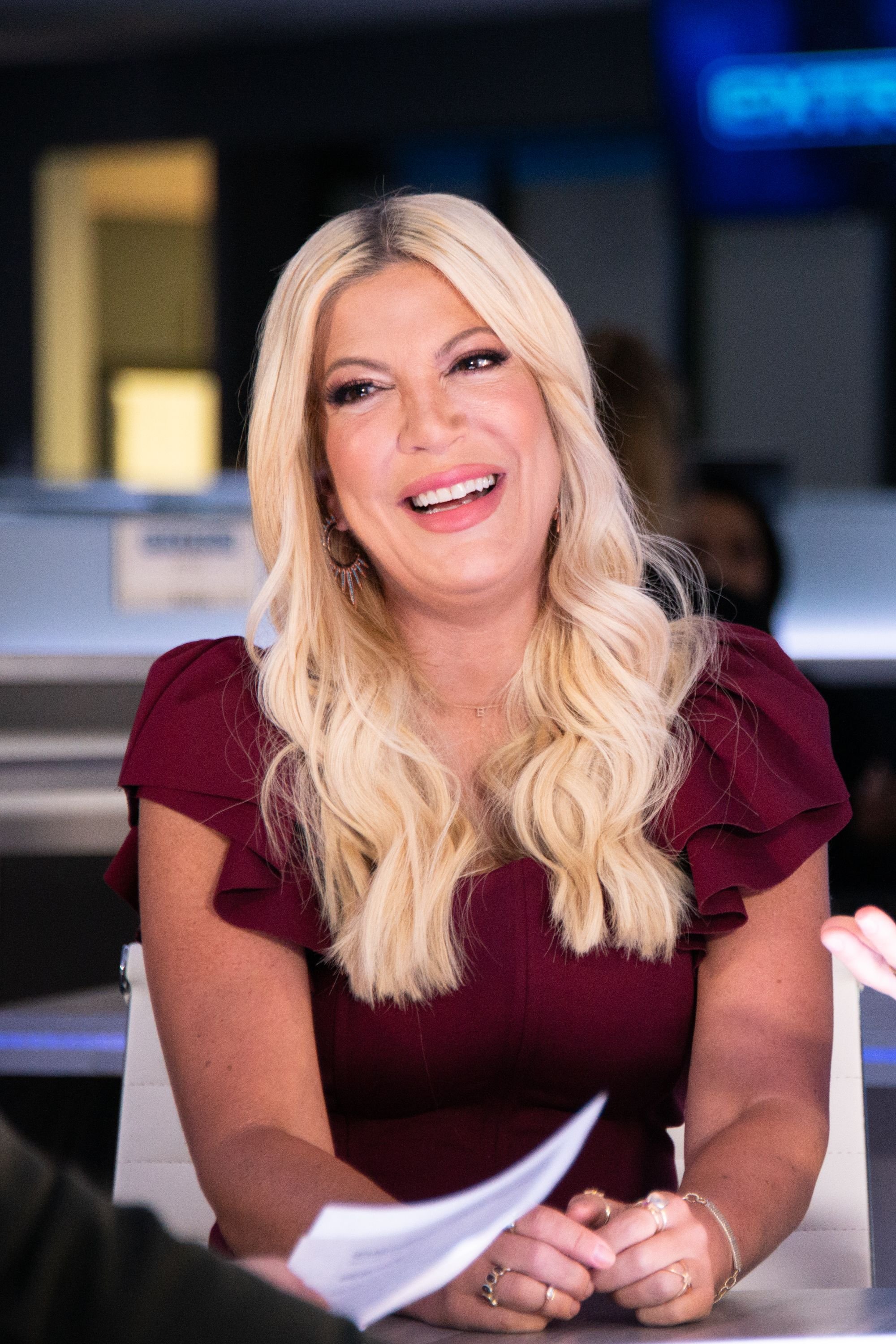 Spelling mixed comfort with fashion by wearing a white T-shirt with short sleeves and a low neckline with a sporty grey jumpsuit paired with white sneakers. The "Maybe Baby, It's You" actress posed with two shopping bags on each hand, which had the red Target logo on them.
Spelling and McDermott finalized their divorce to their former partners in 2006 and got married that same year in a private ceremony in Fiji.
 Spelling captioned the post with a message about how homeschooling her five children was not comfortable, but the home delivery service "Shipt" made her responsibilities easier.
The photo was geographically tagged as "Home Sweet Home", which implied that the shot must have been taken at Spelling's home.
Her post gained a lot of attention from her 1.5 million fans, and it received over 5,000 likes and 100 comments. Some fans applauded Spelling for her amazing figure while several others inquired where they could get her jumpsuit.
The reality TV star and her husband, Dean McDermott met in 2005 on the set of the movie "Mind Over Murder", but they were both married to other people at the time.
Spelling and McDermott finalized their divorce to their former partners in 2006 and got married that same year in a private ceremony in Fiji. 
In 2007 the couple's first reality TV series, "Tori & Dean: Inn Love," was released, and they were also blessed with their first child, Liam. They had their second child, Stella, in 2008, followed by Hattie in 2011 and son, Finn, in 2012, whom Tori had through C-section.
In 2014, Tori hit a rough patch when McDermott admitted to cheating rumors and went to rehab. Three years after the scandal, the couple welcomed their fifth child, Beau Dean.
Being a mother was no easy task as Spelling's whole life was opened to the public, some who didn't hold back their criticism of her parenting skills.
The "90210" star has been shamed for permitting her 8-year-old daughter, Hattie, to dye her hair, and for using her children to promote the product "Little Bites" muffins.
Spelling and her children have received tons of backlash over the years from people on social media, which has prompted both McDermott and his wife to take a stand and defend their children several times. Despite some people's opinions, the actress and her family continue to thrive.