Ayesha Curry Gushes over Husband Steph in a Sweet Photo as They Pose in Cool Outfits
Ayesha Curry recently had all her fans in their feelings after she took to social media with a shot that captured herself and her husband, Steph, posing in cool outfits. 
Ayesha and Steph Curry's relationship is one many aspire to have with their spouses and partners. The couple recently set the bar higher on couple goals after Ayesha took to her Instagram page with a heartwarming photo that featured both of them. 
In the photo, Ayesha and Steph both reclined on a large bed as the camera shot them from above. The pair seemed utterly engrossed with each other– Ayesha had her head on Steph's stomach and his hand cradled her head.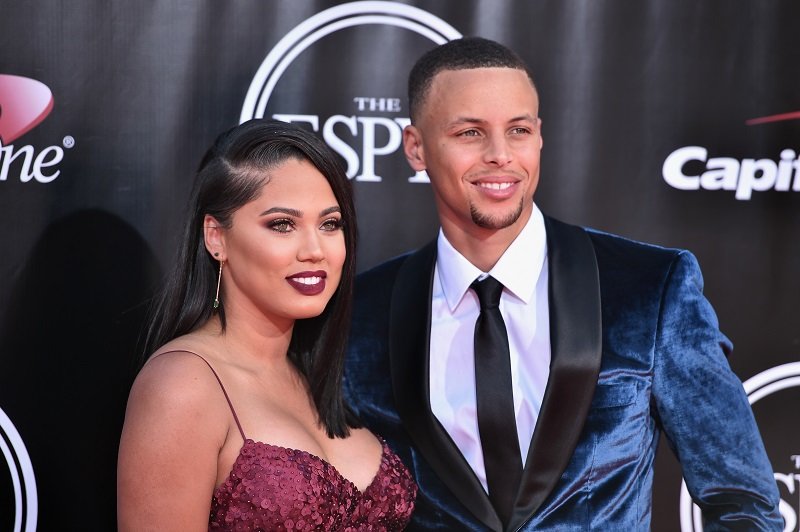 They were both dressed casually– Ayesha in shorts and a sweatshirt and Steph in slacks coupled with a plain white tee. Ayesha captioned the post: 
"Love of my life. You are my friend. Love of my life I can depend." 
Fans of the pair were touched by both the heartwarming photo and the romantic words. They flocked to the comments section to gush over the update. 
Ayesha is a Canadian-American actress, cookbook author, and has a cooking television show, "Ayesha's Homemade," airing on Food Network. The talented cook recently opened up about an injury she suffered while attempting to make a dish featured in her new cookbook. 
Ayesha employed her efficiency in decorating her home and made a masterpiece out of it.
The dish is her gnocchi with pancetta and fig jam. The meal is reportedly one of the fast and easy to make recipes from her cookbook titled "The Full Plate: Flavor-Filled, Easy Recipes for Families with No Time and a Lot to Do."
According to Ayesha, the recipes within the cookbook all range between 15 minutes to 30 minutes, but she says "nothing's ever over an hour." Her accident with the gnocchi dish happened while she was chopping things up with her knife. 
She remembers nearly slicing her fingers off and though everyone around her at the time had been convinced she would require stitches, she had just staunched the blood flow with a small paper towel and band-aid and kept on working. 
Ayesha currently lives in Northern California with her family. Their home is located in the Bay area and she allegedly decorated it herself. 
Ayesha employed her efficiency in decorating her home and made a masterpiece out of it. The overall decoration is elegant, depending on pure colors and smooth lines to create a comfortable and inviting atmosphere. 
She is a busy woman with an ever-expanding empire and the fact that she was able to carve out time to undertake such a herculean task is nothing short of remarkable.  
 Besides hosting her own show on the Food Network, she also has her own line of cookware and bedding, is an ambassador for CoverGirl, and lends a helping hand in running a charity organization.  
That's not all. The illustrious woman also co-owns four restaurants, has a wine collaboration with her sister-in-law, Sydel Curry, and recently launched her own lifestyle magazine titled, "Sweet July."
Ayesha and Steph tied the knot on July 30, 2011, in the same church where they met nine years before as teenagers. The pair share three children, Riley, Ryan, and Canon.