See Salma Hayek's Candid Snap of Her Gray Hair
Salma Hayek, who usually draws admiration for her age-defying looks, has no qualms about revealing her gray hair, which tells of her positive outlook towards aging.
Film actress Salma Hayek recently uploaded a closely framed picture of her face on Instagram. Referring to her visible gray strands, the 54-year-old actress captioned the snap:
"The white hair of wisdom."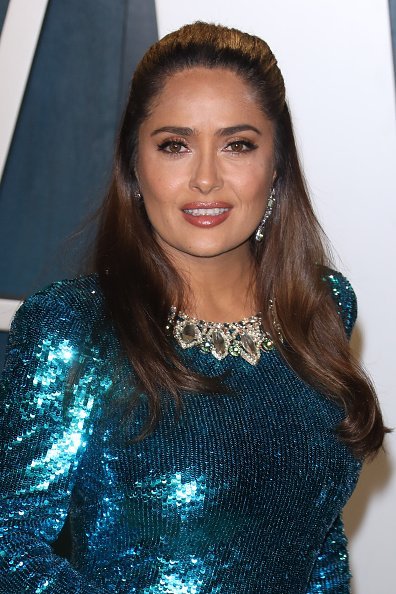 In the photo, which already amassed more than 376,000 likes on the popular image and video-sharing platform, Hayek is seen leaning back on the ground with a blue towel behind her head.
With a few stray white hairs showing, the actress's hair was drawn up in a bun. Hayek's fans immediately applauded her in the comment section for not trying to conceal signs of her aging.
This is not the first time the actress has uploaded a photo on Instagram that shows her white hair.
Hayek normally receives praise for her physique and skin, but her recent social media post proved that the actress is embracing signs of getting older.
In spite of the stray grays, Hayek, who kicked off her career in Mexico starring in the telenovela "Teresa," still showed off the youthful good looks that often win her viral attention online. There are practically no traces of wrinkles around her eyes or mouth.
That look does not come easy. The "Like a Boss" star once explained that she has an intensive skincare routine to keep her skin at its healthiest.
This is not the first time the actress has uploaded a photo on Instagram that shows her white hair strands. In February, she shared a snap of herself and said that she was proud of her "white hair."
Hayek also recently said that she values her natural looks. In May, the Mexico native flaunted her flawless complexion in a makeup-free selfie that she snapped while going for a swim.
Hayek's millions of fans and followers praised her barefaced selfie in the comment section of the photo, with many describing her "absolutely beautiful" and "stunning."
In an interview, Hayek proudly said that her attractive features have nothing to do with any plastic medical procedure. Her looks have not changed much since she shot to stardom playing her breakthrough role in the 2002 film called "Frida."
Her spectacular performance in the movie earned her a nomination in the category of Best Actress for an Academy Award, BAFTA Award, and Golden Globe Award. Hayek's more recent films include "Grown Ups 2" (2013), "Tale of Tales" (2015), and "The Hitman's Bodyguard" (2017).