Oldest Living US Marine Celebrates 107th Birthday and Recalls Her Years of Service
Dorothy "Dot" Cole, the oldest living U.S. Marine, has achieved another milestone as she celebrated her 107th birthday on September 19. She received an outpouring of love and respect.
On September 19, Dorothy "Dot" Cole, who was 29 years old when she enlisted in the US Marine Corps, celebrated her 107th birthday. Recalling the time she decided to become a Marine in a birthday video uploaded to the Marine Corps' official Facebook account, Cole said:
"Everyone was out doing something."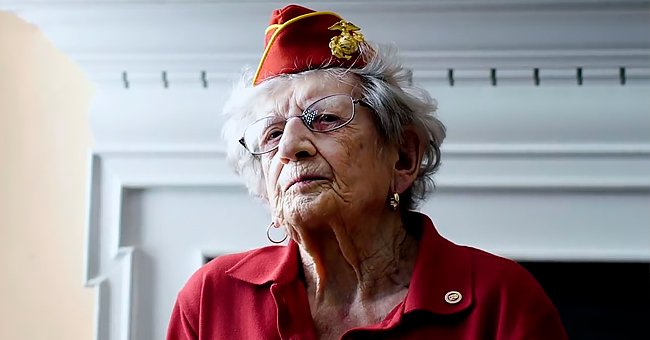 WARTIME SERVICE
"The women helping the Red Cross, or even in churches, they were knitting things," Cole added. "So, I decided that I wanted to do something, and I would go into the Marine Corps.
During the war, Cole was among 350,000 women in America who served in the armed forces. Women only served in the Army or Navy Nurse Corps toward the beginning of the war.
After completing her training at Camp Lejeune, Cole was then stationed at Quantico, primarily in an administrative role.
However, each branch of the military later opened its doors to female recruits. Frank Knox, then-Secretary of the Navy, approved a new Marine Corps Women's Reserve in 1942.
A year later, the Marines welcomed women to their ranks as part of a reserve force. In March 1943, training for the women reserves started in New York City. Then in July, the training was moved to Camp Lejeune in North Carolina.
After completing her training at Camp Lejeune, Cole was then stationed at Quantico, primarily in an administrative role. Cole served there from 1943 through 1945. 
The heartwarming birthday video tribute received numerous likes and shares on Facebook. In the comment section, people sent their greetings and well wishes for Cole and thanked her for her service to the country.
ANOTHER CELEBRATED VETERAN
Meanwhile, Staff Sgt. Monte L. Gould, who previously served in the Marine Corps trained in civil affairs, returned to boot camp at Fort Jackson, S.C., in June. His dedication earned him the respect of many.
Gould finished the training late last month after spending most of his time serving as a squad leader. He was less than three years short of retirement when he decided to leave the Army in 2009.
Reenlisting with the Army Reserve will assist Gould with getting qualified for retirement benefits and permit him to give something back to more youthful soldiers. 
The 59-year-old combat veteran will likewise be serving in the same unit as his son, Spc. Jarrod Gould, at the 405th Civil Affairs Battalion's Las Vegas detachment.
Another heartwarming story involved war veteran Captain Tom Moore, who raised millions for a noble cause. He received more than 120,000 birthday cards ahead of his 100th birthday early this year.