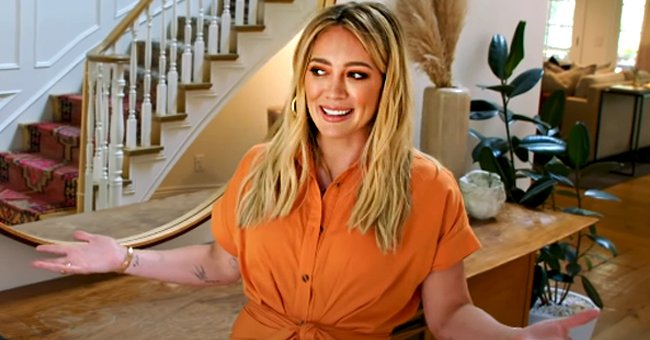 youtube.com/Architectural Digest
Peek inside Hilary Duff's Gorgeous Beverly Hills Home with a Backyard Chicken Coop
Hilary Duff shared an inside look of her property, and there is no doubt the reality star has a real family home. Her son's bedroom may be the best part.
On Wednesday, Hilary Duff allowed Architectural Digest to enter her beautiful Beverly Hills house. She shares the estate with her husband, Matthew Koma, and her two children.
Looking stunning in an orange wrap dress, the actress started the tour by sharing that she has resided at the 5,260-square-foot property for eight years now. The clip is found below.
Duff, 32, was pregnant with her son, Luca, when she bought it the house. She shares the seven-year-old with ex Mike Comrie. She and Koma welcomed their first child together, Banks Violet, last year.
The house has been remodeled twice. Inside, Duff showcased her expansive Credenza furniture piece from the 50s. On it are crystals, which she constantly has to replace because her son plays with them.
In the hall are gorgeous minimalist chairs that used to be in her bedroom. The formal living room features an intriguing round wall piece from Crate and Barrel — it's Luca's current favorite hiding spot.
The young boy showed how he fit into the container, and his mom said she is always amazed. The living room also features two comfy pink chairs and a huge cactus plant in an equally sizeable pot.
Family photographs dot a white shelf in a corner. In another corner, Duff points to a massive crystal where she says her daughter loves to "charge up."
Duff then moves to another room and sarcastically jokes about the neatness. She exaggerates how her cushions are "always" in place, and she "always" has fresh flowers.
The room is "the heart of the home" and is conveniently located near the kitchen where she does a lot of cooking. In actuality, Duff says, the room is usually chaotic with kids jumping all over and dogs running around.
They spend a lot of time watching tv there, and she notes that she has "zero regrets" about it. The hidden tv looks like a photograph complete with frames. On another wall is a large fireplace with exposed wood.
In the kitchen, Duff drawls charmingly about her favorite part of the space — her "crazy tiles." The pieces are bold with diamond-shaped black and white designs.
A nearby corner features a vital wine section. Nearby is the dining table, which was built from a single, wooden piece. A gorgeous ceiling piece hangs above it.
The kids' playroom — once a formal dining room — has a study area and a light decor which says, "I love you all the way. It's what Duff and Luca say to each other every night. There are also two fish tanks.
Duff's bedroom is where she goes to get away from the kids. There's a vanity table, a camera she recently bought, and a guitar she can't play. Arriving at the tub, she revealed that this is where she had her daughter's home birth.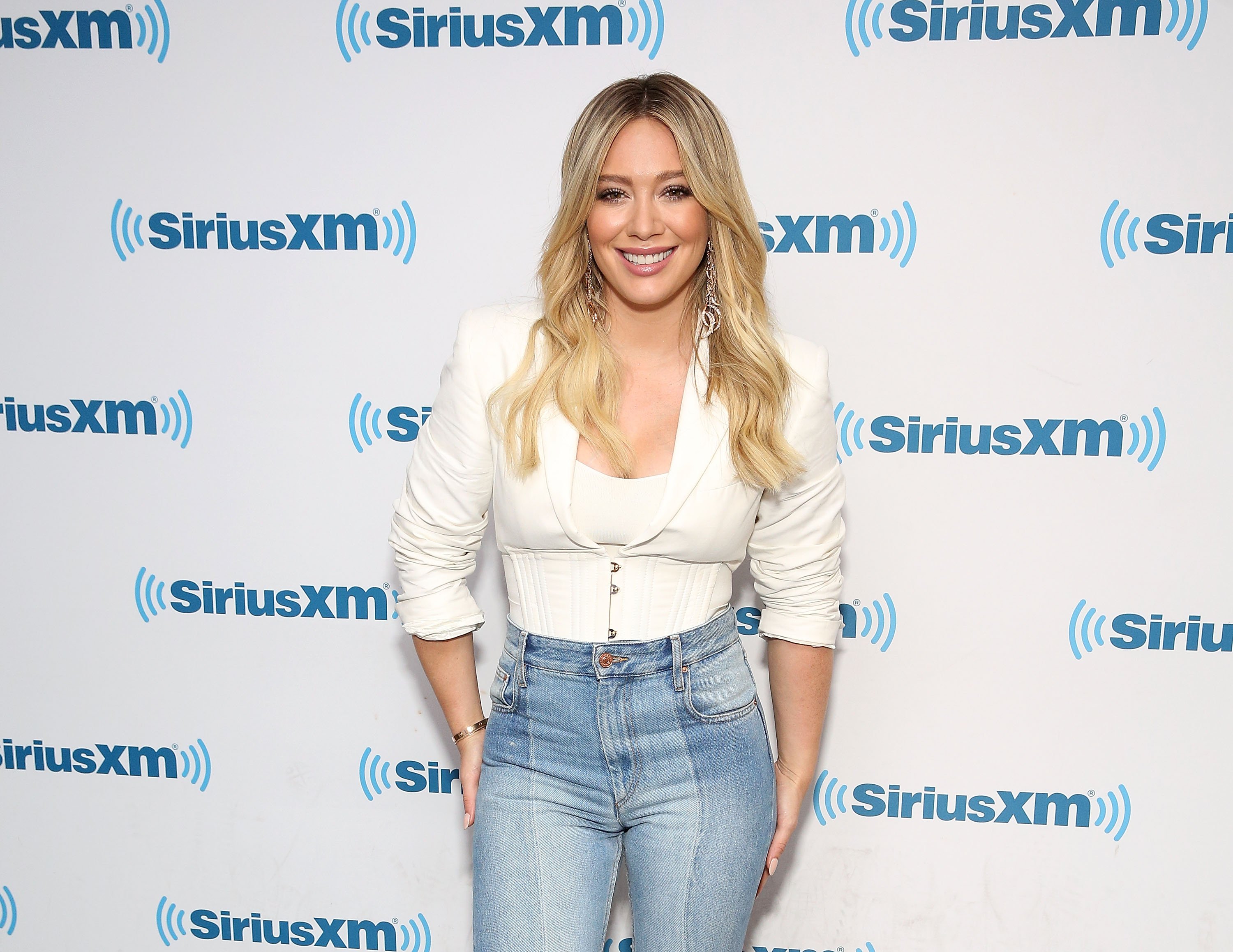 Hilary Duff visits SiriusXM Studios in New York City on June 27, 2017 | Photo: Getty Images
A walk-in closet consists of tons of shoes, bags, and clothes, thanks to Duff's obsession with all three. The baby's room is pink — as is the bathroom. It's Duff's favorite color.
Next up is the former guestroom, which was converted into her son's room. There's a tall slide going from the ceiling all the way down, a bunk bed, and a sturdy net the kids can play on.
The backyard sees lots of playing, dinner times, and swimming. There is a trampoline that Luca spends "all day on." There's also a water slide that Duff indulges in. She also has a treehouse and a herb garden.
One new addition is the quarantine hang space where chairs rest six feet apart due to the coronavirus. Nearby is a recently-built chicken coup where Duff said she spends a lot of time with the animals cause she's "a dork."
Amid the pandemic, Duff has said she wants things to go back to normal, but she has accepted that way it is for now. She also acknowledged how privileged she is to have such an amazing home with a pool and yard.
Earlier this month, son Luca began his first week of school in the third grade, and Duff shared a sweet selfied of her and the little boy. Both wore bright smiles, and fans praised the picture in the comments.
Please fill in your e-mail so we can share with you our top stories!