Here's How Tracey Edmonds Congratulated Fiancé Deion Sanders on Becoming Head Football Coach
Tracey Edmonds took time to congratulate her fiancé, Deion Sanders in a sweet Instagram post after the latter became the head football coach of Jackson State University. 
Tracey Edmonds celebrated her fiance, Deion Sanders, in a sweet post on her Instagram page, following his naming as the 21st head football coach at Jackson State University. 
Edmonds shared pictures taken from the event where Sanders was named the head football team coach of JSU. The first picture showed her and the former professional footballer while she raised his hand in the air.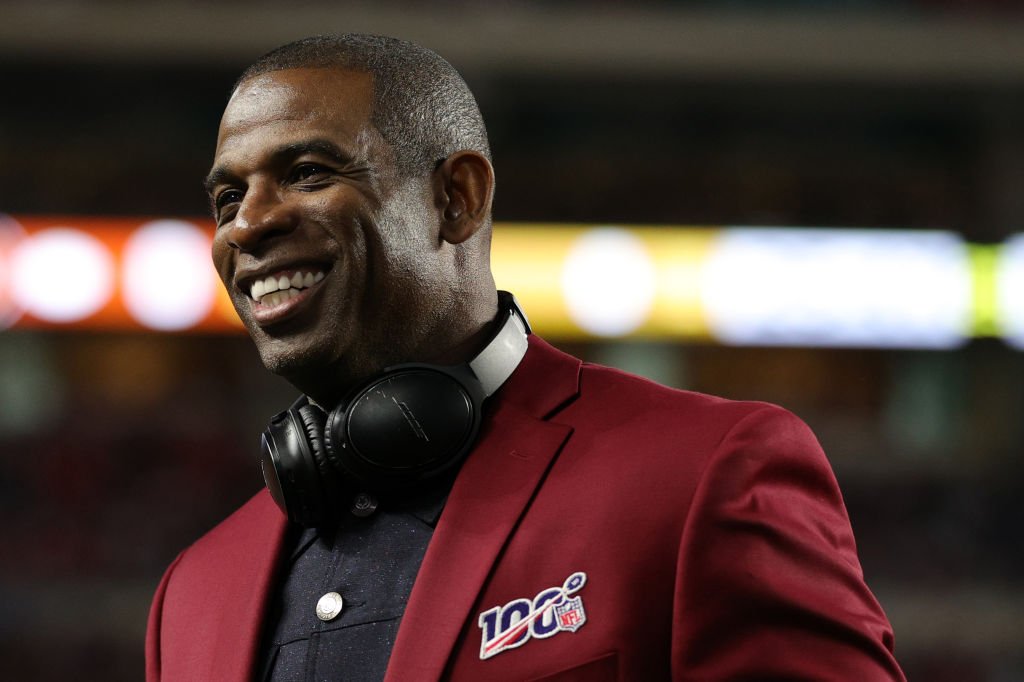 Sanders wore a blue JSU suit and red facemask. Edmonds wore a gorgeous blue dress and a facemask with stars. The second picture showed Sanders standing on the podium with his left hand covering his mouth as he soaked up the moment. His fiancee captioned the post:
"OH, HAPPY DAY Fam!! ?? Congratulations to @deionsanders...We thank GOD for HIS continued blessings!"
Edmonds expressed her delight for Sanders and added that she could not wait to see him lead the team with his wisdom and knowledge which she described as one of a kind. 
The former "Extra" host noted that Sanders has continually inspired everyone, combining his passion and purpose with which he gave back to others and urged him to continue taking it to higher levels. 
Sanders and Edmonds announced their engagement on Valentine's Day.
More photos followed Edmonds' post. In the third snap, Sanders opens up his blue jacket to reveal his white shirt. The fourth picture showed the cute couple all smiles as they posed for the camera. 
Sanders' naming as the head football coach of JSU attests to his professionalism, charisma, and dedication, among many other qualities that helped him achieve greatness in his football career. 
The former athlete also loves to do a lot of good for underprivileged kids with a sincere heart which has earned him respect among his peers. His football team players will have a lot to gain from being trained by him. 
Sanders and Edmonds announced their engagement on Valentine's Day in 2019. Edmonds shared the news in a post on social media, thanking God for being so good to them. 
Before dating Sanders, Edmonds was married to Kenny "Babyface" Edmonds for 13 years before their divorce in 2005. The former couple shares two children. She was later engaged to actor Eddie Murphy, though they called it off. 
Babyface revealed during an interview with Oprah that he has a lot of respect for Sanders because the former footballer called him and asked for a man-to-man talk. 
Babyface said Sanders told him that he did not want to meet the children he shares with Edmonds until he had lunch with him. The singer further said that he admired Sanders because of that gesture.