Check Out Todd and Julie Chrisley's Warm Wishes for Savannah on National Daughter's Day
Doting parents Todd and Julie Chrisley tugged at hearts as they paid tribute to daughter Savannah on National Daughter's Day and celebrated her with touching posts on social media.
Proud parents Todd and Julie Chrisley didn't allow the National Daughter's Day to pass without giving a lovely shout out to their baby girl, Savannah Chrisley.
Patriarch Todd took to his Instagram to share a series of photos showcasing his daughter's beauty. The first slide was an up-close image of Savannah's well-made-up face while the others were onlooking photos of her in different spots.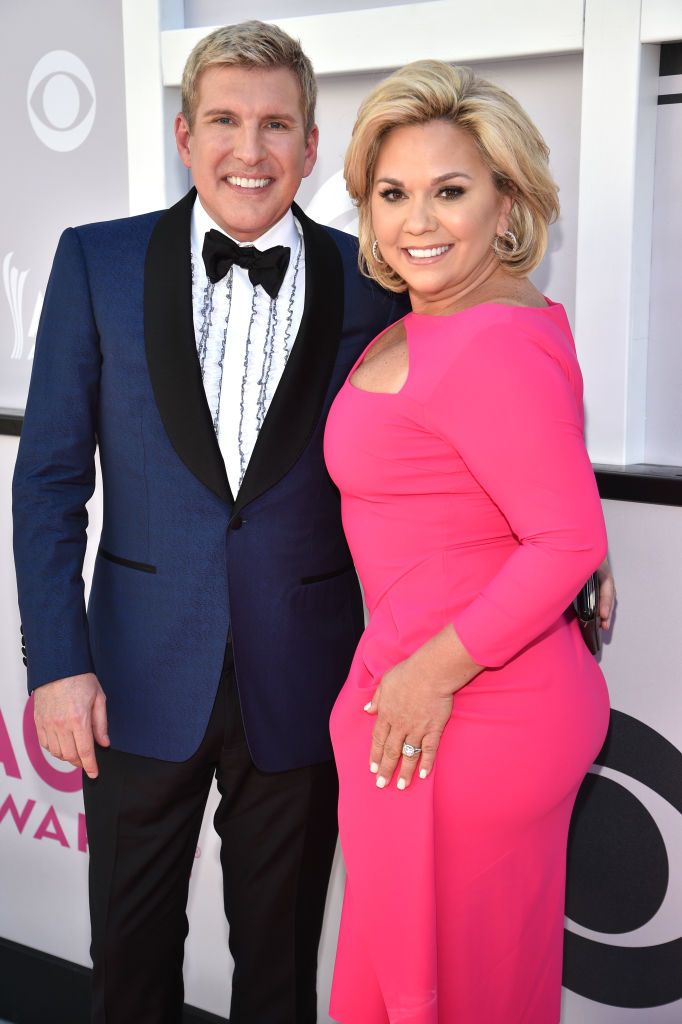 The doting father capped it off with a cute selfie of them, showing off the striking resemblance between them. The "Chrisley Knows Best" star captioned the photo:
"Happy daughters day to the kindest, sweetest, most compassionate human, and God blessed us by allowing @savannahchrisley to be our daughter."
Julie also paid a heartfelt tribute to her daughter but included granddaughter Chloe in the mix. The matriarch, who isn't as active as her husband, shared several snapshots of Savannah and Chloe.
Savannah and Kerdiles took a break from their relationship and put a pause on their wedding in October 2019, after their engagement in December 2018.
The ten-slide post featured images of only Savannah and then Chloe, which Julie took from a computer screen. There was also a lovely bathroom selfie of Savannah and Julie alongside a cute image of Chloe roller skating. The slideshow was crowned with a family image featuring Todd.
In the accompanying caption, Julie described her girls as kind, intelligent, and wise, before admitting that she was proud to be their mother. Savannah appreciated her mother in the comments sections, saying, " I love you," alongside several crying emojis.
Other fans praised the tight bond between the mother-daughter duo, but some users didn't like the idea that Julie referred to Chloe as her daughter when she is her granddaughter.
The National's Daughter Day came days after Savannah cleared the air that her father was responsible for her breakup from fiancé Nic Kerdiles. During the September 23 episode of "Chrisley Confessions," the 23-year-old urged her fans not to believe what the tabloids were saying as they're trying to paint Todd as a control freak.
She even added that Kerdiles could attest that her dad had no role in their breakup. Savannah noted that despite her split from Kerdiles, they are on good terms, and she wants no drama from the public.
Fans may recall that Savannah and Kerdiles took a break from their relationship and put a pause on their wedding in October 2019, after their engagement in December 2018.
During their time apart, the reality star insisted that she and the hockey player were still together and only decided to take a break because they were rushing things. Unfortunately, earlier this month, Savannah finally announced that she and Kerdiles were going their separate ways.
The reality star took to her Instagram on September 15 to explain that she and the professional Ice Hockey forward were ending their relationship for good. Savannah revealed that there was no hatred between them and described their three-year-relationship as the best years of her life.
She concluded, letting fans know that moving forward, she is trusting in God to reveal his greater purpose her life and begged the public to respect her privacy at such trying time.