Check Out Snoop Dogg & His Son Corde Rocking Matching Hairstyles in These Throwback Pics
Snoop Dogg took a moment to appreciate how his son has grown into a man who adores his children in an Instagram post with a rare throwback photo of himself. 
Snoop Dogg is a proud father who dotes on his children like they mean the whole world to him. The rapper is also a loving grandfather to his three grandchildren and never fails to spend quality time with them whenever he can. 
Seeing his own children being responsible men and taking care of their children melts his heart. Recently, he took to Instagram to share a rare throwback photo of himself that was juxtaposed with his son Corde's snap.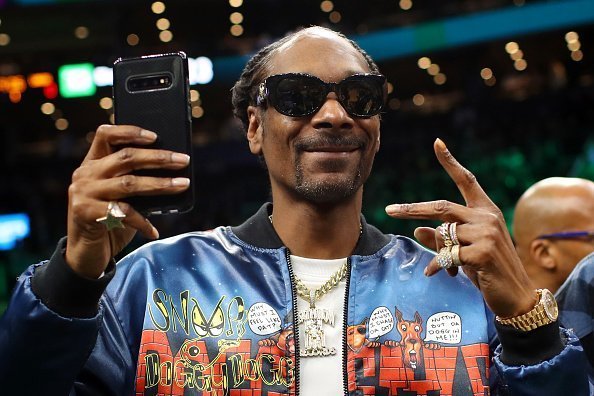 DOTING FATHERS
What made the snap so special was that it showed Snoop lovingly holding Corde when he was a baby and placed the photograph alongside the one featuring Corde holding his baby girl. 
Corde would have been a father of three today if it was not for a terrible tragedy that claimed the life of his youngest son Kai in 2019.
"Like father like son," the rapper captioned the post. The resemblance between the father and son duo is uncanny and not just looks-wise. They both love and appreciate their children. 
Hundreds of fans took to the comment section to gush about how loving the men are as parents. Some of them quipped about the funny expression that Corde's daughter Elleven had on her face when her father held her high with just one hand. 
DEATH OF CORDE'S YOUNGEST SON
Corde is also a father to his son Zion Kalvin who was born to him and his then-girlfriend, Jessica Kyzer, in 2015. He welcomed Elleven with his current partner, Soraya, in 2017. 
Corde would have been a father of three today if it was not for a terrible tragedy that claimed the life of his youngest son Kai in 2019. He was just 10 days old when he died on September 25, 2019. 
FOREVER IN THEIR MEMORIES
In a since-deleted post, Corde shared how Kai brought so much love and positivity into this world. Although he died too soon, he said those 10 days that they got to spend with him were special and they will always treasure his memories. 
The father-of-two further urged his fans to love and cherish the near and dear ones as long as we are here because one can never know what the future holds. He did not reveal how Kai lost his life.
Following Kai's death, his grandmother Shante shared a heartwrenching video of herself singing "The Love We Had Stays on My Mind" by The Dells to share that she will always remember her grandson. 
Besides Elleven and Zion Kalvin, Snoop and Shante have another granddaughter, Cordoba Journey, from his son Cordell. She was born in 2019 to Cordell and his girlfriend, Phia Barragan. They are expecting their second child together.