Getty Images
Watch Dwyane Wade's Cute Daughter Zaya Show off Her Gymnastic Skills While Jumping Outdoors
Dwyane Wade beamed with pride as his daughter, Zaya, flaunted her long green hair while doing an aerial cartwheel in their spacious backyard.
Dwyane Wade and Gabrielle Union make perfect parents who are understanding and accepting when it comes to their children. The two share a little daughter, Kaavia James, and the NBA star's kids from previous relationships, including Zaya Wade.
Zaya gained attention in previous months for her sexuality, which Wade and Union are very open about. Recently, the teen shared a new achievement unlocked clip on Instagram.
In the video, Zaya ran across their backyard and did an aerial cartwheel flawlessly. "4 years of practice pays off," she shared in the caption.
The 13-year-old performed the stunt in white sweatpants and a pink hoodie while flaunting her long blonde and green hair. Fans and followers cheered for the teen in the comments section, including her proud father, who shared star-eyed emojis.
As a transgender person, Zaya has taught Wade and Union things in life that only a daughter could, and see life in a perspective that not everyone can view in their lifetime. Her parents' support is a big reason for her strength and empowerment.
According to the athlete, his daughter "helped us see life differently" and remain aware of how parents can help in the process of their children knowing their identities.
The celebrant donned a green and black corset-like top and tights.
"Right now, it's a lot of people in the Black community that will not accept someone of transgender, you know, and look at them as different and not worthy -- not worthy of life," Wade shared.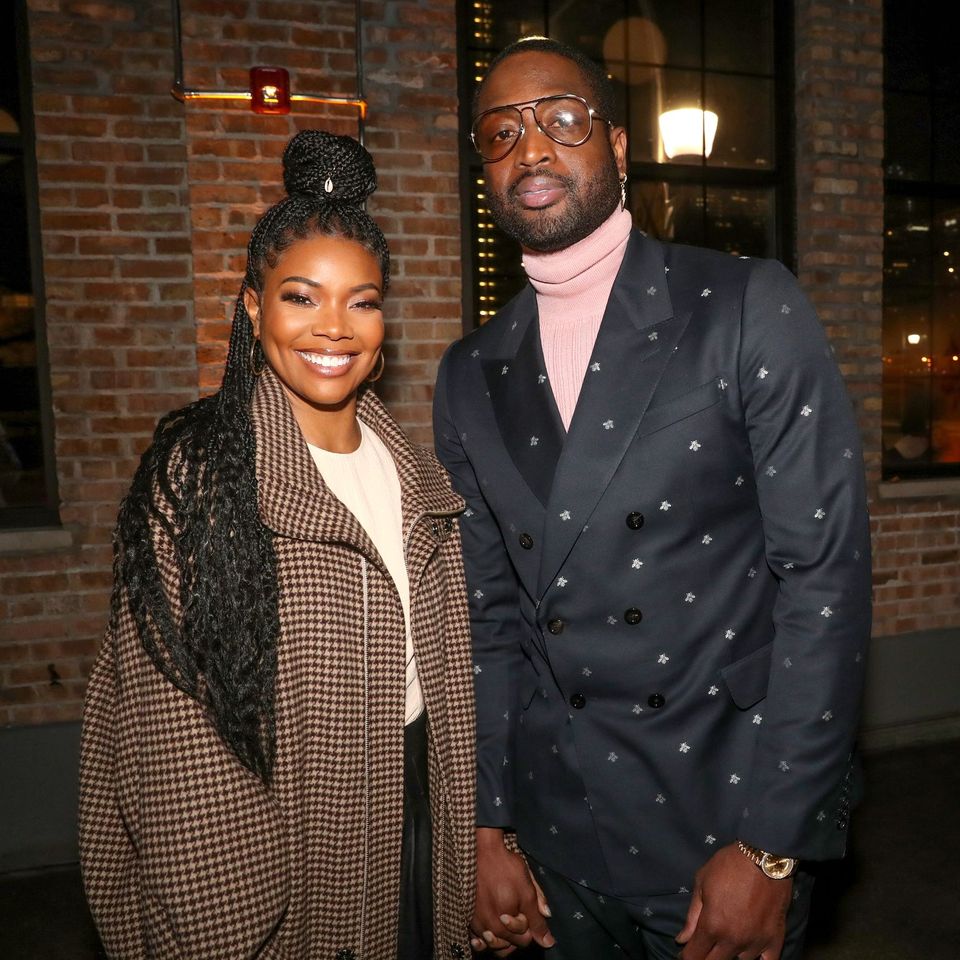 Gabrielle Union and Dwyane Wade during the Stance Spades At NBA All-Star 2020 at City Hall on February 15, 2020 in Chicago, Illinois. | Source: Getty Images
Zaya came out as a transgender person at the early age of 12, courageously speaking to her parents and asking them to refer to her as Zaya, instead of his original birth name, Zion.
The proud stepmom shared a photo from the event on Instagram, with Zaya, Wade, and herself wearing matching clothing in the color scheme purple, green, black, and white.
Zaya celebrated her 13th birthday with a medieval-themed party with the family, amid the ongoing pandemic. The celebrant donned a green and black corset-like top and tights.
Her parents, on the other hand, opted for a more casual look. The NBA star rocked a gray sweatshirt and black bottoms, while the actress wore a floral gown with brown boots.
Although it looked like the celebration had no outsiders, Zaya had a blast and received sweet tributes from both her parents online, showing their love and support for Zaya.
Please fill in your e-mail so we can share with you our top stories!