Here's How Hilary Duff Celebrated Her 33rd Birthday — See the Her Favourite Fun-Filled Moments
Hilary Duff turned 33, and the actress rang in her birthday surrounded by loved ones and plenty bubbles, even if her son Luca amusingly had other things on his mind. 
Actress Hilary Duff made sure there was fun to be had by all when she celebrated her 33rd birthday on Monday; judging by the joyful pictures, Duff had a blast.
Happy to have been surrounded by family and friends on her special day, her husband Matthew also made sure to send Duff a sweet shoutout. 
DUFF SHARED THE SWEETNESS
A well-timed photograph gave hilarious depth to Duff's birthday celebrations. Sharing the image with her fans on social media, Duff humorously pointed out writing:
"One thing on Luca's mind ... and it ain't singing me happy birthday."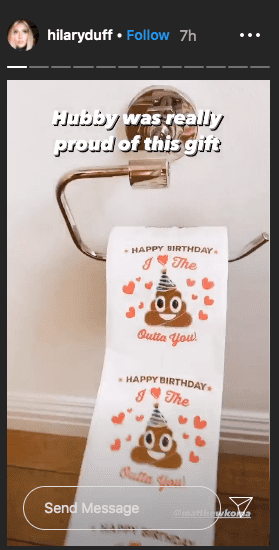 WHAT WAS ON LUCA'S MIND?
The picture Duff shared showed Luca standing in front of her, as she and husband Matthew Koma posed for a photo by her birthday cake.
While Koma and Duff broadly smiled for the camera, young Luca stared at the cake as if wondering how he can secure as much of the cake as soon as possible. The two-tiered birthday cake indeed looked delicious with flowers and rose petals as a garnish.
BIRTHDAY CELEBRATIONS
The actress made sure her guests could enjoy the wonders of a foam machine, with music and plenty of balloons everywhere. Duff's DJ and singing husband also commemorated her birthday with a tribute of love.
"I struggle to find words that celebrate all she is," Koma wrote. "In a global pandemic, during our first year of marriage, in a world that's becoming a heavier and more confusing place to navigate with kids in tow, there's nobody who does it better. I love you something beyond."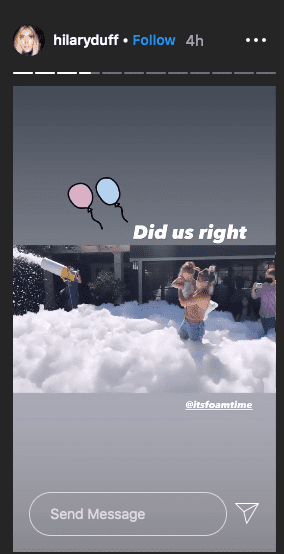 DUFFY CONTEMPLATE EXTENDING THE FAMILY
Koma and Duffy welcomed their first child and daughter together, Banks Violet Blair, in October 2018 - shortly before they tied the knot in 2019. 
They started dating in January 2017 with Duff's firstborn, Luca, almost five years old at the time. Born in March 2012, Duff had been married to his dad and Canadian hockey player Mike Comrie since 2007.
However, the year before Koma and Duff became an item; she divorced Comrie with granted primary custody of Luca awarded to Duff. Now, she is open to giving Banks Violet a little brother or sister.
Nothing reminds one of the passage of time as much as milestones, and earlier this month, Luca definitely had one mom Hilary Duff didn't fail to celebrate either.
Already eight years old, Luca began 3rd grade early in September, and Duff proudly shared a moment shared between them in celebration.