Ree Drummond's Daughter Paige Channels Mom as She Tries on Her Wedding Dress from 1996
Ree Drummond recently took to social media to share heartwarming photos of her daughter, Paige, wearing her decades-old wedding dress.
Ree Drummond shared photos that captured one of her daughters, Paige, dressed in her wedding gown from 1996. She posted the shot to her Instagram page, and she followed it up with a lighthearted caption. She wrote,
"I have a daughter who's getting married...but it's not this daughter! But that didn't stop her from trying on my circa 1996 wedding dress this afternoon."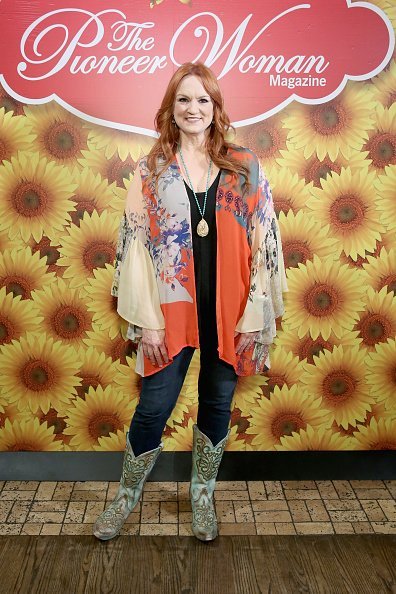 Drummond added that Paige's older sister, Alex, also tried the outfit on but would not share the photo. She had this to
say about Paige in her wedding dress
:
"Paige, you look beautiful even though this was just for fun!"
Her fans took to the comments section with compliments for Paige. They agreed that she did look beautiful in the gown, and some of them stated that they would not mind getting married wearing such a dress.
The post comes a few days after Drummond shared a throwback photo of herself in the same gown when she got married to her husband, Ladd Drummond.
Drummond made her special appearance with green bell pepper in hand.
She shared the throwback shot to commemorate their 24th anniversary. The image featured her in the dress holding Ladd's hands on September 21, 1996, the day they tied the knot.
In her captions, Drummond admitted that she had been forced to find the old picture because her daughter, Alex, who just said yes to her boyfriend, wanted to see it. 
She ended the post with a message wishing her husband, whom she first met at a bar, a "happy anniversary." The pair share four kids together, and their love is still as vibrant as it always was.  
Since the COVID-19 pandemic disrupted everyday life, the beautiful mother of four has had a lot of time on her hands, which she has spent trying out new things with her kids. 
She made her first TikTok video recently on her daughter, Alex's page. In the video, Alex and her sister, Paige, could be seen dancing with Alex's fiance, Mauricio, as Megan Thee Stallion's "Savage" played in the background.  
The dancing continued for a short period before Drummond made her special appearance with green bell pepper in hand.
The Food Network star shared the video on her Instagram page, and in her captions, she admitted that she does not "belong here." She says her daughter, Alex, loves it, but Drummond will most probably stick to her cooking videos.