Adam & Danielle Busby Post Cute Pic of Their Daughters and Other Kids at a Family Birthday Party
Adam and Danielle Busby recently took to social media to share a charming photo of their little girls and other children at their family birthday celebration. 
The photo shared by Adam and Danielle Busby on Instagram on October 1 shows Blayke, Olivia, Ava, Hazel, Parker, and Riley happily posing for a photo with the other children.
"Though it may seem as if we had a 'girl party' tonight...we didn't," the couple, who tied the knot in July 2006, captioned the snap that already received more than 69,700 likes.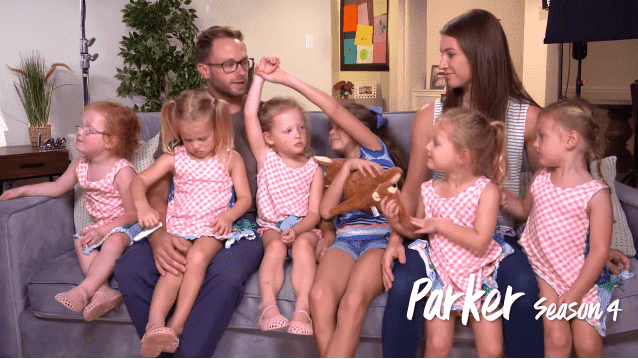 Adam and Danielle added that the occasion was only a family party to celebrate Charlie's 9th birthday. The couple went on to greet Charlie a happy birthday and told him they love him.
Many fans immediately added their thoughts via comments, with one person writing, "2 boys, 12 girls, poor Charlie and Bronson. Happy birthday, Charlie."
Another avid fan likewise noticed Blayke kissing her younger sister Olivia. According to the fan, the sweet gesture of Blayke was "sisterly love at its cutest."
In the picture, Olivia, Ava, Hazel, Parker, and Riley wear the same clothes. It's not clear if their elder sister, Blayke, also wears the same dress because she's behind Olivia.
The Busby family, who lives in Houston, gained prominence when Danielle gave birth to the first set of all-female quintuplets in the United States in April 2015.
Danielle and Adam have opened up extensively about their pregnancy troubles.

Since then, she and her husband, Adam, alongside their eldest daughter and the quints, have become household names. The family stars on the hit reality show, "OutDaughtered," which airs on TLC. The series gives an inside look into their lives.
In an interview with CountryLiving.com, Danielle said that she is generally excited for the show's fans to witness how much Olivia, Ava, Hazel, Parker, and Riley have grown.
In spite of the difficulties of bringing up six children, the doting mother could not be happier. According to her, she adores everything about having a big family. Danielle added that she had always wanted a big family growing up.
However, she never really thought it would become real, she said. Danielle and Adam have opened up extensively about their pregnancy troubles. While their second bout of infertility resulted in five children, they just had one kid their first round, and that was Blayke.
Blayke is the big sister of the group and her parents are grateful to her for helping them with looking after her younger sisters since the quintuplets were born.
On August 24, the proud parents shared an adorable photo of Blayke on Instagram, and many fans noticed that Blayke is growing up fast. She also bears a striking resemblance to Danielle.