Brad Pitt's Rumored GF Nicole Poturalski Poses in a Crop Top with Her Belly Button Missing
German model Nicole Poturalski who is allegedly dating Brad Pitt recently shared a picture of herself wearing a crop top. Her belly button was, however, missing and this left fans a tad confused.
Nicole Poturalski has been in the news for a couple of reasons recently, but this time, the 27-year-old model managed to create a buzz on social media.
Taking to Instagram, Poturalski shared a picture of herself wearing colored shorts and a matching crop top. The photo was a mirror selfie taken in her bedroom.
With the crop top stopping right before her waist and the short hugging her hips firmly, Poturalski showed off her lean figure and flat belly.
The picture was quick to garner reactions from fans and followers who could not help but notice the absence of Poturalski's belly button. One user wrote:
"OMG, somebody stole your belly button.??"
Another fan said the picture was gorgeous but asked Poturalski what happened to her belly button. In response, the model joked that her pants are it.
Several other followers showed love for the post with sweet comments and emojis. So far, it has garnered over twelve thousand likes. Poturalski's recent post is far from the first time she is lighting up social media with her sexy figure and stunning outfits.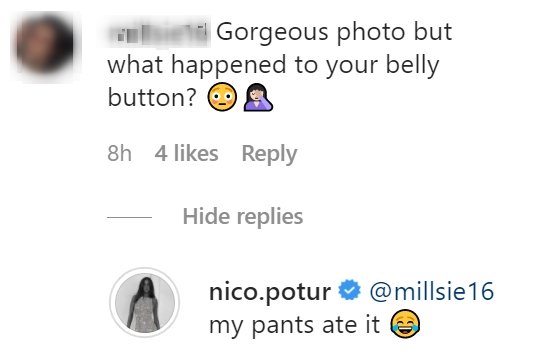 When she is not posting on her Instagram, Poturalski is busy modeling for fashion brands, either on or off the runway. Last month, she made a rare appearance at the Milan Fashion week, where she walked the runway in a chic form-fitting black dress.
Poturalski has been featured in several magazines, including Harper's Bazaar. She appeared on the cover of Elle Germany's September 2020 issue.
In the past months, there have been rumors of Poturalski being Brad Pitt's girlfriend. The duo made headlines in August when they were seen arriving in France. They were reportedly on their way to Pitt's house in South France.
Pitt and Poturalski were said to have first met in August 2019. At the time, he was in Berlin promoting the movie "Once Upon A Time...in Hollywood."
The model reportedly gave Pitt her number after they were introduced, and the two later connected when she was in Los Angeles.
Though neither of them has confirmed the status of their relationship, Poturalski is said to be in an open marriage with famous restauranteur Roland Mary.