8 Times Michael Strahan Showed He Is a Doting Dad to His Twin Daughters Sophia and Isabella
Michael Strahan is a doting father to his twin daughters, Sophia and Isabella and over the years, he has never failed to show how much they mean to him.
Parenting is not an easy task. There are good times and bad times but there are fun memories in all. Television personality and former NFL player, Michael Strahan seems to always be up for all the moments with his daughters.
Strahan is not a stranger when it comes to parenting and over the years, he has proven that he has his skills on lockdown. Here are eight times he showed he is a doting dad to his twin daughters: Sophia and Isabella.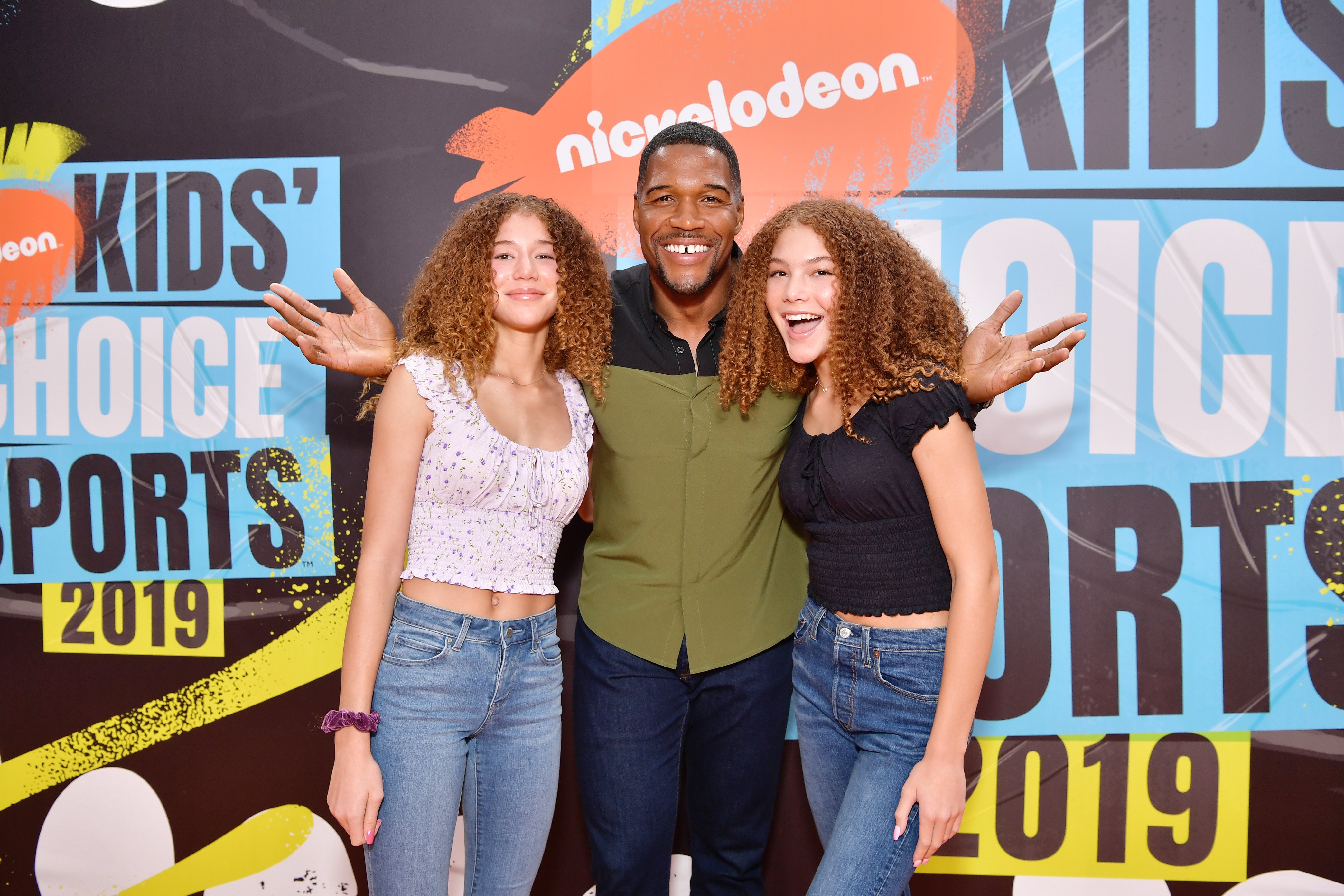 THE REASON HE WAKES UP
Taking to Instagram, Strahan shared a picture of all his children: Tanita, Michael Jr., Sophia, and Isabella while explaining that they were the reason he woke up each day. 
He explained that for him, it is family over everything and they are always his motivation. In the image shared, the siblings could be seen beaming at the camera as they held on to one another.
THEY JOIN HIM AT WORK
Another interesting thing about Strahan and his twins is that he never fails to include them in his work life. They often visit their father on set and have even been with him on stage to host a segment
Sophia and Isabella once joined their father and his co-host, Sara Haines on a segment of the "Strahan and Sara" show where the co-hosts tried to make sense of certain teenage slangs. The moment was fun to watch because of the light banter between the father and his daughters.
HOLIDAY LOVE
As is it with all families, holidays are excellent times to see one another and catch up. Similarly, for Strahan and his daughters, they enjoy spending the holidays together.
Sometimes, the trio makes cute videos wishing others a happy holiday while goofing around and making fun of one another.
COOKING UP A STORM
Strahan also shared a wonderful moment of his daughters cooking up a storm with his help. Sophia and Isabella walked the viewers through the steps and processes of making grilled chicken the "Strahan" way.
The ten-minute clip also featured the twins baking bread and cooking up other meals to go along with the chicken. What made it all the more fun was the funny and easy banter between them and their father as he handled the camera for them.
BARBEQUE NIGHTS ARE FUN
For Strahan and his family, there is nothing as fun as relaxing on a barbeque night with the grill fired up and the warm evening breeze blowing.
A picture of himself and Sophia standing next to a loaded BBQ grill became a fan delight during the lockdown. The image showed Sophia leaning against her dad who was in the middle of talking.
BIRTHDAYS ARE SPECIAL DAYS
Strahan never fails to celebrate his twins on their birthday and he always has sweet words for them while appreciating the goodness they brought into his life. On their 15th birthday, he said:
"My life is better and full with you both in it! Love you ❤️❤️."
The image he shared showed him and the girls over the years as they matured from being babies to toddlers, adolescents, and now teenagers.
TRAVEL TIME
The trio also enjoys spending time traveling. They often have trips with their family dog named Enzo. Although the destination they visited is unknown, the girls looked to be excited as they flashed huge grins at the camera.
HANGING OUT WITH THE POP
One interesting thing about Strahan and his twin daughters is that they enjoy each other's company and do not find it difficult to hang out with one another. Their attendance at Nickelodeon's Kids Choice Sports is enough proof that the father and daughters have a strong bond.
ABOUT FATHERHOOD
Strahan learned to be a great father from his late father, Gene, who passed away in September. Although Gene was in the army and was strict, he never failed to let his kids know they were a priority and they deserve to be heard and seen.
While things might be going great in the parenting department, Strahan is struggling with his relationship with the mother of his twins. The pair have been in a custody battle for a while and the case seems to always resurface.
With Strahan, while there might be ups and downs when it comes to raising his kids, the ultimate thing is making sure they understand that there is love and that they would always be a priority.