Phil and Kay Robertson Got Married When She Was 16 — What to Know about Their 56-Year Union
Professional hunter and TV personality Phil Robertson, best known for "Duck Dynasty," has been married to Kay Robertson for over five decades. They tied the knot when she was only 16 years old!
Phil and Miss Kay Robertson's love story is one of a kind. Their relationship started in the 60s when both of them were in high school. At the time, Phil was the school's quarterback and Kay was a cheerleader.
Things moved fairly quickly for the couple as they exchanged marital vows on March 22, 1964. It is important to point out that Kay was only 16 years old.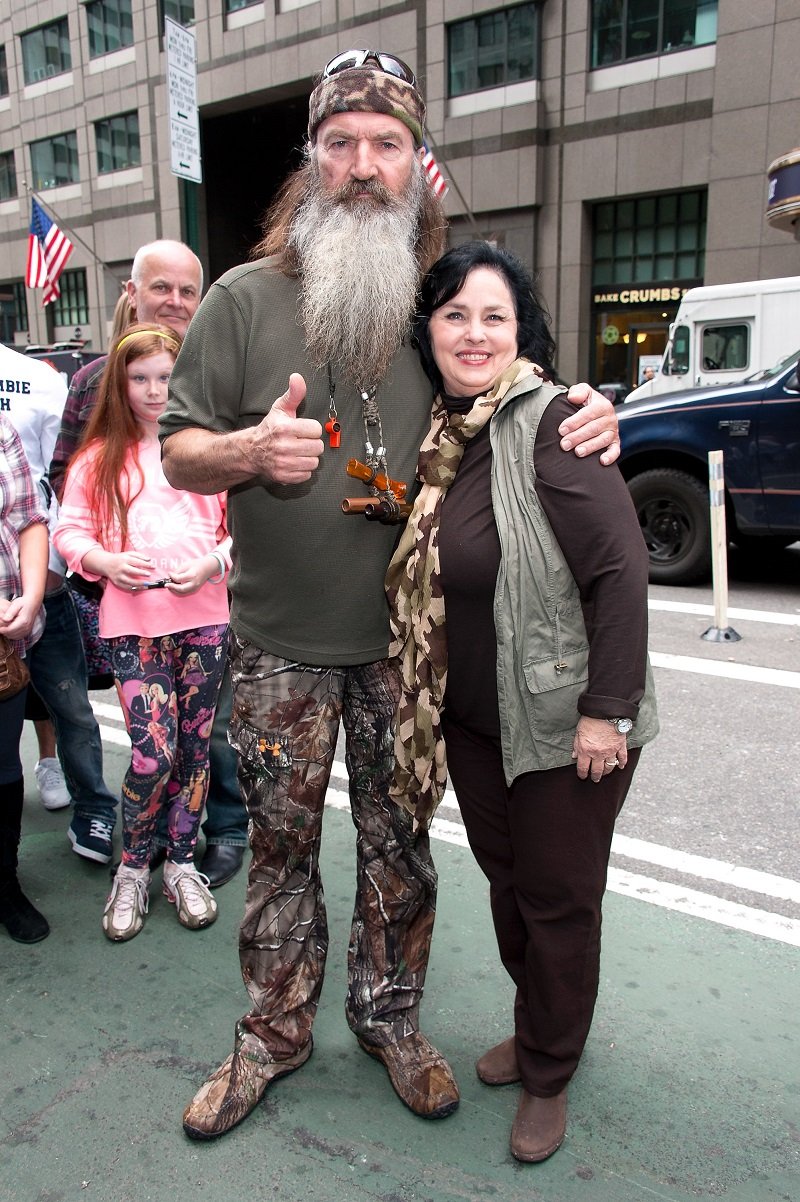 PHIL AND KAY ROBERTSON'S LEGAL WEDDING
Although that was the day when both of them committed to being by each other's side for the rest of their lives, the ceremony was not legal, as Kay told Us Magazine in 2014.
The TV star admitted that they got legally married on April 1, 1968, about three years after their eldest child, Alan, was born (1965). Kay admitted that Alan jokes about him being the bastard in the family because, technically, he was born out of wedlock.
Phil and Kay Robertson's three other children, Jase, Willie, and Jep, were born in 1969, 1972, and 1978, respectively, and they were all a part of "Duck Dynasty" until it was taken off the air in March 2017.
While their union didn't become legal until 1968, Kay remarked that her "heart" and "vow to God" was real from that first ceremony when she was only 16 years old, and the fact that they have been married for almost six decades proves it.
Judging by the way Kay described her husband to Us Weekly, it is clear that the spark is still there. She pointed out that Phil was certainly a "man's man" and a "take-charge" person, but he can also be sweet. Kay explained:
"What's not talked about is how kind, gentle, and good he is. I can't tell you how many times he's fixed me breakfast in bed."
PHIL AND KAY ROBERTSON'S WEDDING VOW RENEWAL
Apart from that, the couple renewed their wedding vows during a 2013 episode of "Duck Dynasty," when the Robertson sons and their wives did their best to give Miss Kay and Phil the ceremony they never had.
It was a surprise for the groom and bride, though, so Si, Phil's brother, was in charge of distracting and taking the couple off their property for quite some time so that the rest of the family could put together everything they needed for the ceremony.
[Phil] kicked Kay and his three sons, Alan, Jase, and Willie, out of their home.
Si came up with the idea of taking the couple on a trip down memory lane by visiting different places. The first couple of spots didn't impress them, though. After a while, Phil's brother took them to a tree where they had carved their initials 50 years before.
When they all returned to the property, everything was in place for the ceremony, and Phil and Kay Robertson renewed their vows in front of their family and some friends.
PHIL AND KAY ROBERTSON'S HARD TIMES
While the couple has been together for most of their lives, things have not always been a walk in the park. In fact, after Alan was born, Phil started having problems with alcohol, which made him violent.
Depending on the situation, Phil could even get physical. Kay stood by his side because she is a "loyal" person who made the vow to God to be with her husband "'till death do you part."
In Phil's worst period, he was unfaithful, cruel with his words, and even kicked Kay and his three sons, Alan, Jase, and Willie, out of their home.
About three months later, Phil became aware of his error and stopped drinking, became a Christian, and did all he could to get his family back. Fortunately, they got back together, and a few years later, their fourth child, Jep, was born.
However, in May 2020, Phil and Kay learned that the "Duck Dynasty" star has an adult daughter named Phyliss. The 45-year-old woman is the result of one of Phil's affairs back in the 70s.
Phyliss contacted the family, saying that she thought Phil was her father, so they took a DNA test, and it came back as a 99.9% match. Every member of the family, including Kay Robertson, embraced Phyliss as one of them.