Kimora Lee Simmons' Daughter Ming Lee Looks Heavenly as She Poses in SKIMS
Kimora Lee Simmons has shown over the years that she is a proud mother and this time is no exception as she took to Instagram to share photos of her SKIMS-loving daughter.
Kimora Lee Simmons flaunted her eldest daughter, Ming Lee, in two stunning photos. The mother of five shared the pictures on Instagram with a caption that read:
"My baby @mingleesimmons? ?✨ ?looking fab! @skims @gregswalesart."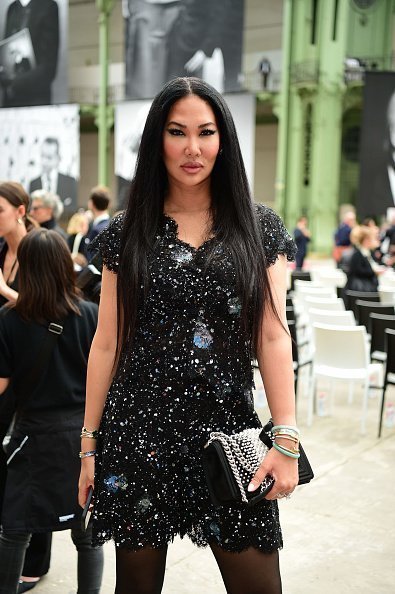 The 20-year-old was rocking Kim Kardashian's SKIMS brand in both photos. The first photo showed her laying on a brown leather couch in a cream zip-up crop hoodie, matching low-cut bra top, and joggers. 
Her right hand held one edge of the hoodie while her left crossed over her covered head where the remains of her dark silky hair fell away smoothly.
Her eyes were perfectly lined with black, and her brows looked thick and natural. Her lips were covered with simple shiny gloss, and a two-tier silver necklace rested on her chest.
Kimora is a mother and role model to her five children, including 10-year-old Gary, who she adopted recently.
The second photo showed her sitting on the same couch in a nude bra top and matching leggings with a cute white and brown Chihuahua sitting beside her. 
Her right hand held a fork as she dug into a plate of waffles topped with whipped cream, blueberries, and strawberries while her left hand rested against her raised left leg.
Her hair was parted down the middle and tucked behind one ear, slightly revealing a charming silver earring with a matching necklace as she stared intently at the camera.
Kimora's fans found a strong resemblance between the mother-daughter duo, with several thinking the mother was the one in the second photo slide. Others praised the model's beauty in different words while a particular fan said she needed a Phat restock.
The designer runs Baby Phat, a women's clothing line, with her daughters, Ming and Aoki. The brand is particular about combining old styles with a new outlook which their age range provides.
The brand also launched its beauty line, Shimmer Dreams, which consists of three products developed by each woman and which reflects their individuality.
The outfit was a part of the 45-year-old's ex-husband, Simmons' Phat Fashion line. The businesswoman is currently married to Goldman Sachs banker, Tim Leissner. She focuses on being a mother and role model to her five children, including 10-year-old Gary, who she adopted recently.