Kate Middleton Makes Stylish Appearance in Floral Mask and Chic Coat at the University of Derby
Kate Middleton made a recent surprise visit to Derby University. The Duchess stunned in an elegant outfit, including a patterned floral mask and a classy checkered coat that looked incredibly good on her.
The Duchess of Cambridge, Kate Middleton, recently made an appearance at Derby University, and as usual, she made an impressive fashion statement.
In a post shared on Kensington Royal's Instagram page, Middleton was seen donning a stylish checkered coat worn over a teal cashmere neck sweater and black pants.
The Duchess left her coat's buttons undone, revealing a personalized three-layered disc necklace, resting on the high neckline of her long-sleeved top.
Middleton took it a notch higher and paired her outfit with a lovely floral protective face mask. The Duchess also accessorized with a black belt for her pants and a matching black suede pumps.
With her hair loose over her shoulders, the Duchess looked incredibly stunning. Middleton's visit to the university was so she could hear from the students how the COVID-19 pandemic has affected their school life.
These official visits have, however, not stopped her from showing up in style.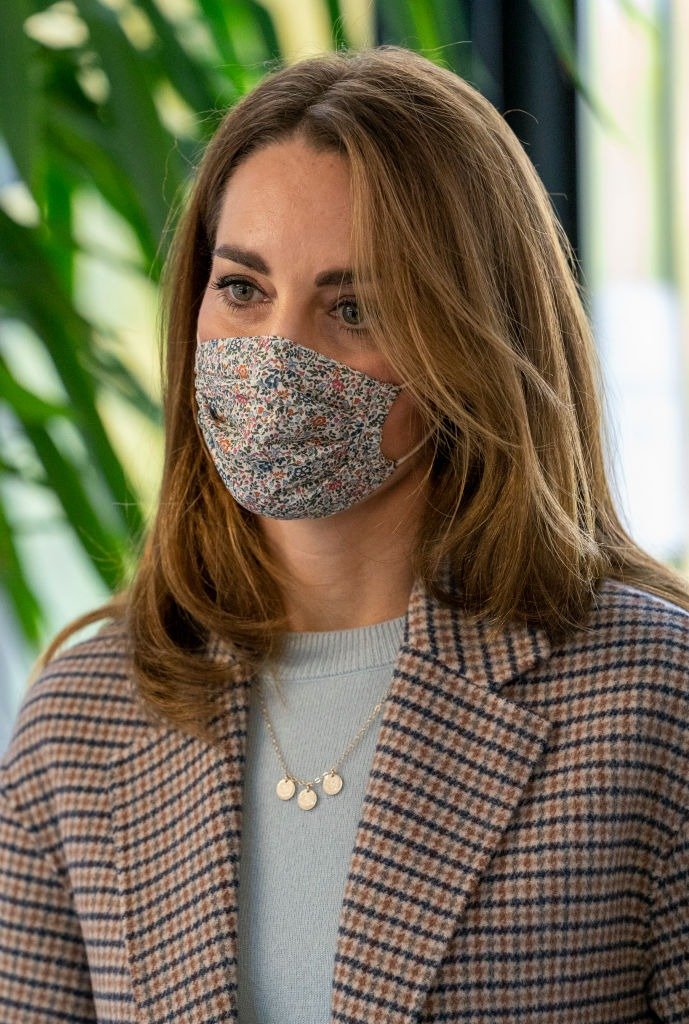 Speaking to first-year students, sports societies, and nursing students, she asked to know how the university has provided support for their mental and physical health. 
In response, the students admitted that it was hard being unable to see their friends. They, however, added that the university was providing plenty of support to them.
Middleton's recent appearance is not the first time she is making one concerning the COVID-19 pandemic. Last month, the Duchess had a meeting with some parents to learn how peer support groups have helped them during the pandemic.
As always, Kate made a statement with her style. The Duchess opted for a white t-shirt paired with pink pants. She accessorized with a pair of comfy trainers and let her hair loose over her shoulders.
Amid the COVID-19 pandemic, Middleton has shown a keen interest in hearing from people across the United Kingdom about their experiences. 
These official visits have, however, not stopped her from showing up in style. Time and time again, the Duchess has proved that she is truly stylish and has earned a name for herself as a fashion icon.