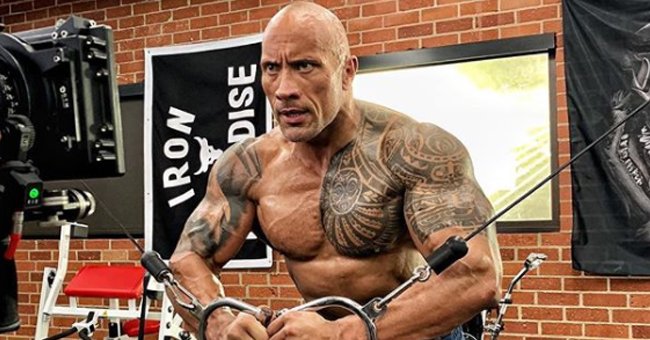 instagram.com/therock
Glimpse inside Dwayne 'The Rock' Johnson's Tattoos and the True Meaning behind Them
Dwayne Johnson, a former professional wrestler, is not one to back down from pain. It's no surprise, then, that he has chosen to get quite the set of tattoos. Let us look at the meaning behind them.
Dwayne "The Rock" Johnson is known for his former wrestling career, his peaking acting career, and his huge muscles. The actor also has one or two other things he likes to show off.
Johnson, 48, is a big fan of tattoos. Over the years, he has been able to boast some intricate pieces of art, all showcased on his body. But they are not just there for style. Johnson's tattoos have meaning behind them.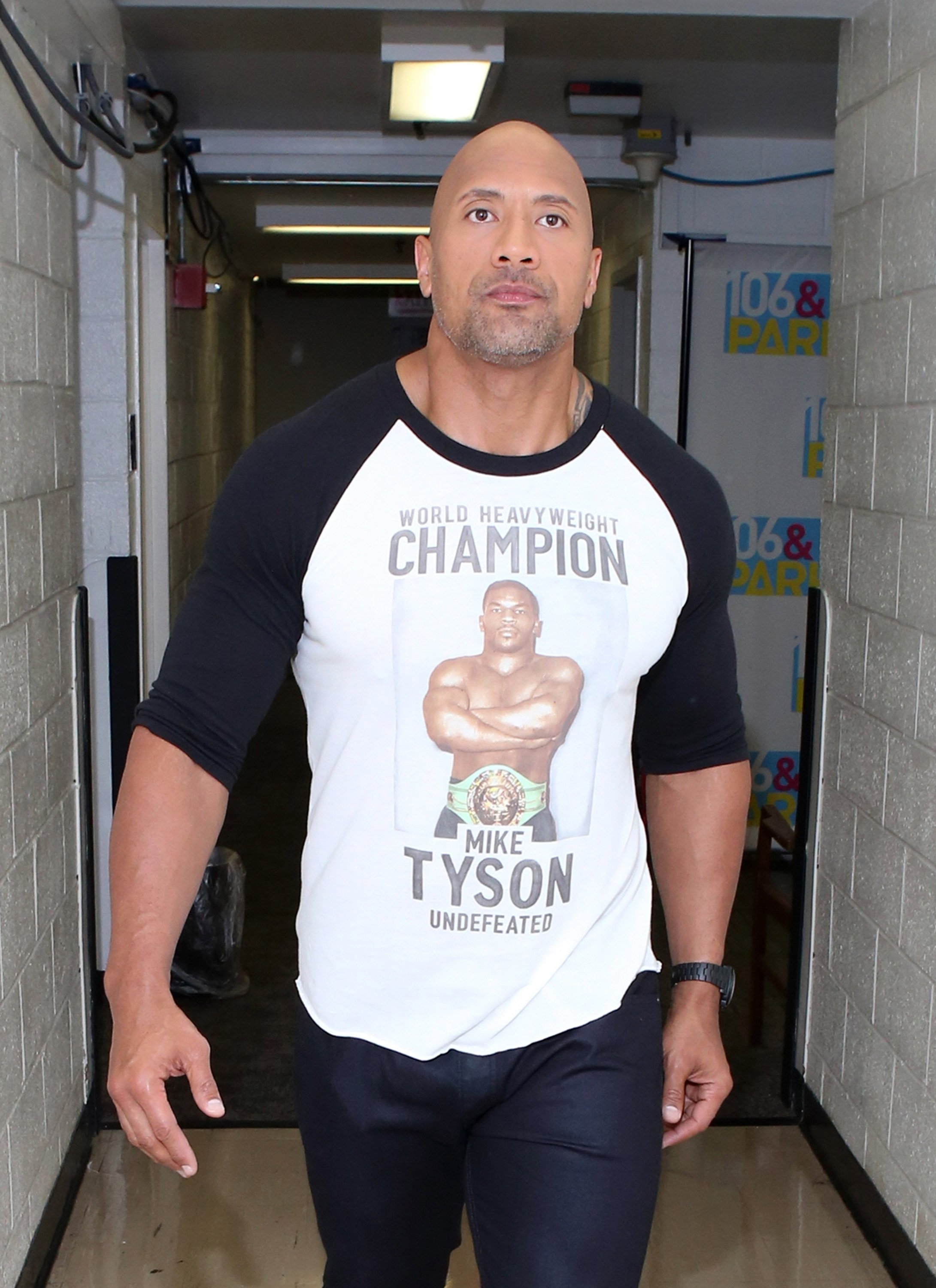 Dwayne Johnson visits "106 & Park" in New York City on July 22, 2014 | Photo: Getty Images
TRIBAL SLEEVE TATTOO
Johnson's most prominent tattoo is a tribal themed artwork that covers his left shoulder, chest, and arm. It is reportedly of Polynesian origin and is a representation of Johnson's heritage.
The star got the tattoo during a Hawaiian vacation with his cousin Tanon'i back in 2013. It took him 60 hours over three sessions and was so painful that Johnson's family and friends played music to detract his attention.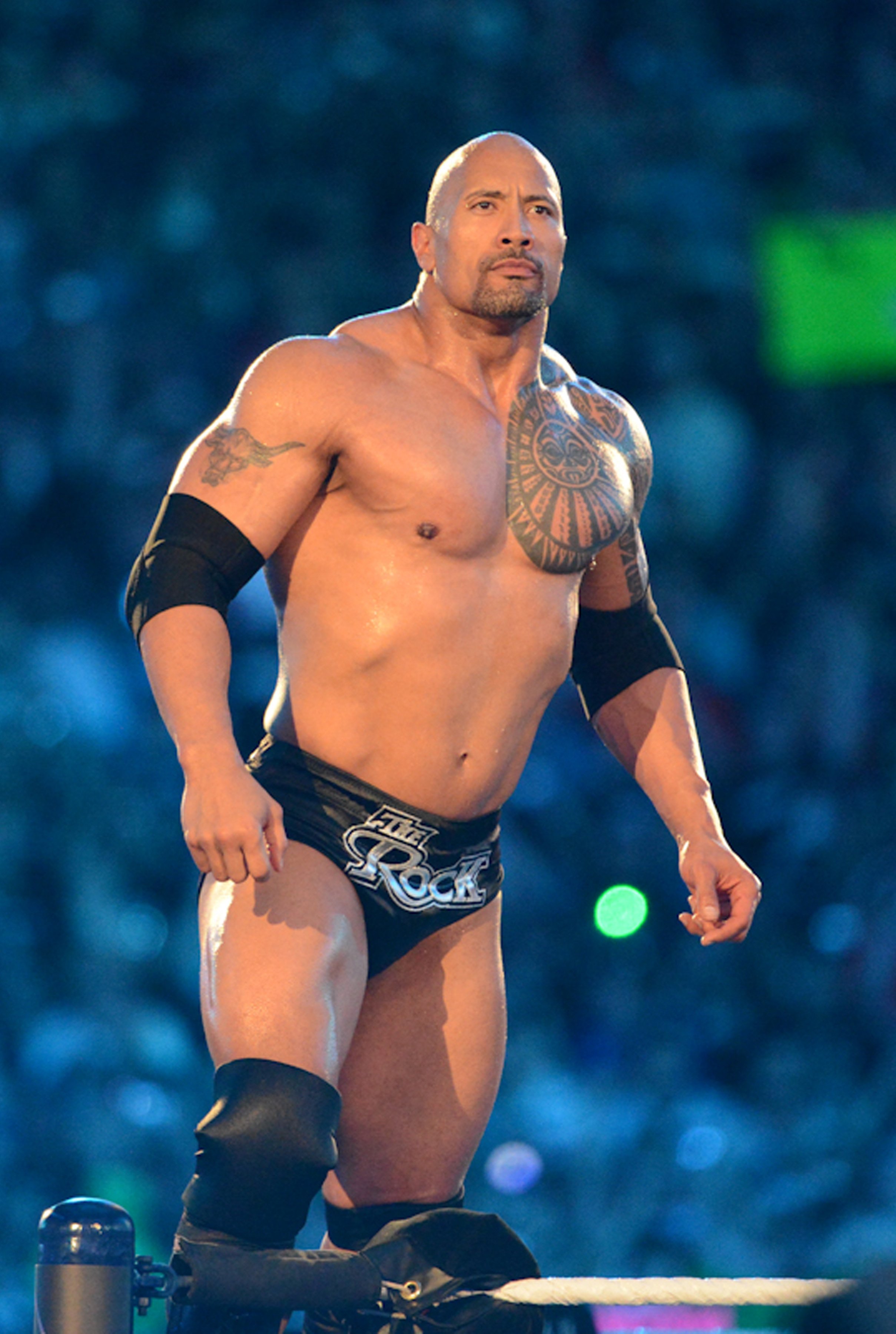 Dwayne Johnson during a match against John Cena at WrestleManda XXVIII in Miami Gardens, Florida on April 1, 2012 | Photo: Getty Images
The tattoo is a traditional painted story of all of Johnson's family history including those related to challenges, success, family, cultures, and gratitude for all of it. It also represents his passions.
SYMBOLS WITHIN THE PIECE
Within the tattoo, there are symbols like a sun, to bring good fortune, a Great Eye, to throw off enemies in battle, and a tortoise shell to thwart evil spirits. Two eyes represent Johnson's ancestors looking over him.
There are also coconut leaves to denote a Samoan warrior-chief, as well as a priest as a symbol of enlightenment. A distorted face means both a struggle and Johnson's spirit protector.
The A/ga fa'atsi symbol is a trio of three persons in one. For Johnson, this represents himself, his wife Lauren Hashian, and previously his daughter Jasmine. Johnson is now a dad to three girls.
Finally, Johnson's tattoo displays the Stones of Achievement and Abundance. These point to his life's foundation, which is the basis for everything else. Johnson's second tattoo is also very symbolic.
EVOLVED BULL TATTOO
On his other arm, Johnson has a tattoo of a bull to cover a much smaller one he had before of the same animal. The Brahma Bull denotes Johnson's zodiac sign — Taurus — and the bull was a former nickname.
The piece reportedly took 30 hours to finish over four sessions by artist Nikko Holland. Johnson himself explained the tattoo further in a post. "Horns always positioned forward," he wrote, to represent progress.
He added that the eye is to symbolize mana, "the spirit and power." Johnson said that everyone has mana in that we all have strength. Some people may require more digging to find it, though.
HIGHEST-PAID ACTOR
Johnson certainly seems to have found his power. In August 2020, Forbes announced that the "Jumanji" actor was at the top of the highest-paid actors' list for the second year in a row.
Johnson is said to have earnings of $87.5 million for the year. One recent hit was Netflix's "Red Notice." Johnson is followed by fellow actors Ryan Reynolds and Mark Wahlberg on the list.
Please fill in your e-mail so we can share with you our top stories!