DWTS Ex-host Tom Bergeron Thrills Fans with a Funny Clip of His Adorable Dog Watching Squirrels
Tom Bergeron is keeping fans smiling as he shares a clip of his dog on his social media. The animal-lover was just as amused by what his pet did as his followers in the comments. 
On Tuesday, Tom Bergeron took to Instagram to share a funny yet adorable video of one of his dogs. It comes after an earlier post that Bergeron shared showing another one of his furry companions. 
The day before, Bergeron revealed that his dog Sir Wembly was eager to welcome the holidays. The white animal was pictured with a Christmas toy between his paws and looked gleeful as he opened his mouth for the camera.
SIR WEMBLY ANTICIPATES CHRISTMAS
The Santa doll stood a few inches tall in front of Sir Wembly, who strongly appeared to be grinning in the shot. He sat down near a glass door as he enjoyed the vintage-looking item. 
The following day, Bergerons shared a clip of his much smaller, brown dog, affectionately called Granddog, as the two sat inside the former "Dancing With the Stars" host's vehicle. Only the furry creature was shown. 
GRANDDOG IN HUNTING MODE
The little dog was much more serious than Sir Wembly. Granddog stared off into the distance with an incredibly focused expression on it's face. In the caption, Bergeron explained why that was the case. 
"When one is scouting for squirrels, there's no time to blink..." he wrote, along with a laughing crying emoji and the hashtag, "Grand dogger." In the comments, fans were taken by the dog's cuteness.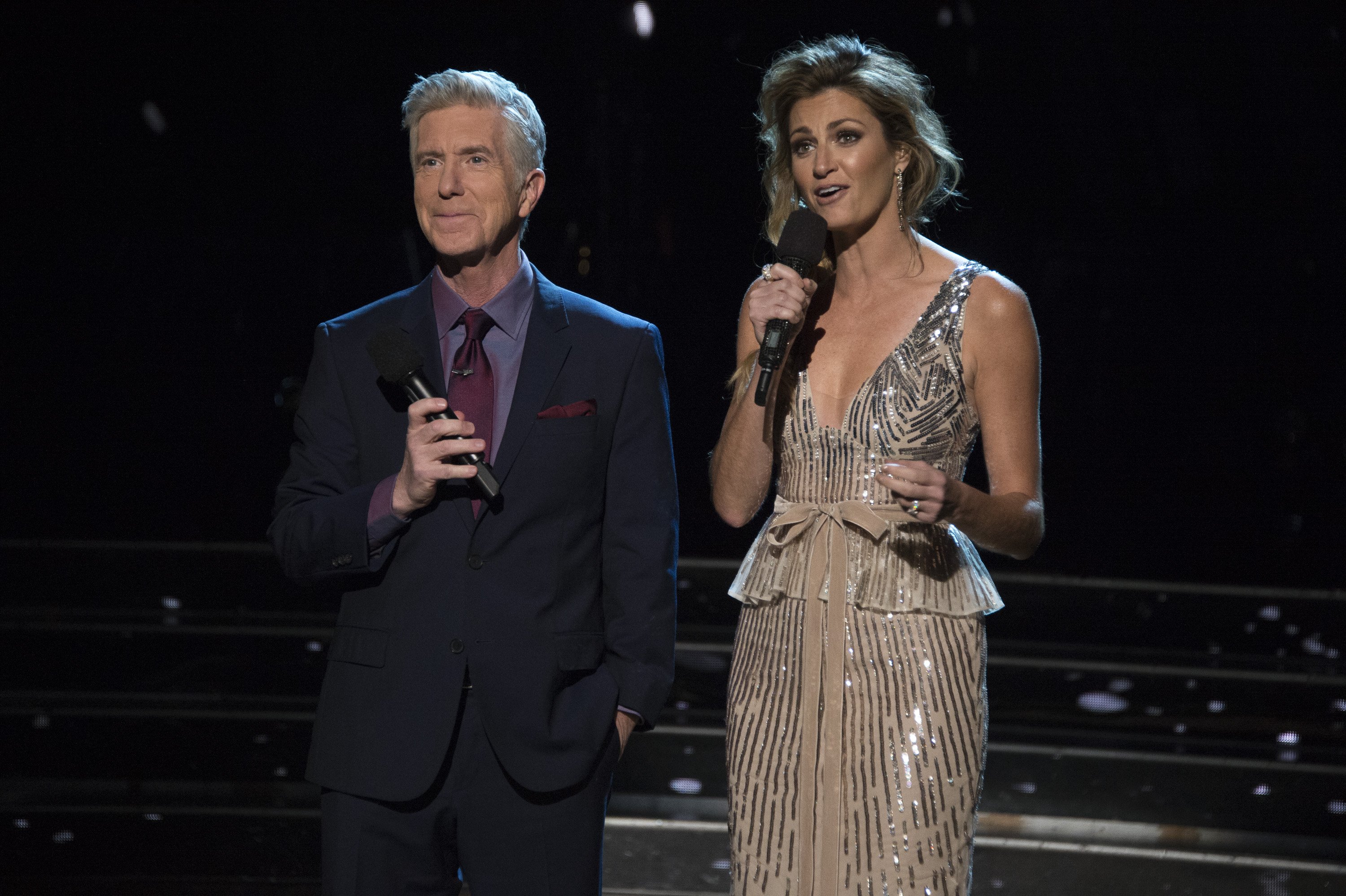 FANS LAMENT BERGERON'S ABSENCE
In mid-September, Bergeron shared another photo of Granddog, but at the time, his followers were more preoccupied with his absence on DWTS. Bergeron was sharing a before and after slide of Granddogg. 
In the top photo, the dog lay on a bed with its head down. The second showed it raising its head, well groomed, and sporting a blue bandanna around on its neck. The difference was drastic.
However, the comment section was filled with people talking about how much they missed Bergeron on the new season of DWTS. Amid the premiere last month, Bergeron's former co-host spoke out. 
ANDREWS FELT LIKE A LOSER
Erin Andrews stood alongside Bergeron for five years before also getting let go earlier this year. In an interview, Andrews admitted she felt like "a loser" after receiving the phone call that she was fired.
Nearly a month later, the show's producer, Andrew Llinares, finally revealed why they had let go Andrews and Bergeron. He said they wanted to keep things fresh and, in doing so, needed to switch up the hosts. 
POKING FUN AT THINGS
Bergeron and Andrews got wind of this desire to "evolve" as the reason behind their firing. The pair joked about it online with Bergeron writing: "SEE [Andrews], I TOLD you we shouldn't have sabotaged the spray tanner!!"
Andrews responded playfully in kind. As fans continue to rage about the hosting decision, both Bergeron and Andrews appear to be doing okay. And Bergeron has his dogs to keep him entertained.