Snoop Dogg's Kids Adore Their Handsome Grandad, Vernell Varnado, While Filming Him on Instagram
In a cute family moment, Snoop Dogg's children, Cordell and Cori shared a video on Instagram where they poured accolades on their grandad who could not contain his excitement.
Snoop Dogg's father, Vernell Varnado must have felt pleased to have received the warm love of his grandchildren, Cordell and Cori.
The duo posted a video on their Instagram stories where they showered their smiling grandpa with love. Cori shared the video alongside the caption, "@poppasnoop" on her Instagram.
Although Vernado was not exactly present in Snoop's life while growing up, following his split from the rapper's mother, Snoop's family seems to have put everything behind them and holds no bad blood for the war veteran.
Cordell also played his part in lightening up his grandpa's mood in the image which he shared. The 70-year-old Vernado had a warm smile all over his face as his grandson made the video of him. Cordell captioned the post;
      "@PoppaSnoop. @Brokenstreet Apparel."
Aside from his ability to thrill his fans with his incredible lyrics, Snoop is also a committed father and a dedicated husband. For the rapper, family is everything.
The West Coast rap legend found fame during the 90s under the tutelage of Dr. Dre. His trademark nickname, "Snoop" was given to him by his mother because she felt he looked like Snoopy from the "Peanuts" cartoon.
[Snoop] and [Shante] Taylor have had an up-and-down relationship, but unlike his father, Snoop does not believe in separation...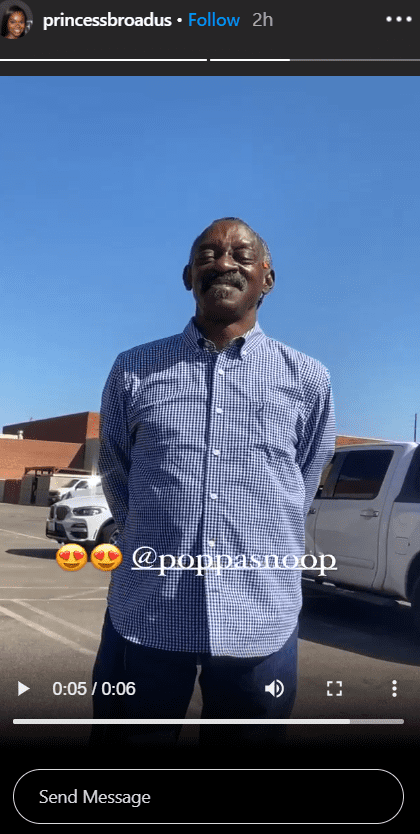 Snoop did not have it all rosy for him while growing up, often finding himself in one trouble or the other and even getting incarcerated for drug possession.
He delivered newspapers and did other odd jobs to help his family survive. For Snoop, music was the only way out of his many troubles. Even after he found fame, the star and the law could not see eye to eye.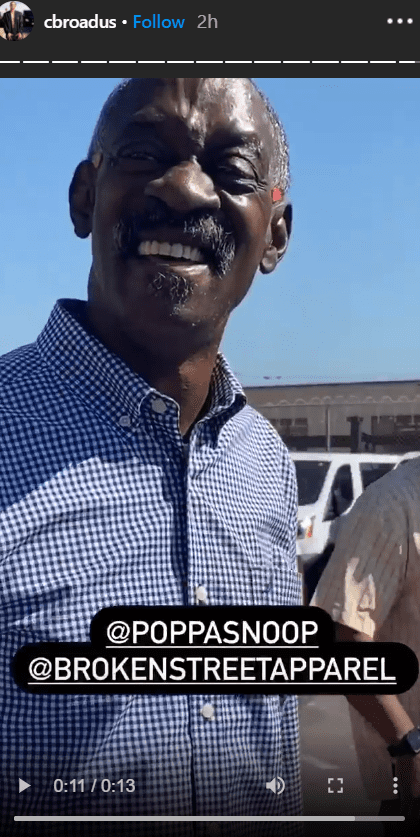 The rapper has been married to his high school sweetheart Shante Taylor since 1997 and their union has produced three children. Snoop also has a son, Julian Corrie Broadus, from a relationship with Laurie Holmond.
The rapper and Taylor have had an up-and-down relationship, but unlike his father, Snoop does not believe in separation and does all he can to keep his family together. Despite his infidelity, Taylor decided to stick with him.
Snoop is also a grandfather. His first grandchild was born in January of 2015. The rap star and his family were thrown into mourning following the passing of his grandchild, Kai Love. However, they seem to be doing fine these days, showering love on each other and enjoying the moments.